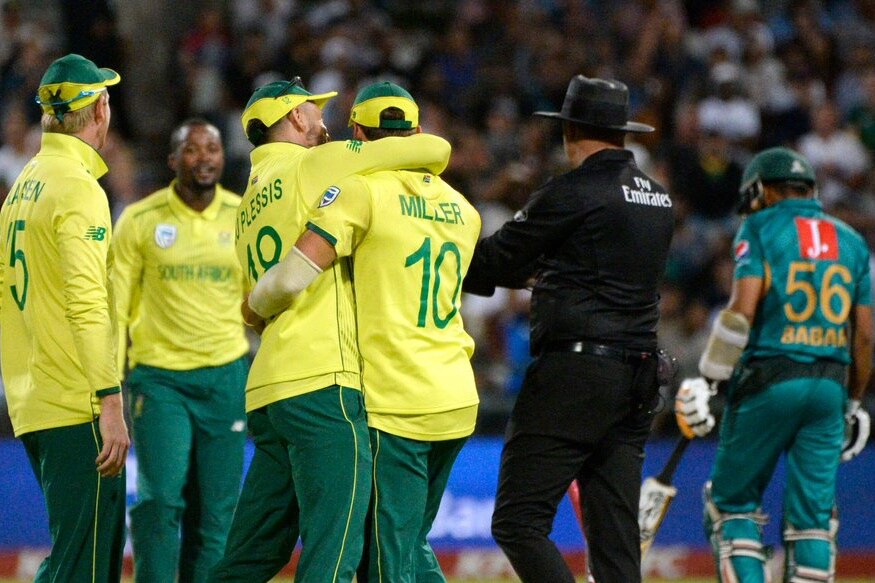 South Africa's bowlers staged a fantastic comeback to win the second T20I against Pakistan and stand-in captain David Miller was impressed by the 'incredible' efforts of Tabraiz Shamsi and Lutho Sipamla in slowing down their opposition.
On his debut, Sipamla returned with figures of 0/23 in four overs against a Babar Azam-led attack that looked to take the game away.
"We didn't start too well, but credit to our bowlers for really bringing it back," Miller said. "Shamsi came on and did incredibly well to bring their run rate down and then Sipamla in his first game was absolutely incredible. I was really pleased with the two of them.
After the kind of start half centurions Azam and Hussain Talat afforded them, Pakistan would be disappointed with the defeat.
Miller, who was once again awarded the Player of the Match for his 65 from 29 balls, played down talk of his captaincy credentials.
"I thought I was the worst captain on the planet, to be honest, but they were always going to go hard in the Powerplay."
Pakistan's Shoaib Malik though admitted that they should have been prepared to deal with Miller's attack.
"He (Miller) was struggling throughout the ODI series, but he's a class player, and if he gets going we have to have two or three plans to stop him. He took the game away from us. We were in the game till the 15th over. Later we were expecting to chase about 160 but we gave away some extra runs.
"Every game is a new game, and a new opportunity. Whatever's happened has happened. If we get a similar situation in the coming games, the goal is to stay calm and not panic."
Pakistan had their noses out in front on more than one occasion and failed to make that count in Johannesburg.
Skipper Malik believes a lack of support for the likes of Imad Wasim played a major role in their downfall.
"Of course, if someone bowls three overs in the Powerplay and contains the batsmen, he's an exceptional talent. We needed a couple of other guys to perform that way. You need three/four bowlers to do well, and then you end up chasing 160 rather than 180."
Despite the brilliance of Babar Azam and Hussain Talat with the bat for Pakistan, Malik was left frustrated that such a promising start wasn't converted in to a win that would have kept the series alive.
"It was an exceptional game, but you wanted to win the game. Not like the previous one. This time we had the game, but we couldn't hit the last couple of boundaries. He (Azam) is a class player. The game shouldn't have gone to the 20th over, the set batsman should finish the game. The partnership was excellent, but finishing crucial games is where we're lacking. We're going to sit and talk about it, particularly the last overs."
The teams now move on to SuperSport Park on Wednesday, February 6 for the final match in this series.