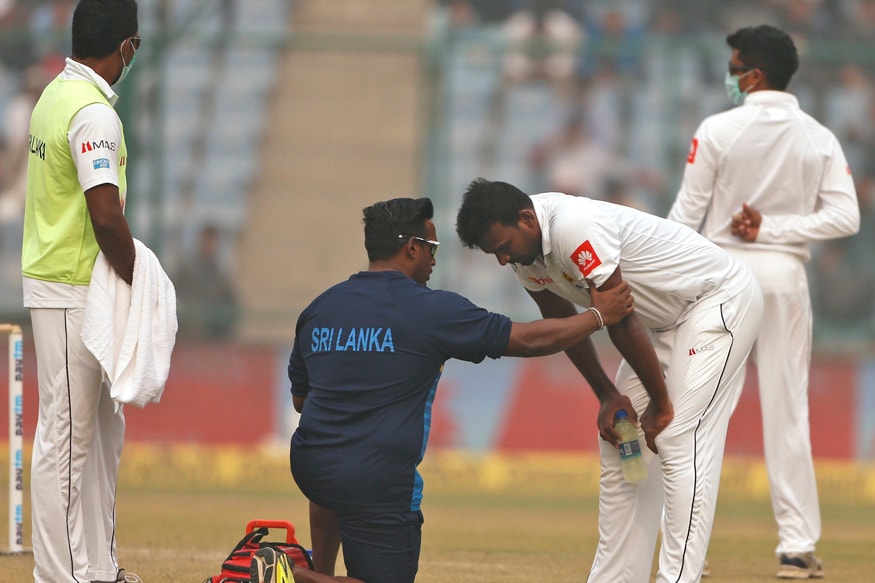 In November 2016, two Ranji Trophy matches scheduled to be played in Delhi – Gujarat against Bengal at the Feroz Shah Kotla, and Hyderabad versus Tripura at the Karnail Singh Stadium – were called off without a ball bowled. The air pollution, to put it mildly, was appalling. Several players complained of headaches and dizziness, while almost everyone experienced burning sensations in their eyes. After match officials inspected the conditions on the first two days, the matches were postponed and relocated.

RP Singh, part of India's World Twenty20-winning squad in 2007, was part of the Gujarat team, and he tweeted a collage of pictures, with the words: 'precaution is the best medicine #dressingroom #DelhiSmog #delhipollution #RanjiTrophy'

Almost all the Gujarat players seen in the pictures are wearing masks. A third image, taken from the dressing room viewing area, is so hazy that you can barely make out the floodlight tower on the other side of the ground.

This is what Delhi pollution can be like. It's not as though it's some revelatory news. Schools were closed in the city not long ago because the Air Quality Index reached crisis levels. But when Sri Lanka's cricketers, who are fortunate enough to breathe far cleaner air on their island, complained about the smog, and emerged after lunch wearing masks, the general reaction appeared to be indignation, feigned or not.




There were close to 16,000 inside the Kotla, most of them without any kind of masks. That information means nothing though. Sitting in a stand to watch a game is hardly a strenuous aerobic activity. Pace bowling is, and it was no coincidence that Suranga Lakmal and Lahiru Gamage were the worst affected.

Javier Ceppi, who was tournament director of the recently concluded FIFA Under-17 World Cup, the first such event that India has hosted, made his views quite clear on Twitter. "You can't host sport events in Delhi from Diwali till end of Feb, at least," he wrote. "It is a fact. We had to accommodate our whole schedule to avoid it and others should also think about athletes health first #DelhiSmog"

Nic Pothas, Sri Lanka's South African-born coach, spoke of an unprecedented situation. "It is not normal for players to suffer in that way while playing the game," he said at the post-play press conference. "From our point of view, it has to be stated that it is a very very unique case.

"I thought all the officials, the Match Referee and others handled the situation very well. When it is a new situation for everybody, it is not easy to make decisions. I feel for the umpires and I feel for the Match Referee. But the job of myself and the manager is to make sure that the players are safe."

You really can't quibble with that. Nor can you accuse Lakmal and Gamage of faking it when their discomfort was so visible. Instead of getting precious about how the Sri Lankans handled the situation, the Indian board needs to figure out ways to avoid a possible, embarrassing, repeat.

Yes, it was unfair on a healthy holiday crowd, most of whom would have come in to watch their hometown hero shatter even more batting records. It's obvious that the 17-minute stoppage both irked Virat Kohli and affected his concentration, but it's farcical to blame the opposition for that. Their situation was such that even the trainer and fielding coach were in whites, expecting to deputise for someone who had taken ill.

Back in 2013, during a World Cup qualifier between Bolivia and Argentina at the Estadio Hernando Siles in La Paz, Bolivia, Lionel Messi, Javier Mascherano and Angel Di Maria were all sick, and had to be given oxygen to keep them going. The venue is nearly 12000 feet above sea level, and FIFA had decided in 2007 to disallow Bolivia hosting World Cup qualifying matches there. But after lobbying from the other South American associations – Brazil were the exception – Bolivia were allowed to play there again in May 2008.

But Argentina didn't complain much, and after the game, Evo Morales, Bolivia's president, presented Messi with a poncho for his "human and sporting qualities". It remains to be seen what Sri Lanka will take away from Delhi, apart from darker lungs and smarting eyes.


First Published: December 3, 2017, 7:00 PM IST