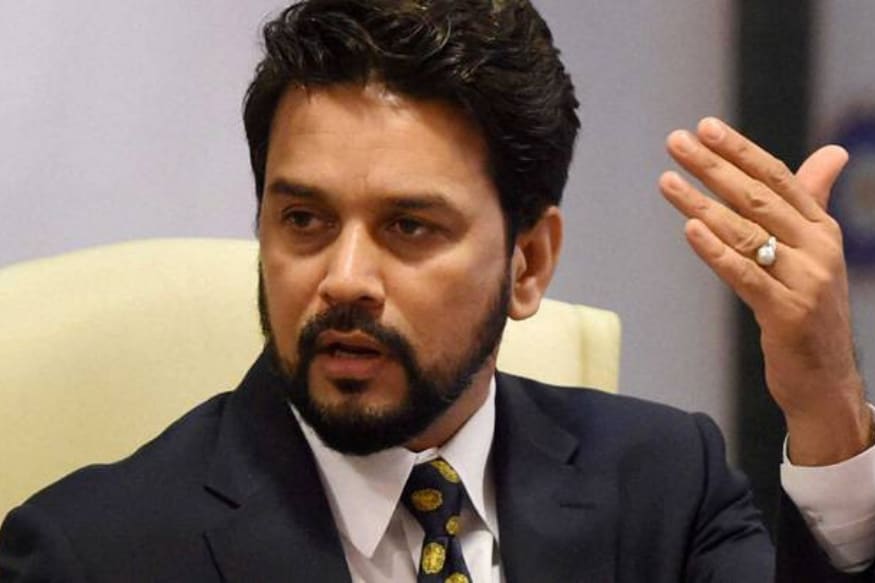 The BCCI old guards have been made ineligible to be part of the new constitution, but there's a perception that they are very much in control of the system through their family members.
Over the last month, Rupa Gurunath, the daughter of former BCCI president N Srinivasan, has taken over as the president of Tamil Nadu Cricket Association. Jaydev Shah, the son of Niranjan Shah, has taken over as Saurashtra Cricket Association president, while ex BCCI president Anurag Thakur's brother Arun has become Himachal Pradesh Cricket Association president.
In an interview with CNN News 18, Thakur stressed that all the processes were followed in each of the appointments.
"Why can't you see Sourav (Ganguly taking over (as BCCI president)? Why can't you see Brijesh Patel being the IPL Chairman? Why can't you see Mohammad Azharuddin being the Hyderabad Cricket Association Chairman?" he questioned. "Why can't you see other office bearers who didn't make it to the team even? There are a new state of administrators in the state also? But that is a democratic process where the voters vote. It is not me and you who decide on a TV channel as to who will be picked up and after all, this happened after all the reforms took place."
There have been rumours that Ganguly's appointment as BCCI chief was driven by politics with the ruling BJP party, with an eye on Bengal elections in 2021. Thakur refused to be drawn into such talks, calling them 'stories'.
"There are too many stories in the media on too many people," he said. "I am not here to comment on anything. Sourav was the Indian cricket captain and Sourav was the president of Cricket Association of Bengal. I think if you question people like Ganguly also, then what are you looking at? You are questioning all those people who are democratically elected.
"Our former cricketers, not even Sourav, but earlier also, there was Dilip Vengsarkar, Shivlal Yadav, Brijesh patel, myself and many others who played first-class cricket. They have been elected via a democratic process and have been coming through the system into BCCI. That happened in past and that is happening today as well. Anyone can come in and contest."
Thakur also voiced his displeasure over the conflict of interest clause, saying it prevents talented former cricketers from offering their services to cricket.
"Most of the players are raising an issue of conflict of interest. If anyone wants to contribute to the game of cricket, he is being elected as secretary and he can't do anything else. So, if he can't do commentary and he can't comment on games on TV, he can't run an academy, then what do they intend to do? Everyone is asking this question," he said.
"I am not saying a line on whether you need to change (the clause) or not. Let people come forward and say what they have achieved and what they have lost. If people like Dravid, Kapil Dev and others can't be part of it and they have a conflict of interest, then, who will come forward and serve Indian cricket? If you ask all the former cricketers to leave their current positions, as commentators , as experts or as coach, they won't because they are going to lose Rs 10-20 crore annually to be a member of a state association or office bearer."
Thakur also said India have to 'fight back' to become the leader in ICC, saying the BCCI's current position has been reduced to the 'level of Zimbabwe' among others. The 'Big Three' model, which gave more revenue to India, England and Australia, was dissolved in 2017 which saw India lose out of significant revenue from the ICC.
"The vacuum in the last more than 3 years, we have seen Indian Cricket come down globally. We used to lead from the front, today it has to fight back to be in that leader's role," said Thakur.
"Our goal is to get back our position in the ICC. Our position has been reduced to the level of Zimbabwe and other boards. India used to lead and contributed 70-75% of revenues of ICC, and ICC don't pay back to the Indian board. Indian board can't take it easily.
"I personally feel we should pay our Under-16 players and junior teams and first-class cricketers much more money today rather than spending much more on creamy layer. The time has come when we should pay more to junior players, spend more on infrastructure and facilities which we did in the past.
"I think there is a huge opportunity lying in front of Sourav. Three years back, when we left it... we started the A Tours to give more exposure to the upcoming cricketers, India U-19 Tours, Women Cricketers had more matches, more remunerations. By giving those facilities, those kind of matches and tours, we have created a strength for Indian Team. Today if any player is unfit, you have a player ready, be it opener, middle order batsman, spinner or a fast bowler. That is what is helping Indian Cricket. The foundation laid by the former administrators in the last 20-30 years has helped Indian Cricket to reach this level.
"Globally, people look at BCCI for how it governed Indian Cricket. But, unfortunately, some people still wanted reform. Fair enough, reforms are good for any organisation, but, I feel we need to analyse what happened in the last three years. Why didn't ICC pay BCCI for the matches they played for the international tournaments? Why State Associations weren't paid in the last three years. I think there has to be a detailed report on this too but that may take time."