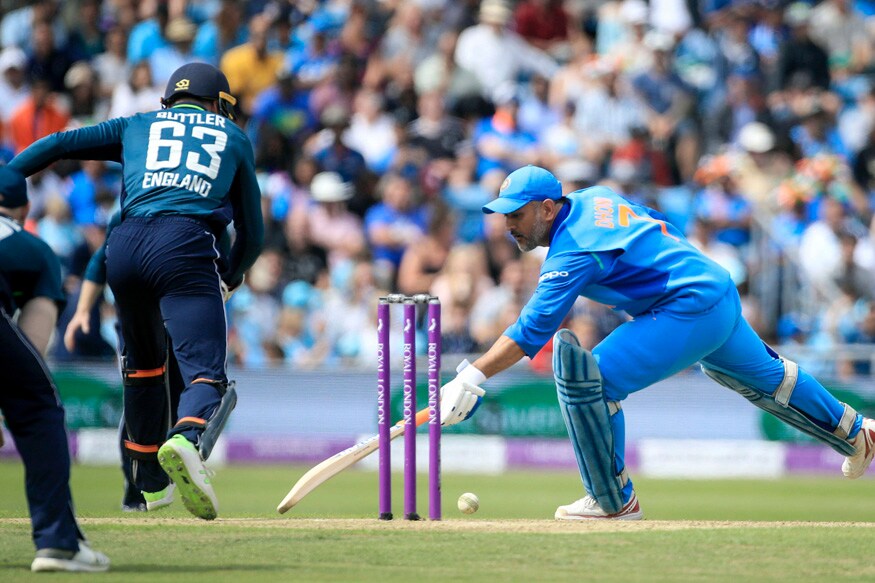 The post-mortem has begun after India's defeat in the ODI series to England and one of the players firmly in focus is the legendary M S Dhoni. With the World Cup less than a year away, the former captain's spot is suddenly under intense scrutiny.
The numbers don't make pretty reading, especially after his knocks in the last two games - His 59-ball 37 meant India were never in the hunt to chase down a stiff target of 323 in the second ODI and he followed it up with a laboured 66-ball 42 in the third ODI when the team needed him to score freely.
In both matches India lost, the run-rate dropped drastically while Dhoni was on the pitch. For instance, in the second match India were going at 5.19/over before Dhoni arrival and fell to 3.91 with him at the crease.
In the third ODI too it was a similar story. India were scoring at 5.17/over but that dropped to 4.47 in Dhoni's presence. Soon after his departure it again rose to 8.40, clearly suggesting his inability to up the ante when needed most.
Dhoni's boundary-hitting abilities also seem to be on the wane. In the last ODI Dhoni hit just four boundaries in his 66-ball stay. His first four came after facing 18 balls, with the next three coming in 48 balls. Dhoni's ratio of balls per boundary in this series is 20.83, which is the worst since last year's West Indies series, where the proportion was 23.89.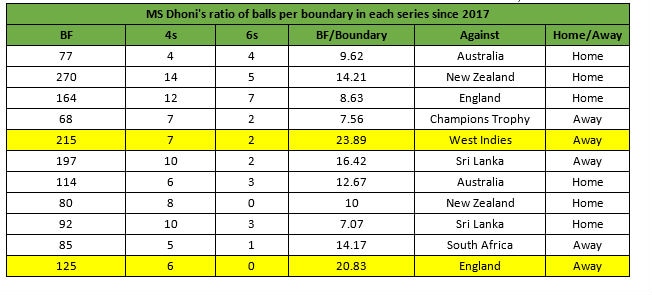 He scored 6 fours in this series from 125 balls and in the West Indies series, Dhoni hit 7 fours and 2 sixes from 215 balls.
To go with that Dhoni's strike-rate of 63.20 in this series is the worst for him since 2010-11 South Africa tour, where he scored at a strike-rate of 59.52. Quite clearly, the MS Dhoni of old has gone missing, giving the Indian team management a major selection headache when they next play ODI cricket.