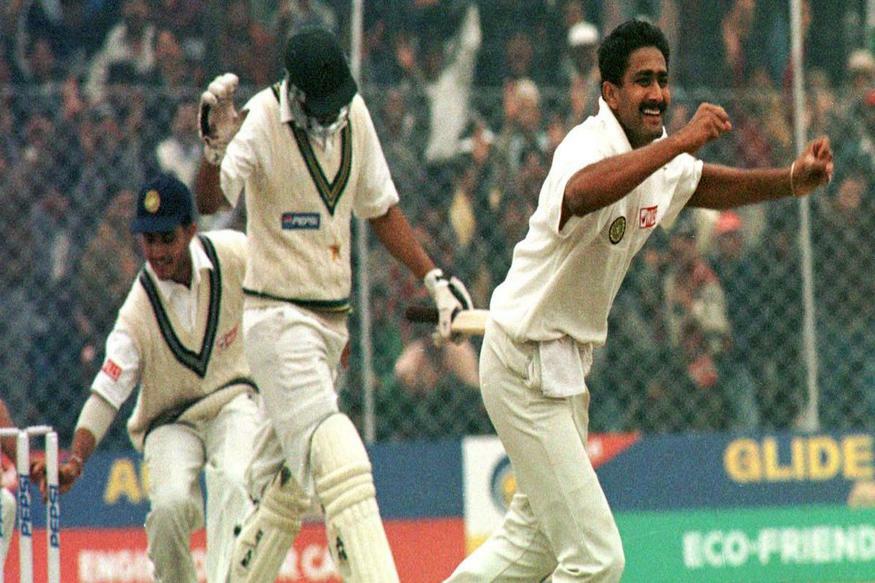 Did Wasim Akram plan to deny Anil Kumble a 10-wicket haul in the 1999 Test against India at Feroz Shah Kotla stadium in New Delhi?
Chasing 420 in the second Test, having already won the first one, Pakistan were 198 for 9 when Akram and Waqar Younis were in the middle. Kumble had taken all nine wickets to fall until then, triggering a remarkable collapse from 101 for no loss at one stage.
Pakistan's batsmen were falling like nine pins to the legspinner, who was staring at a remarkable achievement. Only one bowler in the history of Test cricket - Jim Laker in 1956 - had got the perfect-10.
The Indian team too rallied behind Kumble, with Javagal Srinath even attempting to bowl wide of the batsmen to ensure he doesn't get the 10th wicket.
There were rumours that Akram and Younis too wanted to deny Kumble the final wicket and get out to another bowler, but the then Pakistan captain dismissed such claims.
"No. This is against sportsman's spirit (getting out to another bowler)," Akram told Aakash Chopra in a chat. "I said to Waqar Younis that you play normal cricket, I will not get out to Anil Kumble. As a captain, I told Waqar to play his normal game and go for shots against Srinath.
"The first ball Kumble bowled, inside edge… and I got caught (at short leg). It was a big day for India and Kumble. It was massive."
India won the match by 212 runs, with Pakistan folding for 207. Kumble ended with record figures of 10 for 74. Till date, he remains the only Indian bowler to achieve the perfect 10.