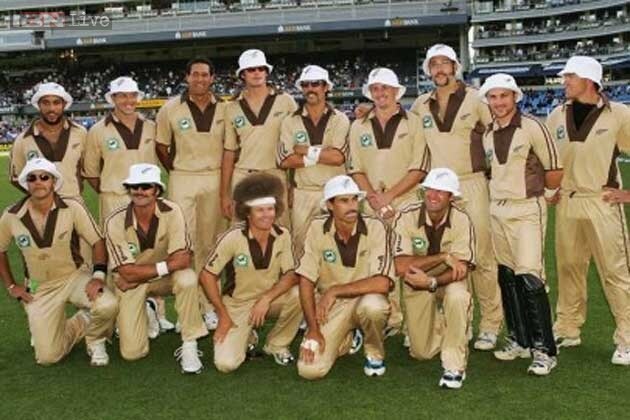 On February 17, when the entire cricketing fraternity was busy with the 50-over World Cup, one of the game's greatest revolutions silently crossed an important milestone. Twenty20, which is often seen as a very recent addition to cricket, celebrated its 10th anniversary in the international arena.
T20 was conceptualised in England in 2003 to draw more attention to domestic cricket as the traditional limited-overs formats had become stale. T20 was adopted by the International Cricket Council two years later, but the format was seen as more of a form of entertainment for players and fans than an actual cricketing contest. The seriousness levels were so low that during the first ever T20, between Australia and New Zealand in Auckland on February 17, 2005, the players sported retro looks, imitating hairstyles famous in the 1980s. Little did they know that they were treading on the stepping stones for something that would change the sport forever.
In a recent column for The Indian Express, Harsha Bhogle called the Indian Premier League the single greatest influence on world cricket in the last decade. The same reasoning, perhaps, could be extended to the 20-over format as such. There is little doubt that T20 has, in just 12 years of its existence, drastically changed the way cricket is being viewed, played and administered. The format has helped spread cricket to territories where the sport hasn't been traditionally practiced, widened the audience-base, and the money it brings in has influenced major decisions by administrators.
But how exactly has cricket changed since the arrival of T20?
While the evolution of T20 has gradually resulted in an improved fielding standards, new innovations like switch hits and slow bouncers, one of the biggest consequences attributed to the format is that cricket has rapidly changed into a batsman's game.
Not all change can be put down to the growing importance of T20s. Thicker bats, shorter boundaries and flat pitches have contributed too, but the influence of T20s certainly cannot be denied. A statistical comparison of the pre and post-T20 era shows that the game is increasingly becoming easier for batsmen, across formats.
One major change in Test cricket in the T20 era is the increase in percentage of results. There is a nearly 10 percentage point increase in results percentage and also a significant increase in run rate in the last decade, compared to the pre-T20 era. While the pre-T20 period includes timeless Tests, when cricket was considerably slower, a more contemporary comparison - 10 years before and after introduction of T20Is - still shows a gradual increase in results, run rate and average runs per wicket.
Another definitive indicator that Tests are increasingly becoming easier for batsmen is the number of centuries. There have been more 100s, 200s and 300s in the post-T20 era when compared to the 10 years prior to that, although the number of Tests played is considerably fewer.
"There is no doubt that the game should be more balanced," Muttiah Muralitharan, who has been a part of both eras, tells Wisden India. "In my opinion, the level of balance changes with the format. I would say Test cricket is more or less equally balanced between bat and ball. Even T20 as a format is well balanced as the field-restrictions are only for six overs, which is fair enough.
"It is one-day cricket where there should definitely be more balance. People want to see runs more than wickets and cricket is following that trend. If a team is out for 90 runs in the shorter formats, people will say it's a boring game. But if a team scores 250 to 300, people say it's a good and entertaining game. So cricket is going according to what people want to see."
Indeed, the most drastic changes over the last decade have occurred in the 50-over format. With the format itself being seen as redundant by many due to the existence of T20s, there have been numerous rule-changes, all of which have contributed to batsmen enjoying themselves more than ever before.
The average run rate has increased steadily and there have been 149 more scores in excess of 300 in the last 10 years compared to the three decades prior to that. Targets in excess of 300 are not safe anymore too, as 43 instances of teams successfully chasing 300+ targets have been recorded in the last decade, compared to 13 in the previous three decades. There is a radical increase in individual records too. For example, the number of batsmen scoring more than 150 in an ODI innings has almost doubled in the T20 era.
Muralitharan says being a bowler in the current scenario is a challenging but not impossible task if one can mentally separate the three formats.
"It was a new challenge when T20s came about, especially as a spinner," he says. "But it depends on how you adjust to different formats. In Test cricket, I would always go for wickets and never look to restrict the batsmen. In one-day cricket, it was a bit of both and I would look to restrict scoring to increase pressure and attack when needed. In T20s, it was similar but I would attack only when it was absolutely needed, which was not much. I understood that wickets will come along automatically if the pressure was increased."
According to Muralitharan, the single biggest factor that has turned ODIs into a batsman's game is the introduction of the latest rule change, allowing only four fielders outside the 30-yard circle in the non Power Play overs.
"In one-day cricket, there is a definite advantage to batsmen because of the field restrictions," says Muralitharan. "I think the game was more balanced before that. Fifteen overs of Power Play and then five overs of batting Power Play was fine. Currently, there are two new balls being used. I think that is fine as it keeps the pacers in the game. It doesn't hamper spinners, they can bowl with the new ball too. The only problem with two new balls is that reverse swing goes out of the game. But the field restrictions should only be there for 20 overs to make it more balanced and still entertaining."
Numbers back up his opinion, too. The average run rate of teams has been at its highest - 5.27 - in the period since October 30, 2012, when the latest changes came into effect and there is a steady rise in big scores, as was seen during the World Cup. Chasing has become increasingly easier under the new rules too. Only twice at the World Cup were targets below 260 defended successfully, showcasing how difficult the tournament was for bowlers.
Numbers, popular opinion and every other indicator points to cricket becoming increasingly tougher for bowlers. There have been calls from various quarters for the administrators to do something about the rule changes, big bats, small boundaries and so on. Otherwise, as Sachin Tendulkar writes here, "God help the bowlers!"