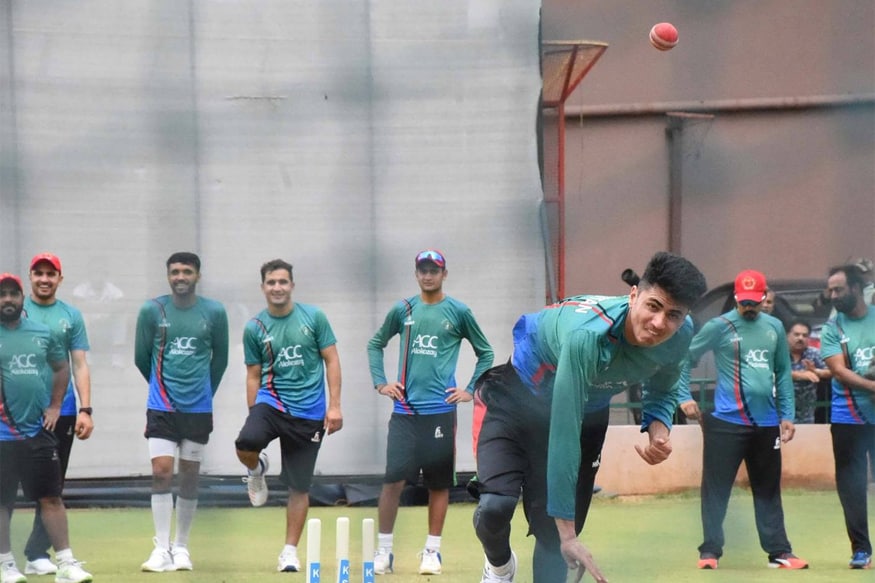 If someone else had said what Asghar Stanikzai did, you'd have dismissed it as routine posturing and mind games.
"In my opinion, we have good spinners, better spinners than India," he said in an interview with ESPNCricinfo. "The whole world knows that [we have very good spinners in] Rashid Khan, Mujeeb [Ur Rahman], [Mohammad] Nabi, Rahmat [Shah], Zahir [Khan]. In Afghanistan, the brilliant thing is that a lot of the young talent that is coming through are spinners, because they all follow Rashid, they follow Nabi, so because of that our spin department is very strong from below."
Part of the reason for Afghanistan's astonishing rise up the cricket ladder – all the way from World Cricket League Division Five in Jersey to Test status in a decade – has been their self-belief, and that refusal to be overawed by any opponent. Rashid Khan and his fellow spinners have yet to play a Test, or even a first-class game of comparable standard. R Ashwin (311) and Ravindra Jadeja (165) have nearly 500 wickets between them and have destroyed all-comers on Indian soil for nearly half a decade. But Stanikzai has taken a leaf out of the Shania Twain book and said: "That don't impress me much."
Such an attitude is hardly unique to him either. Mohammad Shahzad, the wicketkeeper-batsman who hits the cricket ball as though the poor object insulted his family, said after a World Twenty20 match against South Africa in 2016 that he was sorry Dale Steyn hadn't played, that he had been looking forward to tonking him for six. Again, from someone else, it would have been obnoxious. But as with the young Muhammad Ali and his rat-a-tat doggerel, there's something charming about the way the Afghans refuse to blink first.
When I first watched them, at the Police Gymkhana on Marine Drive in Mumbai, the sky had just fallen on our heads. Or at least, the level of overreaction following an Indian Test defeat made you think it had. Jimmy Anderson and Shaun Udal had bowled England to an emphatic 212-run victory (March 22, 2006) and the ugly mood had been summed up by the fact that sections of his hometown crowd booed Sachin Tendulkar off the ground.
The following day would usually have been spent picking over the pieces and deciding who to skewer, match-ka-mujrim style. Instead, The Times in London asked me to head over to the Police Gym to report on the MCC playing an Afghanistan side. Graham Morris, their photographer par excellence and all-round top man, was also there, clicking away.
The problem was that we had no idea who we were reporting on. The Afghans weren't even a blip on the cricket radar, and the contingent, full of broad smiles and animated gestures, spoke almost no English either. With the exception of Mohammad Nabi, even getting the names right was a challenge. Of course, Nabi made sure we remembered his name, Carlos Brathwaite style, by repeatedly lofting the MCC bowlers on to the Western Railways tracks that adjoined the pretty little ground.
Hasti Gul Abid, who had Mike Gatting caught behind for a duck, was the other star of the day, but again the communication channels were so hard to navigate that I reported his name as 'Hafti Gulabid'. If you'd told us then that Nabi would be playing Test cricket a decade on, we'd have questioned the quality of the moonshine you were on. It really was that improbable.
The decision to grant Afghanistan Test status was no token gesture either. Along with Ireland, they've dominated the associate scene for much of the past decade, leaving behind countries like Kenya, United Arab Emirates and Hong Kong, where the cricket culture goes back far longer. Rashid Khan's emergence as the king of T20 bowling will only invigorate the local scene even more, despite the precarious political situation.
The refugee camp-to-Lord's trope has become a cliché now, one that the players are no longer much interested in. As Bangladesh found out the hard way in Dehradun last week, Afghanistan are not here to be patronized or patted on the back for the odds they've overcome, both individually and as a group. This is a team hungry to win, and one that believes they can, no matter who they front up against.
And as they take to the field on Thursday, this band of brothers will also reflect on those they had to leave behind on the way. None more so than the charismatic Hamid Hassan, whose headband, aggression and searing pace made such an impression in those early years. From his raw speed to Rashid's wristy guile, Afghan cricket has traversed a tremendous distance in so short a time. And the swagger first glimpsed on a little ground next to the Arabian Sea remains. The game is more watchable for it.