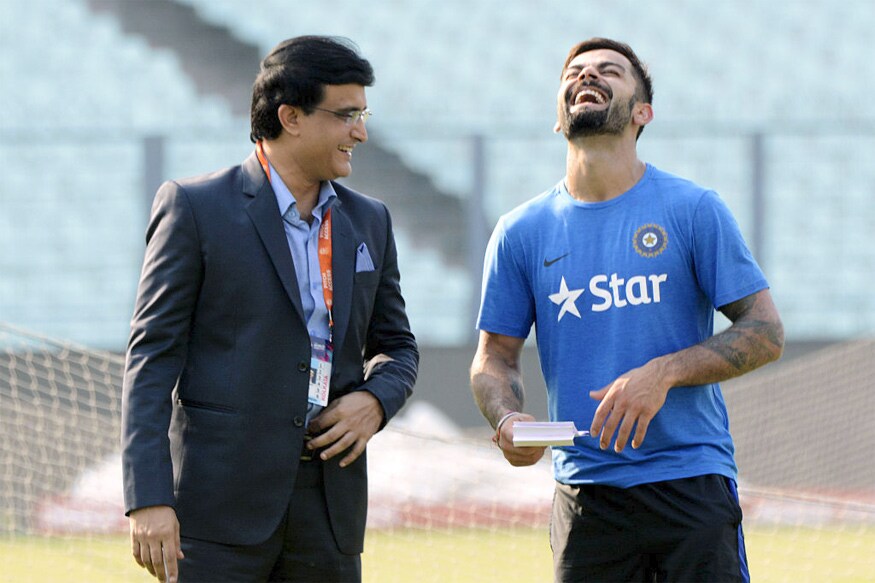 Ahead of India's Champions Trophy defence, news of a spat between skipper Virat Kohli and coach Anil Kumble has been doing the round, with reportedly Kohli and the team not happy with Kumble's style of managing the squad.
Commenting on the issue, former captain Sourav Ganguly - who himself had a much publicized spat with Greg Chappell - leading to the Australian coach being shown the door, said in London that he has no idea about any spat between Kumble and Kohli,
"I don't know what's going on between Kumble and Kohli and I think this is not the right time to talk about all these things" Ganguly said,
while speaking to India Today.

Ganguly also said that coach should help the captain, but it's the captain who should run the show, "A coach's job is to help the captain. I am a firm believer that the captain is the man to run the show and a coach must be there to support him"
"If India doesn't do well in the Champions Trophy then both the captain and coach will be criticised" Ganguly summed up.
Ganguly along with VVS Laxman and Sachin Tendulkar, played a key role in Kumble's appointment in the role. Kumble was given a one year contract, with his performance to be reviewed. His contract comes to an end after the Champions Trophy.
The BCCI has already sent out an invite, asking former cricketers to apply for the Indian coaching hot-seat. By doing so, the BCCI made it clear that Kumble won't be given an automatic extension.
It is also being reported that the Cricket Advisory Committee (CAC) — which comprises of former cricketers like Sachin Tendulkar, Sourav Ganguly and VVS Laxman — will try to broker peace between the senior players and the coach.
Meanwhile, former India opener Virender Sehwag has emerged as the number one contender for the coach role in recent weeks after he was 'told' to apply for the job.
@media only screen and (max-width:740px) {
.quote-box{font-size:18px; line-height:30px; color:#505050; margin-top:30px; padding:22px 20px 20px 70px; position:relative; font-style:italic; font-weight:bold}
.special-text{font-size:24px; line-height:32px; color:#505050; margin:20px 40px 20px 20px; border-left:8px solid #ee1b24; padding:10px 10px 10px 15px; font-style:italic; font-weight:bold}
.quote-box img{width:60px; left:6px}
.quote-box .quote-nam{font-size:16px; color:#5f5f5f; padding-top:30px; text-align:right; font-weight:normal}
.quote-box .quote-nam span{font-weight:bold; color:#ee1b24}
}