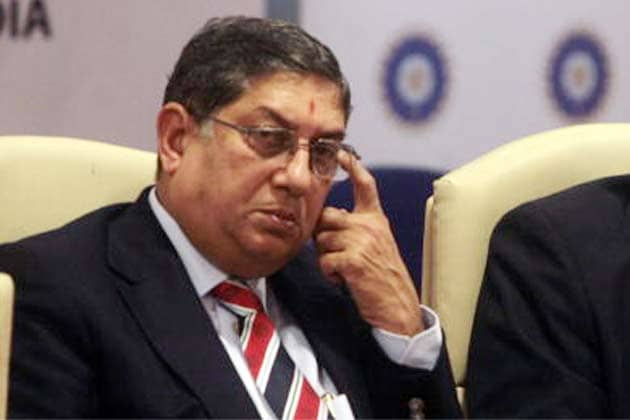 New Delhi: The Indian cricket board's self-exiled president N Srinivasan said on Tuesday that his being chargesheeted by the Central Bureau of Investigation (CBI) in a corruption case involving jailed Kadapa MP YS Jaganmohan Reddy has nothing to do with his cricket and the two should not be linked.
"Don't mix the business chargesheet with my cricket," was Srinivasan's terse reply when IANS asked whether Tuesday's development will in any way affect his return to head the Board of Control for Cricket in India (BCCI) and getting a third year in office.
Srinivasan insisted that India Cements has done nothing wrong and will prove this in a court of law. "India Cements has done nothing wrong. We will prove it in the court of law," Srinivasan told IANS on the phone from Chennai.
Srinivasan had stepped aside as the BCCI president in the wake of betting scandal in the Indian Premier League (IPL). Asked whether his return as the BCCI chief is in any doubt, Srinivasan said: "Don't mix the two things; I don't want to comment much on that [his status in BCCI]."
In the chargesheet relating to India Cements, CBI named Srinivasan, its managing director, as the accused number three. The CBI in its chargesheet stated that India Cements allegedly invested Rs 140 crore in Jagan's businesses in return for the benefits it received from the Andhra Pradesh government then headed by Jagan's father, YS Rajasekhara Reddy, who was killed in a helicopter crash in 2009.
Srinivasan's company also owns successful IPL franchise Chennai Super Kings whose team principal and his son-in-law Gurunath Meiyappan is currently out on bail in the IPL betting scandal.
Jagan, as the MP from Kadapa is popularly known, figures as the accused number one in all three chargesheets while his financial advisor Vijay Sai Reddy is the number two accused.
The investments by Srinivasan were made into Bharati Cements and Jagati Publications owned by Jagan in return for the benefits India Cements received in the form of additional water allocation for its units in Andhra Pradesh.
Jagan, who is in jail since last May, is facing charges of amassing wealth through quid pro quo deals when his father was chief minister from 2004 to 2009.