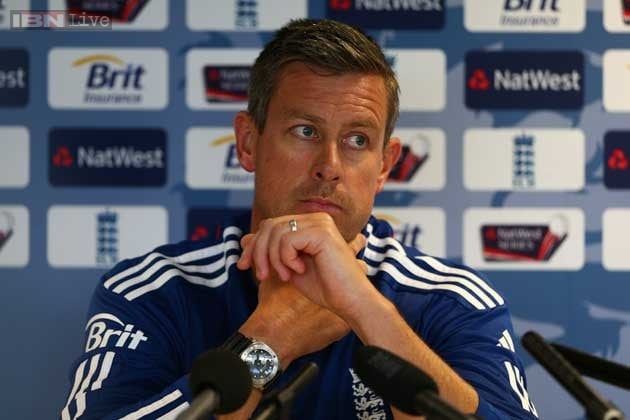 Birmingham: Ashley Giles believes his former England captain Michael Vaughan was too quick in suggesting fans who'd bought tickets for the one-day series with Australia deserved a refund.
Before the series started, England named a one-day squad without several rested senior players in regular captain Alastair Cook, batsman Ian Bell and frontline bowlers James Anderson, Stuart Broad and Graeme Swann from the ongoing one-day series against arch-rivals Australia.Their argument was they could all do with a break before the return Ashes series in Australia starting in November.
Vaughan, though, told his Twitter followers: "I would have only rested Captain Cook.. Plenty of time to rest from Sept 16th - Nov 21st!!!? Can't sell tickets then rest 5 star names!!!! No problems resting players but I think supporters who have paid good money to watch the best should get a small refund..."
However, England limited-overs coach Giles, who played under Vaughan when England regained the Ashes in 2005, said on Tuesday: "It's harsh; I think it was said in haste by Michael. But you look at the side, it's an exciting side to come and watch," added Giles at Edgbaston, where a near capacity 22,000 crowd is expected for the third ODI on Wednesday.
"Kevin Pietersen, Michael Carberry is an exciting batsman at the top of the order. Then you [have] got Jonathan Trott, Joe Root, Eoin Morgan, Ravi Bopara, Steven Finn. There are some good names to watch. Then you have the youngsters. I'd hope the cricketing public would want us to bring through some of our young cricketers and expose them to what is almost the harshest of environments, which is playing Australia."
In the absence of the senior quintet and the injured Tim Bresnan, a new-look England side suffered an 88-run thrashing in the second ODI at Old Trafford on Sunday, with Australia captain Michael Clarke scoring a superb hundred as the tourists went 1-0 up with three to play following Friday's washout in Leeds.
"When you have inexperience, you are going to have to suffer some pain to get some gain," former England left-arm spinner Giles said of a match where 22-year-old allrounder Ben Stokes's 10 wicketless overs cost 66 runs. "Saying that, there is no reason why this team can't win these games of cricket. It was an exceptional batting performance by Australia the other day. Michael Clarke is one of the best players in the world, so he's going to hurt you occasionally."
The Ashes have long been considered the pinnacle by all those involved in England cricket. As a result, Giles said he'd no problem being without senior players for the current one-day campaign. "We've got to get through these two Ashes series, we want to win both series, and of course once we get into the new year, we move that focus more towards the World Cup.
"While it's always frustrating to any coach that you can't have your best side in the middle, the reasoning's absolutely spot-on. We've got to look after our best players while looking at the next generation coming through. Obviously we want to win the series outright but there are other successes to be had.
"With an inexperienced bowling attack and someone like Carberry at the top of the order, we've had an opportunity to look at some young players. If we came through the series and they had some success and they'd moved on and improved, it gives us a much greater pool of players to look at down the line with the 2015 World Cup [in Australia and New Zealand] in mind."
Giles's view was backed up by former England captain David Gower, who said on Tuesday: "If England win this series, for instance...then it is good value." He added: "I think Michael [Vaughan] was being a little bit disingenuous there to say the least. If [England team director] Andy Flower thinks those guys need to be managed in this way, then I'm happy to back Andy Flower on that."