Doull questions India's selection policy
India haven't won a game in the ongoing ODI series so far, losing three of the four ODIs.
Updated: January 29, 2014, 7:01 PM IST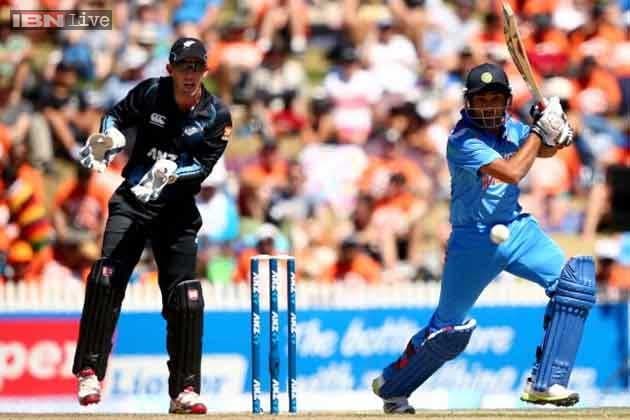 Wellington: Former New Zealand fast bowler Simon Doull has questioned Indian team's selection policy in the ongoing five-match ODI series, which the visitors have already lost, and said he was surprised by the side's reluctance to change things around them.
India haven't won a game in the ongoing tour so far, losing three of the four ODIs (one in Napier and twice in Hamilton), while tying one match at Auckland. The visitors also lost their hard-earned number one ODI ranking.
"I am surprised by the reluctance shown by the Indian team to change things around in this series," said Doull, after India lost the fourth ODI in Hamilton by seven wickets.
"They bowled first throughout the series and then batted in a must-win game. Before that they selected two new players in the eleven and made a whole lot of changes in their batting line-up. They changed too much at one go and usually it doesn't work like that," he insisted.
"After the first two ODIs, it was clear that the New Zealand batsmen had found out a weakness in their spin bowling, particularly during the middle overs. But they still persisted with Ravindra Jadeja and R Ashwin. Don't get me wrong, they are both fantastic cricketers, but why not try Amit Mishra once? He is a leg spinner and could have used the bounce better, and more than anything else, it would have been a change when the series was still there to play for.
"It is just one of many things that have gone wrong for India, but they didn't react to it quickly enough," he added.
The Indian bowling has also come under heavy criticism from skipper MS Dhoni, who expressed his dissatisfaction time and again during the series, and most lately after the loss in Hamilton.
Doull felt the Indian team were trying too many things.
"They are trying too many things," he said, talking about the young Indian pace contingent.
"They have played too much ODI and T20 cricket, or they have played too little. There is no experience in this bowling line-up and they are getting easily carried away. They have bowled really short throughout the series, instead of cutting off runs on atleast one side of the ground," Doull explained.
"That is how you bowl overseas and build pressure. They haven't stuck to the basics. Someone like Bhuvneshwar Kumar, who is otherwise a very good swing bowler, I haven't seen much swing coming from him in this series. But he has definitely bowled short and wide to the batsmen. Why are they not sticking to the basics and getting carried away so easily? Inexperience cannot be an excuse for too long," added the former Kiwi international with 98 Test and 36 ODI wickets.
Asked if the Indian batsmen should also take some of the blame, Doull replied, "For sure. They haven't come in with a game plan against the New Zealand bowling line-up. They must have known that they would be facing a lot of short stuff from the bowlers here, yet their application has been lacking. And their main batsmen aren't in form, or willing to apply themselves. Their game plan against this bowling has been lacking and New Zealand isn't even the quickest bowling attack in the world.
"Shikhar Dhawan is out of touch and Rohit Sharma has been tied down at the starts. There are not major runs coming from lower down either. You cannot expect Virat Kohli or MS Dhoni to score runs every time. Again, they should have realised it earlier than the fourth ODI and adapted to it more quickly, but that didn't happen and that is why India have lost the series," he added.
This series was billed as preparation for the 2015 ODI World Cup to be hosted jointly by Australia and New Zealand, but the embarrassing loss has raised question marks over India's title defence, while forwarding the case for the Kiwis in a tournament that they will be playing at home.
"This series has thrown up two angles. One, New Zealand have played some good cricket and their plans with respect to stopping a very talented Indian team have worked perfectly, be it in terms of batting, bowling or fielding. They have done well against South Africa and England, and it means they are gaining momentum for next year.
"At the same time, India are struggling to find the right combination, not only for next year but also for playing overseas at the moment. They have been found wanting against short bowling, they haven't adapted to the shorter grounds with longer square boundaries where this tactic really works and they haven't made difficult choices in terms of selection.
They haven't adjusted to the conditions here at all, and hence they have been very poor in this series," he said.
"The whole world cricket now knows how to beat India and that will go hard against their bowling and put their batsmen under pressure," Doull signed off.
---
---
Team Rankings
Rank
Team
Points
Rating
1
New Zealand
3198
118
2
Australia
3028
116
3
India
3085
114
4
England
4326
106
5
South Africa
2499
96
FULL Ranking
Rank
Team
Points
Rating
1
England
5405
123
2
India
6102
117
3
New Zealand
3716
116
4
Australia
4344
111
5
South Africa
3345
108
FULL Ranking
Rank
Team
Points
Rating
1
England
6877
275
2
Australia
6800
272
3
India
10186
268
4
Pakistan
7516
259
5
South Africa
5047
252
FULL Ranking