My first Test tour to England coincided with a particularly turbulent period in Indian cricket. Players and the administration had been on a collision course following the 1989 tour of West indies. This had caused suspensions, upheavals, and brought India a new captain, Mohammed Azharrudin after the 1989-90 tour of Pakistan.
How Azhar became captain is the story for another occasion, but Raj Singh Dungarpur, then BCCI president, had recast the side a few months earlier, envisioning a `Team of The 90s' under him with a cluster of young players around him. This process reached fruition when the team for England was announced.
In fact, the squad was rich in talent and well balanced when you go through the names today: Azhar, Ravi Shastri, Navjot Sindgh Sidhu, Sanjay Manjrekar, Dilip Vengsarkar, Sachin Tendulkar, Kapil Dev, Manoj Prabhakar, Kiran More, Sanjeev Sharma, Atul Wassan, W V Raman, Nayan Mongia, Anil Kumble, Narendra Hirwani, Venkatpathy Raju. But of the 16, only Kapil and Vengsarkar were over 30.
There were several exciting aspects to the Test series when the first match began at Lord's. The summer was warm and pitches flat. India had won the two ODI matches convincingly, the batsmen and bowlers looked in good form.
A maiden century had eluded 17-year-old teenage sensation Sachin Tendulkar in New Zealand a few months earlier and critics and fans alike had their attention focused on him. Would he get his first Test century at Lord's?
But Tendulkar was not the only one in focus. Also in the side was `Lord of Lord's' Dilip Vengsarkar, with three successive centuries at this hallowed venue: An outstanding achievement and a fourth century would make it truly incredible.
As it happened, neither Tendulkar nor Vengsarkar got to the three-figure mark. But India's performance was exhilarating nonetheless.
Azharuddin, using his bat like a rapier, evoked comparisons with Ranjitsinhji in a brilliant, counterattacking 121. Shastri added more heft to his growing stature as an opener with a hundred too and late in the innings Kapil Dev hit an astonishing four sixes in a row off Eddie Hemmings to help India avoid the follow on.
With such remarkable exploits, how did India lose this Test? In hindsight, I can think of three reasons.
One, misled by a cloud cover, Azhar chose to field first. The grey blanket over Lord's lifted quickly and soon the conditions were tailor-made for batting.
Second, India had a chance when Graham Gooch edged Sanjeev Sharma and was dropped behind the wickets. He was on 33. He went on to score 333 in the first innings and helped England to a mammoth score of 653 for 4.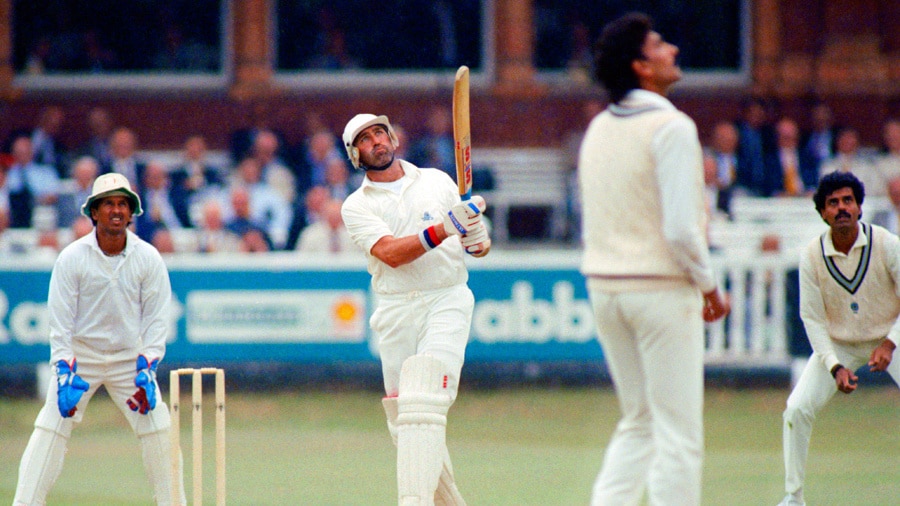 Getty Images
Third was the frenetic pace at which India batted in the first innings, scoring 454 in 114.1 overs. This allowed England opportunity to set a target and successfully bowl India out in the fourth innings.
Notwithstanding this defeat, India were the toast of the summer for the attractive cricket they had played. The players, particularly the batsmen, found appreciation from critics and fans alike. And as the action moved to Old Trafford for the second Test, the buzz around Tendulkar rose a few decibels higher.
It had been less than a year since his debut in Karachi, but Tendulkar had already captured the imagination of the cricket world. His prodigious talent was evident, what was still missing was his first century, and it seemed the English fans wanted this even more eagerly.
The milestone was achieved at Old Trafford. In excruciating circumstances, which highlighted not just Tendulkar's innate talent, but also his hardy temperament, and how rapidly he had grown in coping with pressure at the highest level.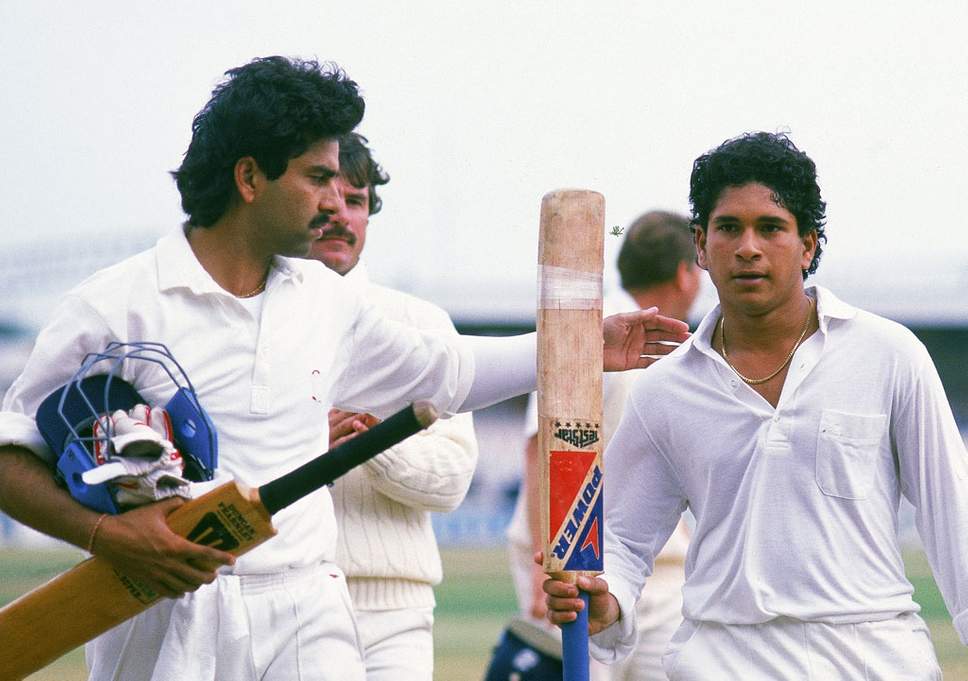 Getty Images
In the first innings, he scored 68, as India chased another mountainous score by England (519), but fell short by 87 runs. Azhar was the main run-getter with a superb 179. But England batted strongly again and India were left to save the Test on a wearing last day pitch.
At 103 for 5, with the top order vanquished, it appeared India were doomed. That's when Tendulkar rose to the occasion, scoring a fighting unbeaten century in the company of resolute Prabhakar. In a way, this was an announcement to the cricket world of what he was to achieve over the next 23 years.
Incidentally, making his debut in this incidentally was a young, tall, bespectacled leg-spinner who was the feature in many Test subsequently with Tendulkar. He picked up three wickets but the complaint against him then was that he hardly turned a ball.
He was dropped for the next Test. In the next 18 years, Anil Kumble was to break all bowling records for India!
Second Test saved, India still had a chance to square the series in the third at The Oval. Shastri's second century of the series and one for Kapil Dev too saw India score 606. When England were bowled out for 340, an Indian win became an exciting possibility.
But the pitch started easing up and became a featherbed to the grief of bowlers. Gower, who had just about avoided being dropped, scored a classy 157, and the match petered out into a tame draw.
Despite the defeat, it had been a terrific tour, throwing up some memorable performances and a couple of players who were to become among the greatest in the game, before or since.