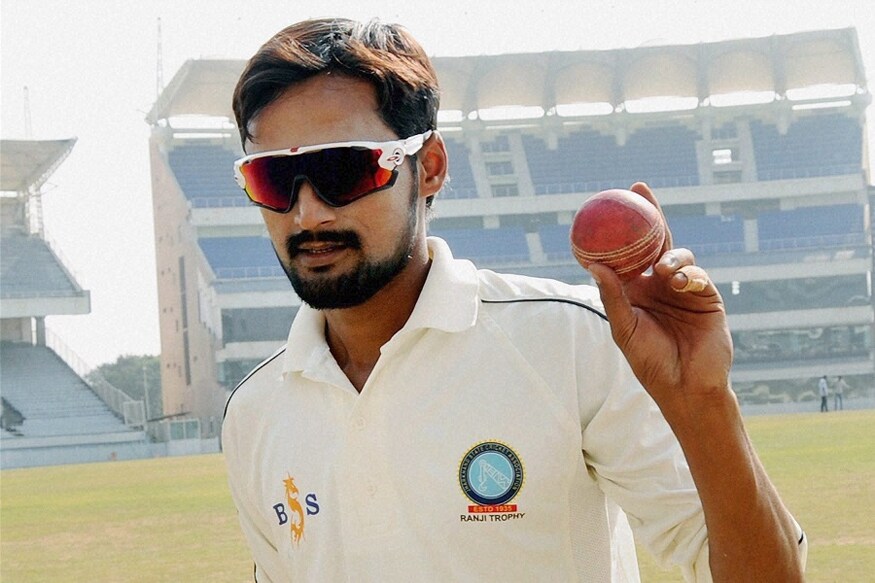 Bengaluru: They say the first impact has to be the loudest - after Jharkhand's opening game against Haryana was washed out, they needed a strong start to their Vijay Hazare campaign -.and Shahbaz Nadeem ensured Jharkhand did not just create a sound but made the decibel levels go a notch higher.
In his side's first appearance of the season against Rajasthan, the 29-year-old put up an exhibition of spin bowling at TI Cycles Ground in Chennai registering world record figures of 10-4-10-8. He broke a two-decade-old record held by Rahul Sanghvi, who had picked up 8 for 15 for Delhi against Himachal Pradesh back in the 1997-98 season.
Nadeem's eight-wicket haul saw Rajasthan shot out for a meagre 73 in 28.3 overs which was chased down by Jharkhand in 14.3 overs as they completed a comprehensive seven-wicket win.
It all started in the tenth over the Rajasthan innings. Having won the toss, Amitkumar Gautam and Ankit Lamba had gotten their side off to a sedate start with a 32-run stand. It all changed, however, once Nadeem came into the attack. The left-arm spinner sparked a spectacular collapse picking wickets one after the other, with the Rajasthan batsmen having no answers whatsoever.
Speaking to Cricketnext soon after his record-breaking feat, Nadeem though said he bowled with a simple plan - draw the batsman forward and bowl stump to stump.
"I only got to know about the record after the match ended. I was just trying to bowl stump to stump at the start and land the ball in good areas," said an ecstatic Nadeem. "After that, I started to get a lot of purchase from the surface as well. But, I just wanted to bowl wicket to wicket so that even the deliveries that are not turning, will at least hit the stumps.
"I only focussed on line and length. If you are getting that right, with the variation in flight, I feel you can get wickets on any surface."
Nadeem's eight-for also included a hat-trick that was split across two overs. He dismissed Mahipal Lomror and Chetan Bist off the last ball of his sixth over and then had Tajinder Singh trapped lbw at the start of his next over. However, he only got to know about it from the match referee later on.
"Arey, mujhe to pata hi nahi chala maine hat-trick le li hai (I didn't even realize I had taken a hattrick)," laughed Nadeem. "When it happened, the referee actually had to come down to tell me about the hat-trick."
There was a point when Nadeem was on track to pick up all ten wickets in the innings. After his eighth over, Nadeem's figures stood at 8-3-9-8, but Anukul Roy, the 19-year-old spinner, broke the sequence picking up the wicket of Rahul Chahar. Nadeem though wasn't fretting about the lost chance insisting it was always the team that came first. He, in fact, said that he helped Roy in picking up the wicket by telling him to bowl slightly quicker.
"There was no banter whatsoever," said Nadeem. "In fact, I told him (Roy) 'go for the wicket, if it (getting ten wickets) is in my destiny, I will get it'.
"The team always comes first, the main motive is to get them out. Records are there to be made and broken. I suggested to him how to bowl on this wicket and the batsman he got out, I told him to bowl on that particular line and a bit quicker and that helped."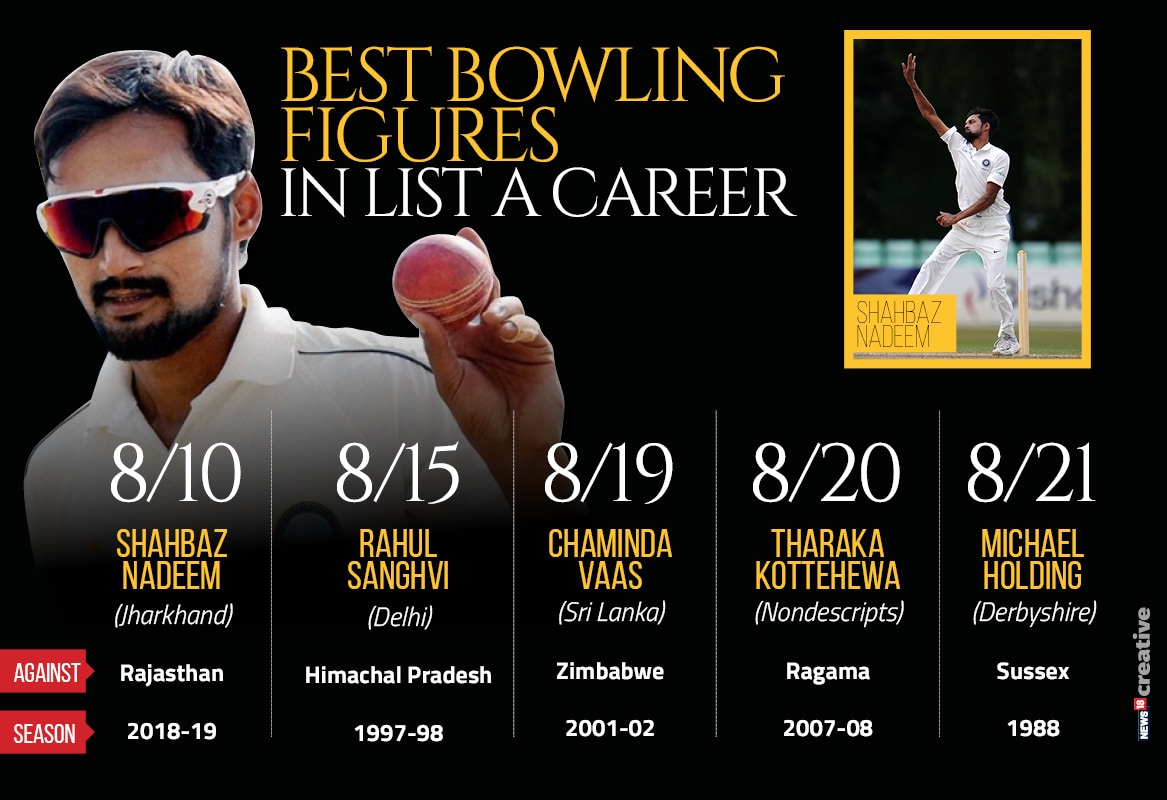 Nadeem has been on the fringes of a national call-up for a while now. He has been a constant presence in the India A squad for the last few years and has been consistently performing for every side he has been a part of. Overall, Nadeem has picked up 124 wickets in 87 List A games. On the first-class circuit as well, he has a been a prolific wicket-taker with 375 wickets in 99 games at 29.74.
Despite the outstanding numbers, the left-arm spinner hasn't yet been selected for the national side. The 29-year-old isn't losing patience though.
"In whatever matches I play, I will try my best to pick as many wickets as I can," he said. "If your goal is to play for the country, you have to be different from other domestic players.
"For that, you will need to perform in every match, will have to give every match that much importance. Only the best 11 get a chance to play for the national team. I have to reach there.
"The selectors keep talking to me. They are very positive about me, they just keep telling me 'you wait for your turn, you turn will come', so it always feels good when the selectors appreciate your performance and keep you in the know-how."
Nadeem recently was one of the five bowlers who were sent to Dubai to help the national side prepare for the ongoing Asia Cup 2018. The left-arm spinner said that bowling to the senior side in the nets certainly helped him become a better cricketer overall, especially his discussions with MS Dhoni, with whom he has also played in the Jharkhand side.
"I spent most of the time in Dubai with Mahi bhai," he said. "The coaches et al came on the last day of my trip, that is September 17 and the match was the next day, so I did not get a chance to speak with them.
"But, I spoke in great depth with Mahi bhai. He told me about the field positions, how it should be and depending on the surface, how I should change it. I got a lot of new ideas and that has certainly helped."
Further elaborating on the differences he felt while bowling in domestic games in comparison to when he bowled to international batsmen he said it was all about the mindset.
"I think it all comes down to the mental aspect," Nadeem pointed out. "I feel, international batsman are much stronger mentally that domestic guys.
"They know what shots you can play and what shots you can cut off. They know which bowler to attack and when to defend. It all boils down to how strong you are mentally."
With Jharkhand starting off the season on a positive note, Nadeem said he was confident about their chances in the upcoming season.
"Our team is quite well-prepared this time around. We had about three to four camps before coming, and the guys have really worked on their fitness," he pointed out. "There is a very good mix of youth and experience. There are a lot of young players and the camaraderie has also been very good."