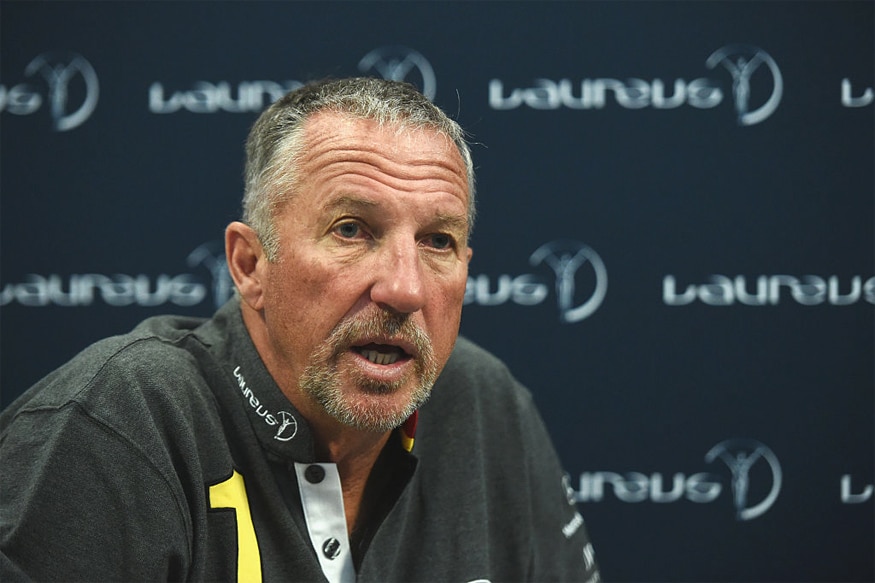 Ian Terence Botham was born on 24th November 1955 and is considered one of the greatest all-rounders of all-time in Tests. He represented England in both Tests and ODIs. He played most of his First-Class cricket for Somerset, and also for Worcestershire, Durham and Queensland. As a batsman, Botham was pretty unidimensional and used to go after the bowling right from ball one. As a bowler Botham was not a fast bowler but a swing bowler who had the enviable knack of taking wickets even of bad deliveries. He was also a brilliant fielder, particularly in the slips. Botham played in 102 Tests and scored 5200 runs at a batting average of 33.54 with 14 centuries and 22 fifties. With the ball, he took 383 wickets at a bowling average of 28.4 and a bowling strike rate of 56.9. Botham also took 120 catches in Tests. From 1986 till 1988, Botham held the record for most Test wickets until he was overtaken by fellow all-rounder Sir Richard Hadlee. Botham took 5 wickets in an innings 27 times and 10 wickets in a match, 4 times in Tests. During the 1980s, the caliber of all-rounders in Tests was phenomenal with Kapil Dev, Imran Khan, Richard Hadlee and Botham himself, motivating each other to raise the bar with healthy competition amongst themselves.
One of the ways in cricket, to judge the caliber of an all-rounder is to subtract his bowling average from his batting average. The higher the figure, the better the all-rounder is considered to be. If we take a minimum cut-off of 3000 runs scored and 200 wickets taken in Tests, then there are 14 all-rounders who make this elite list. The difference between Botham's batting and bowling averages is 5.14, which puts him in 6th position in this elite list. Botham was also the fastest to the double of 1000 Test runs and 100 Test wickets.
Botham made his Test debut for England against Australia on 28th July 1977 and had a phenomenal first 4 years in Test cricket. The next home series against Australia ended on 1st September 1981 and Botham had played 41 Tests during this period. In these 41 Tests, he scored 1977 runs at a batting average of 32.4 with 8 centuries. This was the 9th most number of runs scored by a batsman during this period and he had also scored the 3rd most number of centuries. With the ball, he took 202 wickets at a bowling average of 21.2. The number of Test wickets was 66 more than the next best in the world during this time. This shows what a purple patch he went through as an all-rounder. The difference between his batting and bowling averages at that point of time were 11.2. So, was Botham the greatest all-rounder ever after Sir Garfield Sobers and Jacques Kallis. Not quite.
Even though he will rank quite high in the pantheon of all-time great all-rounders, there are quite a few glaring flaws in Botham's career stats.In his first 72 Tests till 22 August 1984, Botham scored 4153 runs at an impressive average of 36.75 with 13 centuries. He also took 305 wickets at 26.14 during this period with 23 five wicket hauls in an innings and 4 ten wicket hauls in a match. However, in the next 8 years starting from 23rd August 1984 till his retirement, he scored just 1047 runs in his next 30 Tests at 24.92 with just 1 century. With the ball, he took just 78 wickets in the same period with just 4 five wicket hauls in an innings, at a bowling average of 37.06. The difference between his batting and bowling averages during this time was negative 12.14 and he was even dropped from the team during this period, something which would have been unthinkable during his heyday. During the last 8 years of his Test career, he was a mere shadow of the all-rounder that he was at his peak.
Botham played 20 Tests against the West Indies and scored 792 runs at 21.4 without a single century. With the ball, against the same opposition, he took 61 wickets at 35.18. His career averages in batting and bowling against the best team of his era, the West Indies, were way below his overall career averages and that does detract a little from his aura.
However, when he was at his best like in the Ashes series at home against Australia in 1981, he was singlehandedly capable of changing the course of the match with either bat or ball in the matter of a session and that is an area in which he scored over the other 3 all-rounders in the 1980s. In 6 matches in this series, he scored 399 runs at 36.27 and took 34 wickets at 20.58. In the 3rd Test of the series at Headingley in Leeds with England behind in the series 1-0, he rescued England from the brink of an innings defeat. England were trailing by 227 runs in the first innings and were 135/7 in their 2nd innings after being asked to follow on. Botham scored an unbeaten 149 off just 148 balls and added 221 runs with the last 3 wickets to seat Australia a target of 130 to win. They couldn't and England won the Test by 18 runs to level the series at 1 apiece. England then went on to script an incredible turnaround and won the series 3-1 and Botham was the main reason for their change in fortunes. Botham had a poor record as captain of England leading them in 12 Tests and losing 4 and drawing 8 failing to even win a single Test. During the Jubilee Test against India the previous year, Botham became the first cricketer in Test history to score a century and take 10 wickets in the same match.
ODIs
Compared to his Test career, Botham failed to set the stage on fire in ODIs. Botham played in 116 ODIs and scored just 2113 runs at a paltry average of 23.21 with 9 fifties. With the ball, he took 145 wickets at 28.54, at a very good Economy rate of 3.96. Even when you factor in the slower scoring rates of his era, the fact that he only conceded 3.96 runs per over showed that he could put the brakes on the opposition run rate. He also took a wicket every 43 balls and its would not be erroneous to say that he excelled more as a bowler than as a batsman in ODIs. He was promoted to open the batting as a pinch hitter during England's campaign in 1992 and he had limited success in that role. In all, Botham represented England in 3 World Cups, in 1979, 1983 and 1992 and was part of the losing English side in both the 1979 and 1992 World Cup Finals. In the 1979 Final he took 2/44 with the ball and scored just 4 with the bat. In the 1992 World Cup Final, he took 1/42 from 7 overs with the ball and scored a duck with the bat. Botham will look back at his ODI career with some disappointment.
Like every cricketer, Botham has been involved in his fair share of controversies. Botham and Allan Lamb had sued Imran Khan, for an article which Imran had supposedly written in India Today magazine, in which he claimed that Botham and Lamb were racist, not properly educated and of inferior social standing. Botham, alone also sued Imran for a report in the tabloid, The Sun, in which Botham claimed that Imran accused him of ball tampering, something which Botham claimed he has never indulged in. Imran, denied libel and said that he was only trying to defend himself against allegations of cheating that were made against him in a previous newspaper report. During the course of the trial, Imran withdrew a plea of justification with regards to the allegation of ball tampering. However, after 5 hours of deliberation, the jury returned 2 majority verdicts in Imran's favour. This was the most expensive libel case in cricketing history. After the trial at The High Court, Botham said that he was astonished at the verdict of the case, the costs of which were expected to be in upwards of GBP 300,000. Imran Khan had to pay only a small portion of the cost. Botham said that he had fought for his dignity and honesty and felt that the verdict did not affect his reputation.
Botham also enjoys game shooting and owns a grouse moor. This resulted in a high-profile dispute with The Royal Society for the Protection of Birds (RSPB). In August 2016, he called for Chris Packham to be sacked by the BBC as part of a campaign funded by the grouse shooting industry, after Packham had highlighted the involvement of the industry in the illegal killing of endangered species of birds of prey.
In 1977, Ian Chappell alleged that Botham held a beer glass to the former's cheek and threatened to cut him from ear to earat a bar in Melbourne. Botham denies the incident and said that Chappell was making derogatory comments against England and that he gave the latter 3 warnings which Chappell failed to heed. Botham claims that he then pushed Chappell onto a group of Aussie Rules footballers. He then claims to have chased Chappell outside the bar but stopped when he saw a police car. Till this date, both men maintain their version of events.
Once in the 1980s, Botham said that Pakistan was a place he would like to send his mother-in-law to, all expenses paid. This infuriated the staff of the Hilton Hotel, where the English team was staying (Botham was not on the tour) and the staff threatened to go on strike.
However, Botham has a well known softer side and a heart of gold. Botham has been a prodigious fundraiser for charitable causes, undertaking a total of 12 long distance charity walks. His first, in 1985, was a 900-mile trek from John o' Groats to Land's End. His efforts were inspired after a visit to Taunton's Musgrove Park Hospital in 1977, whilst receiving treatment for a broken toe. When he took a wrong turn into a children's ward, he was devastated to learn that some of the children had only weeks to live as they were suffering from leukemia. At that time, Botham's wife was pregnant.This incident had a profound impact on him. Since then, Botham's efforts have raised more than 12 million GBP for charitywith leukemia research the main cause to benefit. In recognition of his work, in 2002, Botham became the first-ever President of Bloodwise, the UK's leading blood cancer charity. In recognition of his services to charity, he was awarded a knighthood in the 2007 New Years Honours List. On 8th August 2009, he was inducted into the ICC Cricket Hall of Fame.
Botham has a wide range of sporting interests outside cricket. He was a talented footballer at school and had to choose between cricket and football as a career. He chose cricket but even so, he did play professional football for a few seasons and made eleven appearances in the Football League for Scunthorpe United. He is a keen golfer and his other pastimes include angling and shooting.
After his retirement, Botham immediately made the transition to the media and became a no holds barred commentator who would not shy away from expressing criticism and giving scathing views, even on English cricketers. However, unlike a lot of ex-cricketers, he stayed clear of using the words 'In my day' and stating that the quality of cricket in his generation was definitely better than the modern day, as a lot of ex-cricketers are prone to do.
Botham has often mentioned that he would like to be remembered as a player who enjoyed the game and played to entertain. There may be a few better all-rounders in the future but there will never be another Ian Botham.