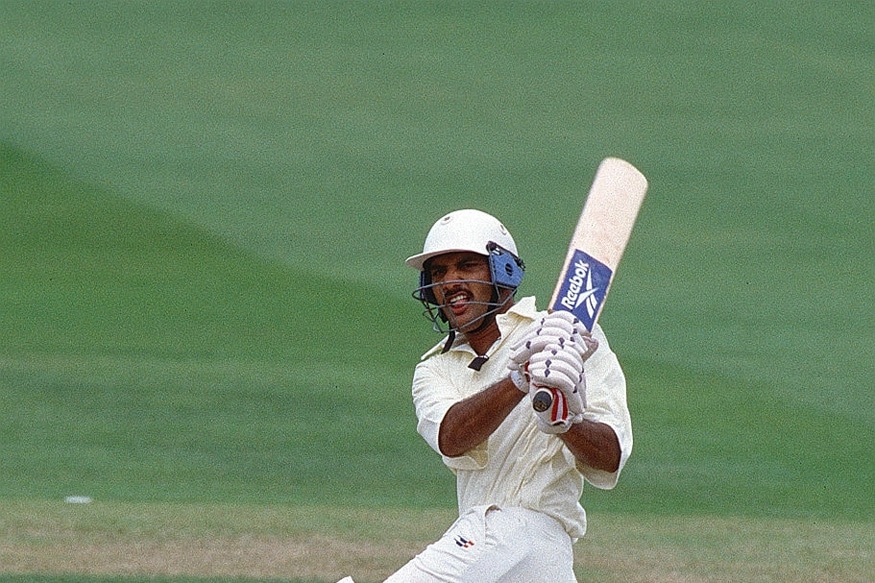 Think of Azhar and the term 'Flawed Genius' comes to mind. Too many young cricket fans who didn't see him play, Azhar may be just remembered for being the Indian Captain who got a life ban for match-fixing. While that was a very big red mark on his career, in all honesty, Mohammad Azharuddin had a very distinguished career before all the controversy and was a very important member of the Indian side for a long period of time. To give a context of how serious a career he had, at the time of his retirement, Azhar –
Had played the most ODIs in international cricket and was the leading ODI run-getter
Had the most Test and ODI wins as India captain
Had a 17-year career from 1984 – 2000
While most will inevitably dwell on his role in the match-fixing saga, let us today take a look at his fairly impressive cricketing career until the life ban.
Sensational Start
Azharuddin, a lanky lad from the city of Hyderabad, made his Ranji Trophy debut in 1981. Right from the outset people sensed a special talent. He was a very wristy player in the mold of Zaheer Abbas and Greg Chappell, as those who watched him bat remarked. After a moderate first season, he scored more than 2500 runs in his next two seasons to earn a call to the Indian side and he made his Test debut at just 21 years of age. He had a sensational start to his Test career, scoring a century on debut against England at Eden Gardens in 1984. He followed it up by scoring two more centuries in the subsequent 2 Tests to become the only player (as yet) to score a century in each of his first 3 Tests. He made his ODI debut in the one-day series that followed.
His talent was there for all to see and, soon enough, he cemented a spot in the India middle order in both ODIs and Tests. He was part of the middle order in India's successful triumph in the World Championship of cricket ODI tournament in Australia where he played all 5 matches and averaged 46.75 during the series.
He was a consistent performer for India during the tours to England in 1986 and Australia in 86-87 in both ODIs and Tests. However, his next big moment came against Sri Lanka in 1988-87 during the solitary Test. He scored his highest Test score of 199 and also made his first ODI century in the ODI series against the Lankans.
Batting Mainstay and promotion to captaincy
He followed up his performance against Sri Lanka with a good Test series against Pakistan where he averaged 52 and scored 2 hundreds in the series.
He was then part of the Indian World Cup team for the '87 edition and played in all 7 matches, scoring 190 runs in the 5 times he batted at an average of over 63. He was very consistent in the ODI format and averaged 54.5 in the Sharjah Cup leading up to the World Cup.
He then went into the Test Series in Pakistan in 1989 where he had another good showing, scoring 315 runs including two fifties and one century. The captain on the tour, Kris Srikanth, was going through a lean patch and was thus dropped from captaincy. The selectors decided to hand over the reins to a younger, non-controversial player like Azhar rather than turn to former captains like Kapil and Vengsarkar so as not to bruise any egos.
He played well and led from the front in his first series as captain against New Zealand, making over 300 runs in a 3 Test series including one century.
However, India's results under him, particularly abroad, were very underwhelming. The team of the early to mid-90s routinely lost comprehensively abroad, be it England in 1990 and 1996 or South Africa 1992 and 1996-97 or Australia 1991-92.  The only notable away Test win came against Sri Lanka in 1993. However, it was a totally different matter at home. India utterly dominated visiting teams on tailor-made spin-friendly pitches and did very well getting the better of England in 1992, Zimbabwe and Sri Lanka in 1993, New Zealand in 1995, and South Africa in 1996.
Dropped as Captain, and back in the saddle again
Azhar had 2 stints as captain. The first one ended in 1996 soon after the forgettable England tour of 1996. The team had faced a miserable exit in the 1996 World cup semi-final. Prior to the World Cup, there were rumours of disharmony within the side. Then, one of the senior members of the team, Navjot Sidhu, walked out of the England tour citing differences with the team 'management'. India lost the series and Azhar got the sack. Tendulkar replaced him as captain, but, in just over a year, Azhar was reappointed skipper.
During his time away from captaincy, Azhar played a couple of Test innings against South Africa for which he will always be remembered fondly. The first of these was at his favourite hunting ground, Eden Gardens. He came in to bat with the score at 77-3, and India struggling in their reply to South Africa's massive total of 428. He soon retired hurt with the score at 87 and resumed his innings when the score read 161-6. In the company of Anil Kumble, he smashed a scintillating 74-ball century, still, the fastest by an Indian in terms of balls faced, and led a rearguard action. He scored 20 runs off one over from Lance Klusener. He then scored another century in the following Test and ended the series as the leading scorer for India with 388 runs, picking up the Man of The Series trophy as India won the series.
Another brilliant performance came against the same opposition, this time in Cape Town in 1997. Replying to South Africa's first innings total of 527, India were tottering at 58-5 when Azhar walked out to join his old cohort Tendulkar in the middle. They started a counter-attack and took the bowlers to the cleaners.  The duo put on a quick 222-run partnership, one of the best counter-attacking partnerships for India, before Azhar was run out on 115, which he had scored in just 110 balls.
Strangely, such performances notwithstanding, because he was not captain, Azhar's commitment to the side was always questioned. A couple of performances, particularly the manner in which he got himself run out in a match against West Indies at Sharjah in 1997 which left even the commentators in disbelief, prompted speculation about his willingness to play under Tendulkar.
The team performances under Tendulkar were not great either. India lost in South Africa in 1996-97 and the West Indies in 1997. In addition, the selectors said Tendulkar was bogged down by the pressures of captaincy, and even though Azhar did not set the field alight with his performances, the selectors felt that he was the only viable alternative compared to younger players in the side like Rahul Dravid and Sourav Ganguly or veterans like Sidhu who was in the twilight of his career.
His second stint at the helm had a similar story as the first. He led India to a famous win over Australia in 1998 at home in what was called the Tendulkar vs Warne showdown series. He also was the captain during the famous Kotla Test against Pakistan and the infamous Kolkata Test against the same opponent in 1999.
Captain in 3 World Cups
Azhar joined a rare group of captains, and the only Indian, to captain their sides in 3 World Cups. He captained the team in 1992, 1996 and 1999. Just as his Test record, the World Cup record was such that India did relatively better in 1996 at home, making the semifinals, but fared poorly in both 1992, where they failed to make the semi-finals after winning only 2 games in the league stage, and also in 1999 as they failed to reach the semis, losing to teams like Zimbabwe too along the way.
It was India's showing at the 1999 World Cup that had grave bearings for him.
Dropped from the side, recalled again
Azhar did not find his name in the team list announced for the 1999-2000 tour of Australia. Sachin was to lead and the selectors decided to give younger players like Vijay Bharadwaj and Devang Gandhi a chance as the selection purportedly focused on youth. However, the team that toured Australia were walloped, and Azhar found himself back in the squad to face South Africa at home in 2000 for a two-Test series and the ODIs that were to follow.
He did not make the playing eleven in the first Test which India lost, then found himself drafted in the team for the next Test, his 99th overall. While the team got outplayed, Azhar top-scored for the team in the match with a century. The ODI matches followed in the month of March 2000.
The match-fixing saga breaks… and takes him down with it
It was in April 2000 that the Delhi Police claimed to have in their possession a telephonic conversation between South African captain Hansie Cronje and a bookie. Cronje was subsequently sacked as captain, and, during an investigation, confessed to meeting the bookie a few years earlier via Azharuddin. Cronje also admitted to receiving some money from the bookies.
The incident blew up and led to an investigation against Azhar and a few other cricketers like Ajay Sharma, Ajay Jadeja, Kapil Dev, Nayan Mongia and Manoj Prabhakar. There was a full-fledged inquiry led by the CBI. The CBI went on record to say that during their interrogation of Azhar, he confessed to having fixed 3 ODIs - one against South Africa in Rajkot in 1996, one in 1997 against Sri Lanka and another game against Pakistan in 1999. Azhar later denied this confession in an interview.
In November 2000, the BCCI found Azhar guilty of match-fixing and banned him for life along with fellow cricketer Ajay Sharma. They also found Ajay Jadeja and Manoj Prabhakar to be involved, and the duo was banned for 5 years. Kapil Dev and Mongia were absolved of any wrongdoing. Thus came an abrupt and humiliating end to a long and successful career.
On November 8, 2012, the Andhra Pradesh High Court lifted the life ban on Azharuddin, terming it unsustainable. However, being 49 years old at the time, there was to be no triumphant come back on the 22 yards for Azhar. His career was stranded on 99 Tests.
Style of Play
Azhar will always be remembered for his wristy play. He played elegantly and was always able to work the ball on the leg side no matter how far outside the off stump the line of the delivery was. Former India captain R Venkatraghavan, who umpired during the time Azhar played, once remarked, "Azharuddin had the best wrists in the game."
He was also a very good fielder and catcher, particularly in the slips. He was, in his prime, the leading catcher in ODI cricket. Former England captain Mike Atherton once remarked that Azhar's "genius was second only to Brian Lara…"
Once when VVS Laxman, a similarly elegant, wristy player from the same town as Azhar, was compared to Azhar, he had this to say: "Please, there cannot be any comparison. 'Azzu Bhai' is far, far superior. I can't ape his class."
Azhar always looked stylish on the field as well, with the collars always up, an understated symbol of defiance even in the face of great odds.
He was 37-years-old in the year 2000, when his career was cut short. He was easily one of the fittest Indian cricketers on the field, and could have played another 1-2 years, given that he scored a century in what turned out to be his last Test.  He thus became the only Indian player to score a century in his first and last Tests for the country.
His overall record went like this –
Tests – Matches 99, Runs 6216, Average 45.08, Hundreds 22, Catches 105
ODIs – Matches 334, Runs 9378, Average – 36.92, Hundreds 7, Catches 156
Mohammed Azharuddin, now 56 years old, dabbles in politics. Who knows, maybe it's his second coming? It won't be the first time he bounced back stronger.