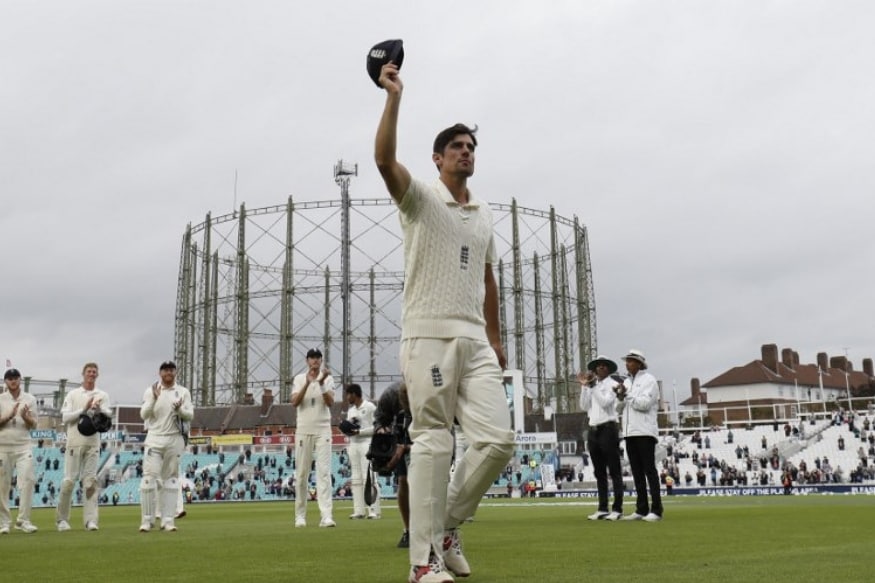 Sir Alastair Nathan Cook was born on 25th December 1984 and has had a long and illustrious career representing England's cricket team. His career has stood the test of time and he has represented England for a period in excess of 12 years. Cook was a mainstay for England in the Test arena for nearly this entire period. He scored runs against all opposition in different parts of the world. Cook represented England in 161 Tests and scored 12472 runs at an average of 45.35 with 33 centuries and 57 fifties. At home, he played 89 Tests and scored 6568 runs at a batting average of 44.37 with 15 centuries and 32 fifties. He played in 66 Tests, away from home and scored 5295 runs at 45.64 with 17 centuries and 22 fifties. In neutral venues, he scored 609 runs in 6 Tests at 55.36 with 1 century and 3 fifties. His record across the world shows that he wasn't just a fair-weather player who scored runs only at home, but all over the world. His 33 centuries are a Test record for England and he is the first English player to participate in 50 Test wins. He is one of just 18 Englishmen and 105 overall, who have scored a Test century on debut. His batting average in the 1st, 2nd, 3rd and 4th innings in Tests is 41.1, 55.04, 46.98 and 35.8 respectively. Apart from the 4th innings, his record in the first 3 innings in Tests shows that he is consistent enough in all types of conditions, irrespective of the vagaries of the pitches.
The batting conditions in the world can be broadly classified into 3 different categories. In Australia and South Africa, there is a lot of pace and bounce. In England and New Zealand there is a lot of swing and lateral movement. In Asia, there is turn on offer and pitches sometimes aid spin excessively, and batting can be a bit of a nightmare as the match progresses. In England and New Zealand combined, Cook has played in 97 Tests and has scored 6975 runs at 42.79 with 16 centuries and 33 fifties. In Australia and South Africa combined, Cook has played in 28 Tests and has scored 2135 runs at 43.57, with 6 centuries and 8 fifties. In Asia, he has played in 28 Tests and has scored 2710 runs at 53.13 with 9 centuries and 11 fifties. This shows that there is no glaring flaw in his record anywhere in the world and that he has scored runs virtually in every corner of the globe. His number of runs and centuries in Asia are both records for a non-Asian batsman in Asia. Cook's 24 victories as Test match skipper, are the joint 2nd most for England (with Andrew Strauss), just behind Michael Vaughan who leads the pack with 26. Most critics which include Ian Chappell and Shane Warne, consider Cook to be a conservative Test captain and while he led by example with the bat, he is certainly not in the list of all-time great Test captains.
His 12472 runs in Tests are the 5th highest in the annals of Tests and his 161 Test appearances are the 7th most in Test cricket. Including Cook, there have been 13 English openers who have scored a minimum of 2500 Test runs and only 6 have a better batting average than him. Out of the 56 opening batsmen from all countries who have scored a minimum of 2500 Test runs as opener, Cook's batting average is not even in the top 20. This is not to detract from his achievements but merely stating that while he has been a prolific and consistent opening batsman for England for a long period of time, he is not the greatest opening batsman of all-time when you compare him with other legends like Jack Hobbs, Herbert Sutcliffe, Len Hutton and Sunil Gavaskar
Cook made his debut against India on 1st March, 2006 and impressed immediately, scoring a century on debut. In spite of his promising start, he had a modest record in his first 3 years. Starting from his debut till his 37th Test (both inclusive) which commenced in 4th February 2009, he scored 2,698 runs at 40.87. However, from the next Test, which started on 13th February 2009, till the conclusion of the Test series against India, away from home (the 4th Test commenced on 5th December 2012), he scored 4,405 runs in 49 Tests at a stupendous batting average of 57.96 with 16 centuries. During this period, he scored 795 more runs than the 2nd most prolific batsman in the world (Michael Clarke) which shows what a purple patch he went through.
Inevitably, being an Englishman, Cook will be judged by his record against the old enemy, Australia. He has played 35 Tests against Australia, and has scored 2493 runs at 40.2 with 5 centuries and 11 fifties. This average is less than his career average but is still respectable. However, in the 7 Test series that he has played against Australia, he averaged in the mid-20s in 4 of them, and in excess of 40 in just 2 out of the 7 series. During England's 2010-11 tour of Australia, Cook scored 766 runs at an average of 127.66 with 3 centuries and 2 fifties.  His consistent batting was one of the main reasons for England winning the series 3-1, which was the first Test series win for England in Australia in 24 years. His 766 runs in that tour, was the 2nd most scored in a series by an Englishman, after Wally Hammond who scored 905 runs in 1928-1929. His batting average in the above-mentioned series is the highest by any English batsman in Australia, who has scored a minimum of 200 runs in a Test series.
Most critics consider a batting average in excess of 50, to be the yardstick by which the greatness of a Test batsman is judged. While Cook falls short on that count, he also played a key role in England winning a Test series in India after 27 years. During that series in 2011-12, Cook scored 562 runs at 80.28 with 3 centuries. This is the maximum number of runs scored by a visiting batsman in a 4 Test series in India.
Cook has scored 1611 runs in 53 innings, in the 4th innings' in Tests at a batting average of 35.8, with 2 centuries and 9 fifties. This is the 2nd highest aggregate runs in the 4th innings but the average is nowhere near the best, which shows that it is merely the number of innings that he has played that has led to him scoring the 2nd highest number of runs in the 4th innings. Cook has taken 175 catches in Tests, which is the 6thhighest by a player other than a wicket-keeper.
ODIs
Cook's ODI record pales in comparison to his terrific Test record. He has played in 92 ODIs and scored 3204 runs at a batting average of 36.4 with 5 centuries and 19 fifties. He has a batting strike rate of 77.13 in ODIs, which is pretty pedestrian when you consider modern day standards. This is borne out for the fact that while he is England's highest run scorer in Tests, he is only 15th in the list of highest run scorers among English players in ODIs. In fact, it would not be an exaggeration to say that Cook managed to play so many ODIs for England, just because he was the captain and the selectors were loath to have 2 different captains for Tests and the limited over formats. In fact, in his last 26 ODIs starting from 5th June 2013, before he was ousted for good in December 2014, just prior to the 2015 World Cup, he scored just 684 runs at a batting average of 27.36 and a batting strike rate of 72.22.
Interests other than cricket
Cook writes columns in The Daily Telegraph and Metro. He is especially gifted with the saxophone and uses his skill with the instrument to contribute to Freefonix, a CBBC animated series with music-based adventures. Cook has donated his time to various charities including taking part in The Great City Race for Breakthrough Breast Cancer, and modelled naked alongside fellow cricketers James Anderson and Stuart Broad, to help raise awareness for testicular cancer on behalf of the Everyman Campaign. Additionally, he is also an active patron of the David Randall Foundation, a charity that carries the name of his childhood friend and opening partner at Maldon Cricket Club& Essex age group sides. Much of the proceeds from his 2014 Benefit Year went to this charity.
In December 2011, Cook married Alice Hunt, whom he had known since childhood.
Cook helps maintain a farm near Leighton Buzzard and has described farming and cricket as the two passions in his life, stating that "They are both my passions and not many people can say what they do for their job or their life is what they love doing all the time". Cook is also a fan of hunting and deer stalking.
Records
Cook is the youngest Englishman to score 2000, 3000, 4000, 5000 and 6000 Test runs.
He is also the youngest player from any country to score 6000, 7000, 8000, 9000 and 10000, 11000 and 12000 Test runs.
He is just the 2nd opener after Sunil Gavaskar to score in excess of 10000 Test runs.
He is the 1st opener in Test history to score in excess of 11000 and 12000 Test runs.
He is the 16th English batsman to score a century on his Test debut.
Testimonials
The NBC Denis Compton Award is an annual award given to 'The Most Promising Young Player' at each of the 18 English First Class Counties. A player may win the award more than once. Cook won the award in 2003, 2004, 2005 and 2006.
The Cricket Writers' Club Young Cricketer of the Year' is an annual cricket award, presented to the young player who is adjudged to have been the best of the year in English county cricket. The award has been presented since the 1950 season and the winner is chosen by a vote amongst the members of the Cricket Writers' Club.  Only players that are qualified to represent the England Cricket team, and are aged under 23 on 1 May of the awarding year, are eligible for the prize.Cook has wonthis prestigious award in 2005 and 2006. In 2011, Cook was conferred the Member of the Order of the British Empire. He was chosen as the ICC Test player of the Year in 2011. He was selected as the opening batsman in the ICC Test XI in 2011 and 2012. He was also selected as the opening batsman in the ICC ODI XI in 2012 and also won the award as the Wisden Cricketer of the Year in 2012. He was also named as the captain of the ICC World Test XI in 2013, 2015 and 2016.
These days almost every international cricketer has been embroiled in some controversy or other and that comes with the territory of playing international cricket. However, Cook's career has been free of any controversies and scandals and his behavior both on and off the field has been without any blemishes.
In summation, Cook has been a great ambassador for English and world cricket. He wasn't a great batsman but a very good one who gave yeoman service to his country. He will go down in the pantheon of Test batsmen as a very good player who served at the highest level for a long time, and is a role model for all aspiring young cricketers for the way he carried himself on and off the field.