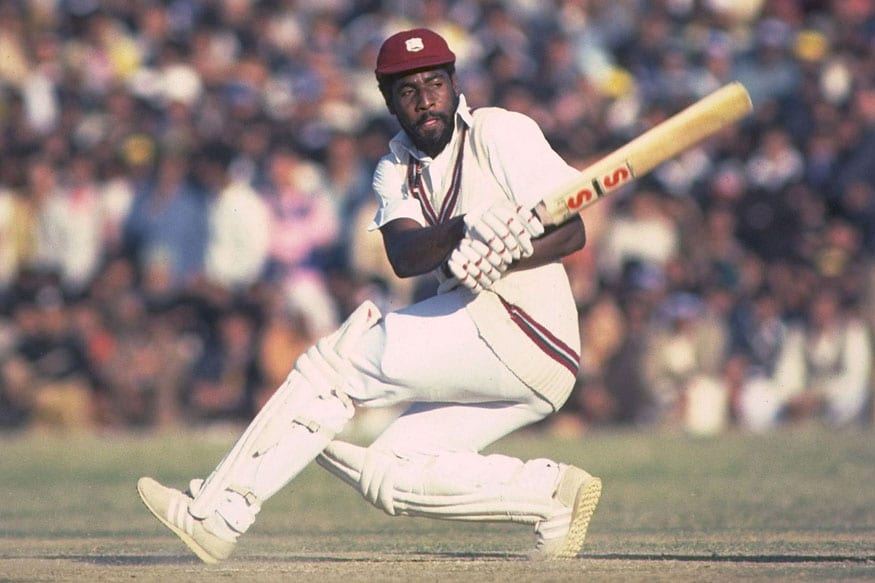 There are some cricketers who are prolific run scorers but do so at a snail's pace and are not particularly appealing to the eye. There are some cricketers who score runs at a brisk pace but do not score enough runs to be called great or even good batsmen. There are some cricketers who excel at a particular format but are found wanting in another. There are some cricketers who score a lot of runs at a brisk pace and also stir the senses by the manner of their stroke play. Isaac Vivian Alexander Richards falls into the last category. He had a long and illustrious career and entertained his legion of fans with his scintillating stroke play in both Tests and ODIs. What made Richards tick over such a long career was his god given gift of picking the line and length of the ball earlier than most mere mortals. He was also blessed with immense power and was considered the hardest hitter of the ball in his era.
He sauntered to the crease but there was an unmistakable swagger in his approach and a hint of menace when he looked the bowler in the eye. He left the opposition in no doubt that it was his stage and his body language was such that he looked to impose his presence and intimidate the rival bowlers. Richards played in 121 Tests and scored 8540 runs at a batting average of 50.23 with 24 centuries and 45 fifties. His 24 centuries may seem insignificant when you look at the Test record of 51 held by Sachin Tendulkar. However, he played in 79 less Tests than Tendulkar. Richards made his Test debut on 22 Nov 1974 and his last Test commenced on 08 August 1991. During this period only, Sunil Gavaskar scored more Test centuries with 29. During the period from his debut Test to his last Test, Richards was the 3rd highest run-getter in Tests, behind Allan Border and Gavaskar. However, both these batsmen played more innings than him.
Whichever parameter one chooses to judge Richards by, he is an all-time great and even his harshest critic cannot deny the fact that he was one of the greatest batsmen of all-time.
Out of the 96 batsmen who have scored a minimum of 5000 Test runs, only 4 batsmen have scored at a faster rate than Richards. They are Virender Sehwag, Adam Gilchrist, David Warner and Kapil Dev. If the cut-off is increased to 8000 Test runs then only Sehwag scores at a brisker rate than Viv among the 30 batsmen in this elite list. In the calendar year 1976, Richards played 11 Tests and scored 1710 runs at an average of 90 with 7 centuries and 5 fifties. This remained the record for the maximum number of runs scored in a calendar year until 2006 when it was eclipsed by Mohammad Yousuf. The purpose of this podcast is not to recount Viv's entire Test career in detail but to state his career highlights and give a brief insight on what made him unique and such a celebrated cricketer of his time. For a long part of his career, Viv batted at the number 3 position but on becoming captain he demoted himself down the order. Still, he has a formidable record at number 3. Out of the 38 batsmen who have scored a minimum of 2000 Test runs at number 3. Viv has the 5th best batting average. Most pundits would rate him as the best number 3 batsmen after Don Bradman. As captain, Viv led the West Indies in 14 Test series and the Windies triumphed in 9 of those series and drew 5. He remains one of the few captains to have never lost a Test series.
In ODIs, Richards has a record that stands the Test of time. With increased field restrictions and a faster rate of scoring, most batsmen of the modern age have higher averages and strike rates than their predecessors of the 1980s and 1990s. Viv played 187 ODIs and scored 6721 runs at a batting average of 47 and a batting strike rate of 90.2 with 11 centuries and 45 fifties. He made his debut in Odis on 7th June 1975 in the World Cup. In the final of the 1975 World Cup, Richards scored only 5 runs but made an impact with his fielding by running out 3 Australian batsmen. Out of the 33 batsmen who scored a minimum of 2000 runs in ODIs, from the period starting from Richards' ODI debut to his last ODI, only Kapil Dev had a higher batting strike rate but he averaged a good 20 runs lesser than Viv. Considering the same 33 batsmen, only Dean Jones had a higher batting average but had a batting strike rate of 14 runs/100 balls slower than Viv. As far as run scoring goes, his team mate Desmond Haynes scored 58 runs more during the same period but took 14 innings more. Even in the modern age, batsmen like Virat Kohli, AB De Villiers, Glenn Maxwell, Jos Buttler and David Warner cannot head the ODI batting charts in all 3 parameters. Some batsmen have high batting averages but modest strike rates. Some batsmen score at a phenomenal strike rate but don't make the upper echelons in batting averages and aggregates.  For Viv to be at the top of the class in all 3 parameters in his era in ODIs, shows his caliber.
Viv also had a sense of the big occasion and scored an unbeaten 138 in the 1979 World Cup Final against England. His six off English bowler Mike Hendricks when he moved across his stumps and struck the attempted yorker for a maximum off the last ball of the innings is part of cricketing folk lore. Viv also bowled useful off-spin and took 32 wickets in Tests and 118 wickets in ODIs, at a miserly economy rate of just 4.49 in ODIs, which is very good even when you factor the slower scoring rates of his era. In his biography, written by Ashley Mallett, Ian Chappell rates Viv as one of the 3 best fieldsmen he has ever seen in any position on the cricket field. This includes the slips, in-field and the out-field. Viv also became the first cricketer to win 20 Man of the Match awards in ODIs. He also became the first batsman to score in excess of 180 in an innings, twice in ODIs.
In today's day and age due to the cramped international schedule, even accomplished batsmen struggle to score 100 First Class centuries as they are unable to play enough matches to achieve this milestone. In the history of cricket only 4 non-English batsmen have scored 100 First Class centuries. They are Don Bradman, Glenn Turner, Zaheer Abbas and Viv Richards. Richards was also chosen as a Wisden Cricketer of the Year in 1977. In 2000, Richards was chosen by a panel of experts as one of Wisden's 5 Cricketers of the Century. Viv played for the English county Somerset from 1974- 1986 and for Glamorgan from 1990-1993. The triumvirate of Viv Richards, Joel Garner and Ian Botham were instrumental in winning many trophies for the county and when Somerset sacked the West Indian duo in 1986, Botham quit the club in protest for what he felt was a shocking decision. Viv is also a god-father to Botham's son, Liam. Post World Series Cricket (WSC), most batsmen in world cricket started wearing helmets to protect themselves from injury but Viv batted with only a cap throughout his career, trusting his eye and his reflexes to avoid getting hit.
Imran Khan, Pakistan's greatest ever all-rounder and captain, rates Richards as the best batsman ever against genuine pace. Barry Richards, Ravi Shastri and Neil Fairbrother cite him as the best batsman they had ever seen. Wasim Akram rates Viv as the best batsman he has ever bowled to. In cricketing history, most critics will be unanimous in stating that Muttiah Muralitharan and Shane Warne are the 2 greatest spinners ever. Murali has stated that he idolized Viv when he was growing up while Warne rates him as the greatest batsman he has seen and second overall after the peerless Bradman.
The ICC came out with their rankings for the best batsmen and bowlers for both Tests and ODIs. The ICC Test rankings had Viv in 6th place after Sir Don Bradman, Sir Len Hutton, Sir Jack Hobbs, Ricky Ponting and Peter May. In ODIs, Viv occupied pole position. These ranking were based by the level achieved by these batsmen at their respective peaks. In a poll, Richards was voted as the greatest cricketer since 1970, just ahead of Ian Botham and Shane Warne.
In a study done by ESPN' Cricinfo magazine in 2006, Viv was rated as the greatest ODI batsman. In an exercise conducted by a 50-member jury of cricket players, writers and commentators in 2015 by the Cricket Monthly, Richards was voted as the greatest ever ODI cricketer.
Here are some of the most famous records in Richards' name in international cricket.
In 1986, Richards scored an unbeaten 110 off just 58 balls against England at St John's in Antigua. During this innings he became the first batsman to score a century in Tests at a batting strike rate in excess of 150. This was also the record for the fastest century in terms of balls in Tests (56). This record was later equaled by Misbah-ul-Haq and later eclipsed by Brendon McCullum.
Richards set a record of being the fastest to reach the 1000 runs mark in ODIs which he achieved in just 21 innings.
Along with Michael Holding, Richards holds the record for the highest 10th wicket partnership in ODIs when the duo put on an unbeaten 106 for the last wicket against England at Old Trafford in May 1984. In 2002, Viv was chosen by Wisden as the greatest ODI batsman of all-time as well as the 3rd greatest Test batsmen of all-time after Don Bradman and Sachin Tendulkar.
Richards became the first player to score a fifty and take a 5-wicket haul in the same ODI. He also was the first player to score a century and take a 5-wicket haul in the same match in ODIs. In 1981, Richards published his autobiography entitled Hitting Across the Line. In the book, Richards describes how his whole life revolved around sports and cricket in particular. He describes how his technique of hitting across the line of the ball which is considered to be a very risky thing to do, came about. There has never been a better exponent of this particular art of batting and that can be attributed to his legendary eyesight.
In 1994, Richards was appointed an Officer of the Order of the British Empire (OBE) for services to cricket. In 1999, he was made a Knight commander of the order of the Nation (KCN) by his native country, Antigua and Barbuda. In 2006, he was upgraded to Antigua and Barbuda's highest award, Knight of the Order of the National Hero (KNH).
The Sir Vivian Richards Stadium in North Sound, Antigua was named in his honour and was built for use in the 2007 World Cup. The ground has hosted 3 Tests, 17 ODIs and 4 T20Is.
In spite of having many records to his name, it would be a disservice to Richards and even cricket, to just narrate his statistical feats. He was much more than a batting automaton and his legacy to cricket is not just the amount of runs he scored but the way he scored them. He looked to dominate the opposition but also looked to entertain and give the spectators and fans their money's worth. It is safe to say that while there will be a few batsmen who will surpass his statistical achievements and feats, there will never be another Viv Richards. He should be remembered for all the entertainment he gave fans throughout the course of his cricketing journey.