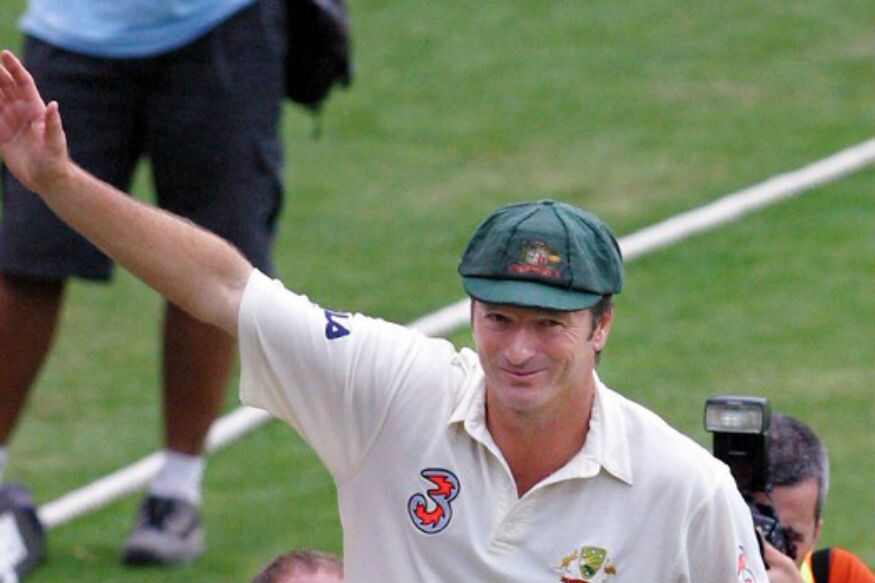 Steve Waugh was born in New South Wales on 2nd June 1965, and was known as a dogged, dependable batsman who put a price on his wicket. He wasn't the most flamboyant, attractive or destructive batsman of his generation, particularly when you compare him to players like Sachin Tendulkar, Brian Lara and Ricky Ponting. Many critics even said that they would rather pay money to watch his twin brother Mark, over him. However, there is no doubting Steve Waugh's caliber as a top-notch Aussie batsman. He courted a lot of controversy in his career with his no quarters given, none asked approach, and his mental disintegration statements and the ruthless gamesmanship that the teams he led indulged in. At the time of his retirement in January 2004, he had played in 168 Tests which was a world record until it was broken by Sachin Tendulkar in 2010. Steve played in 168 Tests and scored 10927 runs at a batting average of 51.06 with 32 centuries and 50 fifties. Ian Chappell calls Steve Waugh a match saver as opposed to a match winner and Waugh was not a batsman who tore an attack apart but one who ground them into submission with his stubborn defense. At the number 5 position in Tests, Waugh scored 6754 runs at 56.28 with 24 centuries. The number of runs at the number 5 position is the 2nd highest in Test history and the number of centuries is the most by anyone at that position in Tests. He scored 3165 runs at 51.04 at the number 6 position which is a world record.
Waugh had a very slow and mediocre start to his Test career and took 27 Tests to score his first Test century. After the end of his first 26 Tests he had scored just 1099 runs at 30.52. At the end of 52 Tests, he had scored just 2503 runs at a paltry average of 36.27. However, from his 53rd Test which commenced during the Ashes in June 1993 till his 139th Test which commenced in England on 23rd August 2001, he scored 6783 runs at 61.66 with 23 centuries. During this purple patch, he scored the most runs and centuries of any player in Test cricket. Waugh came of age during Australia's tour of the Caribbean in 1995. West Indies had been unbeaten in Tests for 15 years. Waugh was involved in a couple of controversies but refused to take a backward step. With the series poised at 1-1, Waugh scored 200 in the first innings of the 4th Test at Sabina Park, in Kingston, Jamaica. West Indies were bowled out for 265, but Australia were reeling at 73/3 in reply, when Steve put on a partnership of 231 with his brother Mark, to help Australia clinch the series 2-1. After Mark Taylor's retirement from Tests in January 1999, Waugh was appointed captain of Australia's Test team. There have been 19 captains who have won a minimum of 20 Tests as skipper in Tests and Waugh's Win-Loss ratio of 4.56 is the best in this elite list. Many critics rated Waugh's Test captaincy as ordinary and attributed his success as Test captain to his great team, but there can be no denying the fact that you need a lot of leadership skills to manage so many champion players. One of Waugh's most famous ambitions in Tests was to win a Test series in India, which he called his final frontier, and that is one of the few times in his Test career, where he was found wanting. Australia came to India in 2001 having won a record 15 consecutive Tests and they increased the tally to 16 with a 10 wicket win in the 1st Test at Mumbai. However, in the next Test at the Eden Gardens in Kolkata, Australia's winning streak was snapped by a once in a lifetime innings of 281 by VVS Laxman. India won by 179 runs and many pundits felt that Waugh ran out of ideas and that his captaincy in the field was found wanting. Out of the 16 consecutive Tests winning streak, 15 were under Waugh's captaincy.
ODIs
Waugh played in 325 ODIs and scored 7569 runs at a pedestrian batting average of 32.9 with just 3 centuries. Therefore, it would not be erroneous to suggest that Waugh was just an average player in ODIs and he certainly did not set the stage alight in ODIs. However, he is one of the few players in ODI history who have won the World Cup twice and made significant contributions in both of Australia's World Cup campaigns that he was involved in. Even though Waugh, was primarily picked in the team as a batsman, he was a useful bowler, particularly in ODIs. He has taken 195 wickets at 34.67 and a very good economy rate of 4.56 in his ODI career. In the 1987 World Cup, Waugh made a name for himself as an all-rounder making a lot of vital breakthroughs with the ball, and playing a few cameos with the bat. In the first round-robin match against India, he dismissed Maninder Singh to enable Australia to win by 1 run. In another round-robin match against New Zealand he defended 7 runs in the last over and took 2 wickets. In the semi-final against Pakistan at Lahore, he played an unbeaten cameo of 32, scoring 16 runs in the last over. Australia won by 18 runs to enter the final. In the final, he took the crucial wickets of Allan Lamb and Philip DeFreitas as Australia won a close match by 7 runs to win the World Cup for the 1st time.
In the 1999 World Cup, Australia were in a must win situation in a Super Six match against South Africa and Waugh came to the party and played a captain's knock with an unbeaten 120 that helped his team stay in the tournament. Australia were in a spot of bother at 48/3 chasing 271 when Waugh in the company of Ricky Ponting rescued his team and helped them qualify for the semi-finals. In the semi-finals against South Africa, Australia were tottering at 68/4 when Waugh scored a valuable 56 to give them a fighting chance, as Australia posted a total of 213. That match is probably considered the greatest ODI ever and Waugh handled his resources well in the field as Australia tied the match and went through to the final as they had finished ahead of the Proteas in the Super Six stage. Australia went on to win the World Cup and Waugh had pulled his weight in the team.
Like all cricketers, Steve Waugh has been involved in a fair number of controversies. During the 1st Day of the 3rd Test between West Indies and Australia at the Queen's Park Oval, in Port of Spain, in Trinidad in 1995, there was a verbal altercation between Steve Waugh and Curtly Ambrose. Ambrose was told by his team mate, Kenny Benjamin that Waugh had sworn at Ambrose. When Ambrose confronted Waugh regarding this, Waugh told him that he could say whatever he wanted. Ambrose was one of those fast bowlers who never swore at anyone and he felt that Waugh's swearing amounted to disrespect. He told Waugh to never again swear at him, and that he didn't care if it was the end of his career, but that he would knock Waugh out. Luckily, Ambrose's captain, Richie Richardson intervened and pulled Ambrose away before the situation could escalate any further.
During the 1995 Test series in the Caribbean, West Indies were in a precarious position in the 1st Test at Kensington Oval, in Bridgetown, Barbados and had mounted a recovery through an innings of 65 from Brian Lara, when Lara was adjudged caught to a highly contentious catch from Steve Waugh. Australia went on to win the match by 10 wickets, but replays cast doubt over the legality of the catch and this enraged the passionate home crowd. Vivian Richards who had retired from cricket a few years ago said that the disputed catch made Australia's victory a hollow one. Richards went on to add that replays showed that the ball had bounced and that the fielder would have known that.
During their tour of the Caribbean in 1999, Australia were trailing in 2-1 in the 4 Test series and Shane Warne was having a very poor run, and was out of form. Steve Waugh did not want to play 2 leg spinners in the team for the 4th Test. He made the decision to drop Warne for the final Test and Warne protested and wanted to discuss the decision on the basis that Warne had a good record in crunch games and could possibly turn around his and the team's fortunes. Waugh bluntly refused and said that he was the captain and that Warne was not playing. A captain has the final say in team selection and has the right to drop a player but perhaps Waugh was a bit officious and could have shown a little more tact when dealing with a legend like Warne. Australia went on to win the 4th Test and square the series 2-2. Later on, after Warne's retirement he went on to call Steve Waugh the most selfish cricketer he ever played with.
During the 1999 World Cup in England, Australia deliberately delayed their victory in a run chase against the West Indies, in order to improve the latter's net run rate so that West Indies had a better chance of qualifying than New Zealand, which would mean that Australia would qualify for the Super Sixes with 2 points instead of zero, if the Kiwis qualified. When Waugh was questioned at a press conference about the ethics of this manipulation, he retorted that Australia were not playing to win friends.
During India's tour of Australia in 2003-04, which turned out to be Waugh's farewell series, he was accused of striking a deal with Cricket Australia by announcing his retirement from Test cricket in exchange for being given an assurance that he would not be dropped and would play in all 4 Tests. During the 1st Test, Waugh charged for a 3rd run, even after Damien Martyn had clearly said no and forced Martyn to sacrifice his wicket for his skipper.
In spite of all the controversies that he has been involved in, it would be a mistake to conclude that Waugh was only a cutthroat Aussie who wanted to win at all costs. Outside cricket, even before his retirement, Waugh had helped raise funds for a children's leper colony, Udayan, in Kolkata. He said that if you don't help people in need, then that's not cricket. Waugh also encouraged the Australian teams he toured with, to embrace and enjoy the culture of the countries which they visited, particularly in South Asia, to reduce the siege mentality of the previous Australian teams. During the end of this career, Waugh used to write for a lot of newspapers and used to personally write his columns, rather than taking the assistance of journalists to pen his thoughts. He had written a lot of tour diaries and an autobiography called 'Out of My Comfort Zone'.
Waugh was named 'Australian of the Year' in 2004 in recognition of both his cricketing achievements and his charity work. He was also named 'Australian Father of the Year' in 2005. Following his retirement, Waugh established the Steve Waugh Foundation which is aimed at children who have a disease, an illness or an affliction that does meet the set criteria of other charitable organizations. Waugh worked as an athletics liaison officer for Australia at the 2008 Summer Olympics in Beijing. He was also involved with the Australian Football team during the Asia Cup assisting the team as a psychological mentor. On 14th July 2000, Waugh was awarded the Australian Sports Medal. On 30th February 2009, Waugh became the 30th cricketer to be inducted into the Australian Cricket Hall of Fame.
To summarize, Steve Waugh should be remembered as a hard as nails cricketer, who gave his all in the Australian team's pursuit of victory and was even willing to cross the line to help his team win. However, he also had a heart and was willing to offer his help to those in need, particularly after retirement. He was a very good, if not great batsman who deserves recognition for his feats on the cricketing field.