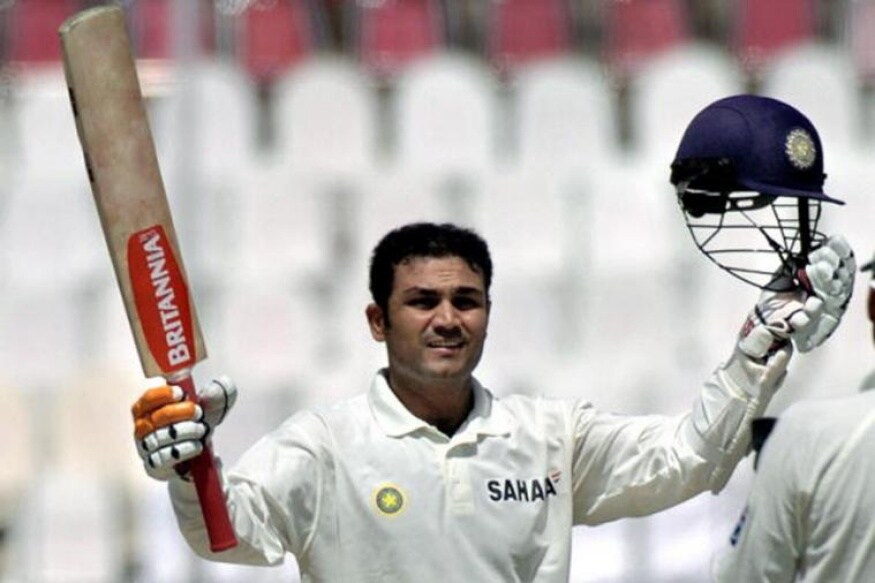 Virender Sehwag was born on 20th October 1978 and is considered one of India's greatest ever Test batsman. Sehwag's biggest strength was his incredible eye which enabled him to pick the line and length of the ball, quicker than most mere mortals. He also had a cool, calm and unruffled temperament as well as the priceless ability to forget what happened the previous ball, even if he had played a rash stroke. Moreover, he did not have any fear of getting out and did not let the situation of the game affect his stroke play. He believed in the mantra 'See ball, hit ball', and this fearlessness was one of the main reasons he scored so many runs at such a quick rate in his career. At times, Sehwag used to face a lot of criticism for playing reckless shots and getting out, but he continued to bat with the same carefree approach without coming under any pressure from critics.
Sehwag played 104 Test matches and scored 8,586 runs at an average of 49.34, with 23 centuries and 32 fifties. He had a batting strike rate of 82.23. At home, he played 52 Tests and made 4,656 runs at an average of 54.13, with 13 centuries and 19 fifties. Away from home, he scored 3930 runs in 52 Tests at an average of 44.65, with 10 centuries and 13 fifties. While his away record wasn't as good, it was pretty adequate and showed that he wasn't just a flat track bully but could score even on the relatively difficult wickets abroad. Interestingly, before he made his Test debut, Sehwag wasn't an opener at the domestic level. It was due to the urging of his skipper Sourav Ganguly that he started opening the batting in Test cricket. Eventually, he opened in 170 out of the 180 innings he played in Tests, and scoring an impressive 8,207 runs at an average of 50.04 with 22 centuries and 30 fifties while opening the batting.
The conditions in which cricket is played around the world can be divided into 3 different types. In Australia and South Africa, there is pace and bounce. In Asia, the wickets are slow and low, with plenty of turn for the spinners. In England and New Zealand, there is swing and seam movement. In South Africa and Australia combined, Sehwag has played 19 Tests and scored 1,413 runs at an average of 38.18 with 3 centuries and 6 fifties. He has scored 2 centuries in Australia and 1 in South Africa. In New Zealand and England combined, he has played 11 Tests and made 458 runs at an average of 24.1 with 1 century and 1 fifty. He has scored 1 century in England, but none in New Zealand. In Asia, he has played 68 Tests and has scored 6,256 runs at 57.39 with 18 centuries and 24 fifties. So, apart from England and New Zealand he has a pretty good away record. In New Zealand and England, it is understandable that he would have a poor record, because the ball moves a lot laterally and he did not have the technique to counter the moving ball, as he played without any movement of his feet and just hit through the line. In Asian conditions, he was a genuine match-winner - he scored heavily, and at such a brisk rate, that he put his team in an impregnable position. Out of the 58 batsmen who have scored a minimum of 2000 runs in Asia, he has the 6th best batting average. One obvious flaw in Sehwag's record is that his average in the team's first innings (1st and 2nd of the Test) is 62.5, whereas his average in the team's 2nd innings (3rd and 4th of match) is just 30.25. Most cricket pundits say that it is better to have to have a high batting average in the team's first innings as it sets up the match, but there is no denying the fact that Sehwag's record in trying conditions in the 3rd and 4th innings in a Test is a major blip in his Test record. 22 of his 23 Test centuries have come in his team's 1st innings.
Sehwag has scored 1000 runs in a calendar year 3 times in Tests. He scored 1141, 1462 and 1422 runs in 2004, 2008 and 2010 respectively. For India, only Sachin Tendulkar with 6, and Sunil Gavaskar with 4, have scored 1000 Test runs in a calendar year more times. Sehwag has the highest batting strike rate among all the 310 batsmen who have scored a minimum of 2000 Test runs.
ODIs
Sehwag's ODI career did not reach the dizzying heights of his Test career but it had a few highlights. In a match against West Indies in Indore in December 2011, Sehwag scored 219 runs off 149 balls to become the 2nd Indian to score a double century in ODI cricket. He played in 251 ODIs and scored 8,273 runs at an average of 35.5 with a strike rate of 104.33. He has15 centuries and 38 fifties to his name. Sehwag has the 3rd best batting strike rate among all the 150 batsmen who have scored a minimum of 3000 ODI runs. Only Jos Buttler and Shahid Afridi have scored at a better strike rate.
Memorable innings
Sehwag's 2 triple centuries and his 293 against Sri Lanka rank among his most memorable innings in Tests. In the 1st Test between India and Pakistan in 2004 at Multan, Sehwag became the 1st Indian to score a triple century in Tests. He scored 309 off just 375 balls, studded with 39 fours and 6 sixes. In typical Sehwag style, he brought up the 300 with a six off Saqlain Mushtaq. India won that match by an innings and 52 runs, and Sehwag's decimation of the Pakistani bowlers showed that he could notch up huge scores in spite of scoring at such a quick rate, and not just be content with quick cameos.
In the 1st Test of South Africa's tour of India in 2008, Sehwag struck a blistering 319 off just 304 balls against a South African attack comprising Dale Steyn, Morne Morkel, Makhaya Ntini and Jacques Kallis. The South African attack was one of the best in the world but they had no answer to Sehwag's scintillating stroke play. He struck 42 fours and 5 sixes in his innings and helped India to a position of safety after South Africa had posted a mammoth 540 batting first.
During the 3rd Test of Sri Lanka's tour of India in 2009, Sehwag struck 293 off 254 balls, studded with 40 fours and 7 sixes. Though the quality of the bowling attack was not as good as the ones he had scored the triple centuries against, no amount of praise is high enough for the sheer range of his stroke play in that game. He came agonisingly close to becoming the first person to score 3 triple centuries in Tests.
During the 2nd Test of India's tour of Sri Lanka at Galle in 2008, Sehwag carried his bat and scored an unbeaten 201 off just 231 deliveries, studded with 22 fours and 4 sixes. His knock helped India level the Test series at 1 apiece.
IPL career     
Sehwag played for Delhi Daredevils and Kings XI Punjab in the IPL but could not help either of those teams to a title. He helped Delhi Daredevils reach the semi-finals in both 2008 and 2009. Given the nature of his batting and his range of stroke play, Twenty20 should have been the ideal format for him to excel but he had an underwhelming record in the IPL. He played in 104 IPL matches and scored 2728 runs at 27.55 and a batting strike rate of 155.44. He is 21st in the overall run scorers list in the IPL but has the highest batting strike rate among all the 21.
Records
Sehwag is the only opener in history to score 7,500 runs as opener in both Tests and ODIs.
He has scored the fastest triple century in Tests, off just 278 balls.
He has scored the 2nd fastest 250 in Tests, off just 207 balls.
He has scored the 3rd fastest double century in Tests, in terms of balls faced. He also has 4 of the top 10 fastest double centuries to his credit.
Sehwag has scored the 2nd fastest ODI double century, off just 140 balls.
His 219 against the West Indies in an ODI at Indore is the 3rd highest score in ODI history. It is also the highest score by a captain in ODIs.
He struck the 2nd highest number of fours in a Test innings with 47 boundaries.
He also struck the joint 2nd highest number of fours in an ODI innings with 25.
He made the highest ever score in Test history at a 100-plus batting strike rate. He achieved this when he struck 319 off 304 balls against South Africa at Chennai in 2008.
Sehwag is the 2nd fastest in the world to reach the milestone of 7000 Test runs.
Sehwag's 2 triple centuries in Tests is the joint record for the most triple centuries in Tests along with Don Bradman, Brian Lara and Chris Gayle.
He is the only cricketer in the world to score 2 triple centuries and take 5 wickets in an innings in Tests.
Sehwag has scored the 3rd highest runs in a day in Tests. He scored 284 runs in a day against Sri Lanka at the Brabourne Stadium in 2009. This is the highest number of runs scored by a batsman on a single day in Tests since 1933.
Sehwag is the only cricketer to be a part of 2 consecutive double century partnerships in Tests. He has achieved this feat twice.
Sehwag and Graham Gooch are the only cricketers to score more than 60 % of their team's runs while carrying their bat in a completed Test innings.
Awards and Honours
Virender Sehwag won the Arjuna Award in 2002.
He was chosen as the Wisden Leading cricketer in the world in 2008 and 2009.
He was chosen as the ICC Test Player of the Year in 2010.
He also received the Padma Shree in 2010.
Mike Denness controversy
Sehwag is normally a very laid-back and unflappable character who doesn't get involved in controversies. However, he was involved in a major one during India's tour of South Africa in 2001. During the 2nd Test of the tour at St George's Park in Port Elizabeth, he was given a one-Test ban for excessive appealing by the Match Referee Mike Denness. He was one of 6 Indian players to receive bans, 4 of which were suspended bans. The unprecedented severity of the bans created an international cricketing, political and administrative crisis, with the Indian Board threatening to call off the tour unless Mike Denness was removed as the Match referee for the 3rd Test. The ICC backed Mike Denness, while the South African Board backed the Indian Board. Mike Denness wasn't allowed to enter the stadium for the 3rd Test and the ICC announced that the 3rd Test would be declared unofficial. That Test series went down in the history books as a 2-Test series and South Africa were adjudged 1-0 victors. England's subsequent tour to India was put in jeopardy when Sehwag was selected for the Test series. Following this development, the ICC issued a statement that any Test with Sehwag in the team would be considered an unofficial Test until he served his 1 match ban. After negotiations with the ICC and the ECB, as well as in the general interest of cricket, Sehwag was dropped from the Indian team for the 1st Test against England.
That strange fracas aside, Virender Sehwag will be remembered as a player who played the game for the sheer love of it and captivated cricket fans with his stroke play. He did not play for records, but to entertain the spectators. In spite of having many records to his name, and being such a prolific run scorer, that will be his legacy to Indian and world cricket - the sheer joy of batting with a free spirit.