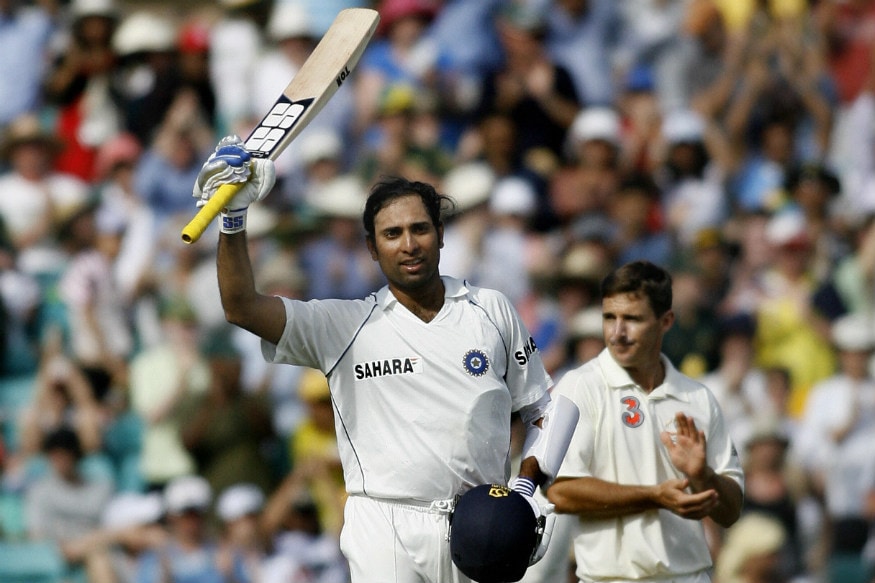 Vangipurapu Venkata Sai Laxman was born on 1st November 1974. He is considered one of India's finest ever batsmen in Test cricket. Laxman played in 134 Tests and scored 8781 runs at an average of 45.97 with 17 centuries. Over time he became fondly known as VVS or 'Very Very Special' Laxman'. What set Laxman apart from most other batsmen was not the sheer volume of runs that he made, even though he was pretty high on the charts even in that parameter. He was known more for the grace and elegance in his batting and was considered one of the finest timers of the ball in his era. He was unlucky in the sense that his career coincided with legends like Sachin Tendulkar and Rahul Dravid. He exploits were often overshadowed by the sheer amount of runs that these 2 batsmen scored and he never got the recognition that he deserved. VVS always caressed the ball to the boundary, rather than bludgeon it and was in the mold of players like David Gower and Mark Waugh who batted with artistry and made batting look so easy. Because Laxman batted lower down the order, often at numbers 5 and 6, he did not get the opportunity to score as many hundreds as Tendulkar and Dravid. However, he was a master at batting with the tail, and encouraged them to score vital runs. VVS was known to have scored quite a few vital runs down the order to help India win matches from difficult positions and his batting also had a sense of majesty and grandeur. The most famous of his knocks, scoring crucial runs with the tail include an unbeaten 73 when he shepherded Ishant Sharma and Pragyan Ojha, adding 92 runs for the last 2 wickets to enable India to win by 1 wicket at Mohali in October 2010. He also scored a vital 96, adding 70 for the 8th wicket with Zaheer Khan at Durban in the 3rd innings as India beat South Africa by 87 runs.
What made VVS' journey to becoming to an international cricketer slightly different from other Test cricketers from India was that at the age of 17, he was in a dilemma about whether to give his full attention to cricket, or pursue academics. In the case of Sachin Tendulkar, he gave his full attention to playing cricket for India and was told by his father to wholeheartedly pursue his passion without compromising on hard work and dedication. In the case of VVS, he was exceptional in both studies and cricket. Moreover, VVS was from a middle-class Indian family, where the emphasis is usually placed on academics. Also, in those days cricket was not as financially rewarding and lucrative a career option as it is today. Therefore, it would not have unreasonable of Laxman's parents to expect him to devote himself to studies and follow in their footsteps by becoming a doctor as it would be realistically impractical for him to give equal attention to studies and cricket.
Laxman had an inner voice which told him to pursue his dream of becoming an international cricketer. He was 17 and had to choose between academics and cricket. His parents did not force him to become a doctor but gave him permission to follow his passion and listen to his inner voice by allowing him to play cricket. However, it came with a rider. He had 5 years to achieve his goal of becoming an international cricketer. If he failed to achieve this target in 5 years, then he would have to give the medical entrance exam and become a doctor. They did not remind him constantly during the 5 years that the clock was ticking, but VVS had a sense of responsibility and didn't want to let his parents down.
Laxman managed to become an international cricketer in November 1996 when he made his Test debut against South Africa at Ahmedabad. He scored a half century in the 2nd innings. In spite of a promising start, Laxman was in and out of the Indian Test side for the next 4 years. He only cemented his position in the Indian team when he scored 281 against Australia at the Eden Gardens in March 2001. India were bowled out for 171 in their first innings after replying to Australia's mammoth 445. They were asked to follow on. At that stage of his career Laxman used to bat at the number 6 position as Dravid, Tendulkar and Sourav Ganguly used to bat at numbers 3, 4 and 5. Laxman scored 59 in the first innings and impressed the Indian coach, John Wright so much, that he asked Laxman to bat at number 3 in the second innings. Laxman grabbed the opportunity with both hands and scored 281, which was at that time the highest individual score by an Indian in Tests. Australia had a strong bowling attack in Glenn McGrath, Jason Gillespie, Michael Kasprowicz and Shane Warne and had won 16 consecutive Tests prior to this Test. What particularly stood out in Laxman's innings was the way he played Warne. When Warne went round the wicket and pitched the ball in the bowler's footmarks outside Laxman's leg stump, Laxman moved towards the leg side and hit the ball against the turn through mid-wicket, which is an impossible shot for most mere mortals. At times, he used to hit the same deliveries through extra cover. It was a batting exhibition which turned around India's fortunes in the series. Laxman and Dravid batted an entire day and scored 335 runs without being dismissed. This was the 18th time in the entire 124-year history of Tests, that a pair batted an entire day without being dismissed.
ODIs
While Laxman was a legend in Tests, he was in and out of the ODI side before finally being dropped for good in December 2006, when he last made an appearance against South Africa at Centurion. Even though Laxman was capable of scoring runs consistently with the bat through orthodox cricketing strokes, the fact that he couldn't play the big strokes by muscling the ball in the air went against him. Moreover, he was a slow runner between the wickets and was a liability with his ground fielding. He was a safe slip fielder but since he didn't bowl, he had only one string to his bow and this counted against him. He played in 86 ODIs and scored 2338 runs at 30.76 with 6 centuries at a strike rate of 71.23.
Titan against Australia.
Australian were without doubt the best team of Laxman's era and he consistently churned in good performances against them. Apart from his epic 281 against them in 2001, he also scored a brilliant 167 against them at the Sydney Cricket Ground, in January 2000. He scored 2434 runs in 29 Tests against Australia at an average of 49.67 with 6 centuries. His average against Australia was 3.7 runs more than his overall Test average and his 6 centuries against them was the most he scored against any other Test playing nation. Even in ODIs, he scored 4 out of his 6 centuries against them. He reveled in playing against the best bowling attack of his time and enjoyed the challenge of scoring against them. The fact that the Aussies used to set attacking fields, with lot of men in catching positions helped him to exploit the gaps in the field and score quickly.
Indian Premier League
Laxman represented the Deccan Chargers in the first edition of the IPL. He was originally named as an Icon Player but he gave up the Icon Player status as that would mean that he would receive 15 per cent more than what the franchise paid for its most expensive player. He selflessly gave up the icon player status as he felt that the money could be used to augment the auction purse and for the development of cricket at the grassroots level in Hyderabad. This shows his benevolence and the willingness to contribute for the greater good of his team and Hyderabad cricket rather than just the relentless pursuit of money. The Deccan Chargers bought Laxman at the auction for USD 375,000. Laxman did not have a great season with the bat for the Chargers and was replaced as captain by Adam Gilchrist for the 2009 season. For the 2011 season, Laxman was bought by Kochi Tuskers Kerala for USD 400,000 but got injured after just 3 games and missed the rest of the season. The Kochi franchise was terminated at the end of the season and all its players were put in the auction in 2012. However, Laxman found no buyers in the auction for his base price of USD 400,000 and he became a mentor for SunRisers Hyderabad in the 2013 edition. This is role he currently fulfils.
Laxman faced a lot of criticism for his poor performances in the IPL. In the first season, he opened the batting for the Chargers in spite of them having players like Adam Gilchrist, Andrew Symonds, Herschelle Gibbs and Shahid Afridi in the team. He was accused of wasting a place in the team but it was not his fault that his stylish and technically correct game was unable to meet the demands of the Twenty20 game.
Laxman is one of 3 members of the Cricket Advisory Committee that also includes Sachin Tendulkar and Sourav Ganguly. This committee was set up to advise BCCI on various issues and to help BCCI with their immense cricketing experience. The Cricket Advisory Committee took several important decisions that included the recommendation as Anil Kumble as Coach of the Indian team and also the recommendation of Ravi Shastri as the Coach of the Indian team after Anil Kumble stepped down. Laxman has also been appointed as the batting consultant in Cricket Association of Bengal (CAB)'s  vision 2020 project.
Awards and Achievements
Laxman received the Padma Shri, which is India's 4th highest civilian award in 2011. He also received the Arjuna Award from the Government of India for his outstanding achievement in Sports in 2001. He was also named the Wisden Cricketer of the Year in 2002. Laxman's knock of 281 against Australia in Eden Gardens in 2001 has been rated as the greatest Test performance of the last 50 years. This innings was also ranked 6th in Wisden's list of 100 great Test innings in the history of the game. Laxman is also one of 6 Indian Test players in history to score 100 runs in a single session of a Test match. Laxman's partnership of 376 with Rahul Dravid in the same innings against Australia at Eden Gardens is the highest by any duo in the 3rd innings of a Test match, for any wicket in a winning cause. Laxman is the 2nd Indian player to score 1000 or more runs in a single ground. He has scored 1217 runs at an average of 110.63 and is the only Indian to score more than 1000 runs at an average in excess of 100 at a single ground. On 4th February 2015, Laxman was awarded an honorary doctorate degree by Teri University in New Delhi.
One of the biggest regrets of Laxman's career was that in spite of playing 134 Tests and 86 ODIs, he didn't play in a single World Cup. Laxman had a poor tour of England and Australia in 2011 and 2011-12 respectively and there were calls for him to be dropped from the Indian Test team. However, he was selected in India's Test team for the 2 Tests against New Zealand at home in 2012. The Indian team were scheduled to play 4 more Tests each against England and Australia at home. Laxman selflessly announced his retirement just before the first Test at New Zealand as he felt that a youngster could use the valuable experience of playing 10 Tests at home before India embarked on tough away tours in the 2013-14 season. Many players would have been tempted to have a fitting farewell at their home ground, as the Uppal Stadium in Hyderabad was the venue for the first Test against New Zealand. However, that had never been Laxman's way of playing the game and he listened to his inner voice and announced his retirement without craving for one last hurrah.
At the press conference announcing his retirement, he was asked a question about whether he had informed the Indian Test captain, MS Dhoni about his retirement and he jocularly remarked that everyone knew that Dhoni was a difficult man to get hold of. This statement, unwittingly created the only major controversy of Laxman's career with some people in the press speculating that he had a rift with Dhoni. However, Dhoni put his fears to rest, telling Laxman that the latter was not used to controversy, but the former was, and that Laxman should not be perturbed by this as the media was always on the lookout for a new story.
To conclude VVS, was a great batsman who gave yeoman service to Indian cricket and was also a perfect gentleman and in the words of Harsha Bhogle, a man of great dignity.