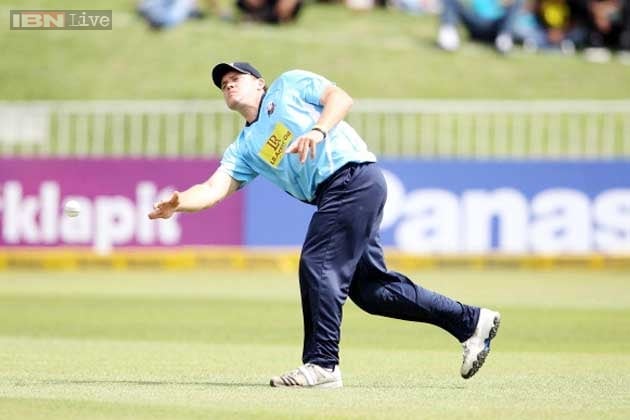 London: In a first of its kind, former New Zealand batsman Lou Vincent and his Sussex county team-mate Naved Arif are set to be charged by the England and Wales Cricket Board for fixing the outcome of a county match in 2011.
Vincent, who has already confessed to fixing and has been under investigation by the ICC's Anti-Corruption and Security Unit, and Arif, a Pakistani living in England, are being charged with more than 15 counts of match-fixing, according to a report in 'Daily Telegraph'.
If the players are found guilty, they face lifetime bans from the sport, and the 40-over match between Sussex and Kent played at Hove in August 2011 will be the first proven case of the result of a county match being fixed, the report said.
Vincent, who has given evidence to ICC of fixing in five countries, leading to the reports of alleged involvement of former New Zealand all-rounder Chris Cairns into the ongoing fixing saga, faces more than 10 charges of fixing with some relating to the Sussex/Kent match and others to another one-day game he played for Sussex in 2011.
Arif faces at least five counts relating to the Sussex game versus Kent alone.
The charges, which are being issued by the ECB, rather than the ICC, came just days after Vincent had given anti-corruption detectives a wealth of detail about fixing across the cricketing world. MORE PTI
Just a few days ago, 35-year-old Vincent, who retired from international cricket in 2007, had provided the ICC anti-corruption unit "with a treasure trove of information about matches that were targeted for spot-fixing and the names of players" involved.
The former international "has agreed a plea bargain in the hope of avoiding a criminal prosecution for his involvement in and knowledge of spot-fixing in five or more countries" between 2008-2012.
There were suspicions at the time the match was corrupt but it was cleared by the ICC's anti-corruption unit following an investigation by its analysts which failed to uncover any wrongdoing.
Arif was served with his charge papers by the ECB at the end of April and is now suspended from all forms of cricket.
He was released by Sussex in 2012 and has since played a handful of professional Twenty20 matches in Pakistan and played for two seasons, including an appearance in April this year, for Little Stoke Cricket Club in the North Staffordshire and Cheshire Premier division.
It emerged last week that Vincent told investigators he was approached by his fixer "NG" the day before the match in a hotel in Brighton and told he received 40,000 Pound to throw the game, which was a crucial group match for Sussex who would have been guaranteed a place int he semi-finals if they had beaten Kent.
Arif was dropped for the next match against Middlesex and played only three more one day matches for Sussex before losing his contract. He is currently thought to be living in the north of England. If the charges against the players are proven, bans issued in England by the ECB would apply all over the world because of an agreement between cricket-playing countries.