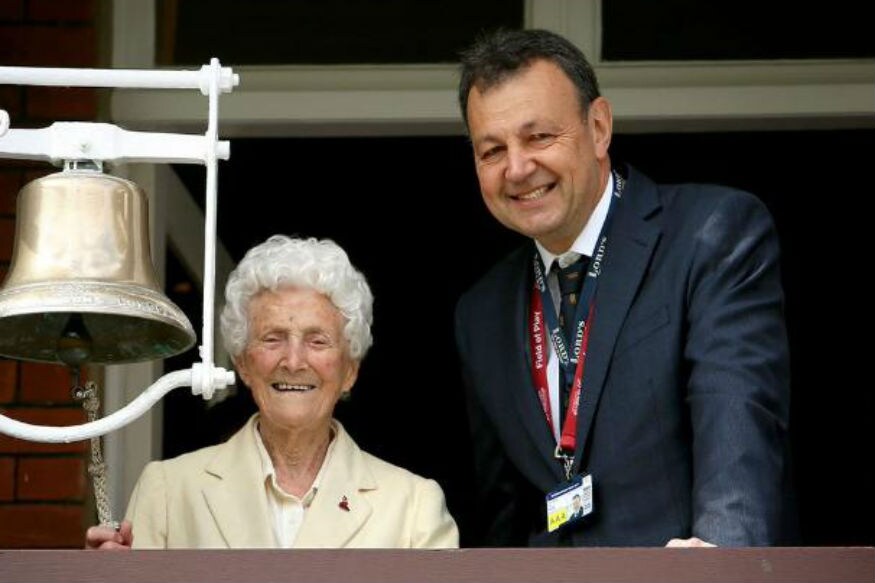 Former England women's cricketer Eileen Ash, who is the oldest living international cricketer – male or female – was honoured with a large portrait of herself that will be hung at the Lord's Cricket Ground on Saturday.
Ash, who played as a bowler, represented England in seven Tests between 1937 and 1949, taking ten wickets. Her best innings figures were 3/35.
🖼 Eileen Ash, the oldest living international cricketer at 107, reacts to the unveiling of her portrait at Lord's today.#LoveLords | #Ashes pic.twitter.com/eMs0dzLxm7

— Lord's Cricket Ground (@HomeOfCricket) August 17, 2019
"It's marvellous," said Ash, after her portrait was unveiled during the fourth day of the second Ashes Test. "I think it's absolutely brilliant and I feel 200 years old."
Besides playing cricket, she was employed by the Civil Service from the age of 18. She was seconded to MI6 during World War II and went on to work with the organisation for eleven years.
She retired to Norwich with her husband and even took up the sport of golf later in her life, quitting the sport at age 98.
In July 2017, Ash, who was then 105 years old had rung the bell at Lord's to signal the start of the ICC Women's Cricket World Cup.
Amazingly, she also passed her driving test at that age, something that was covered on a reality TV show titled '100-Year-Old Driving School'. To mark her 106th birthday, she was taken for a flight in a Tiger Moth.
She is also an honorary life member of the Marylebone Cricket Club.