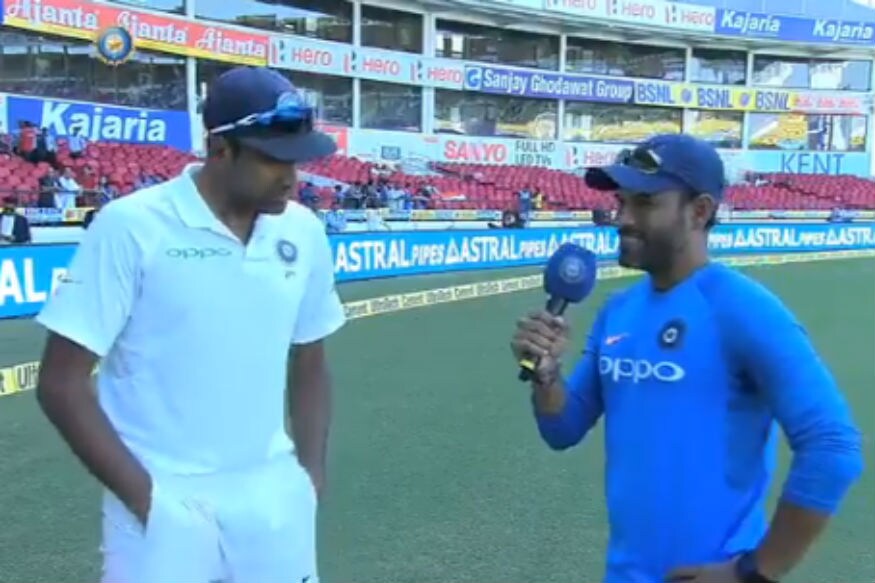 New Delhi: Ravichandran Ashwin, India's premier off-spinner, became the fastest bowler in the world to claim 300 Test wickets. The Tamil Nadu man achieved the feat in his 54th match against Sri Lanka at Nagpur. After the match, R Sridhar, India's fielding coach, is seen asking a question to Ashwin, to test his 'elephant memory'.
Sridhar asked the offie who his 100th, 200th and 300th Test victims were, and got the answers at the drop of a hat. Ashwin replied, "100-Darren Sammy at Mumbai, 200-Kane Williamson at Kanpur, and 300-Gamage at Nagpur."
.@coach_rsridhar quizzes Milestone man @ashwinravi99. Watch the full interview on https://t.co/uKFHYe2Bag #Ash300 pic.twitter.com/yIvRpGrBGD

— BCCI (@BCCI) November 27, 2017
On Monday, Ashwin scalped four wickets on the fourth day of the match between India and Sri Lanka, as the latter were bundled out for a paltry 166 in their second innings. Ashwin's heroics helped India win the match by a massive margin of an innings and 239 runs.
"I really hope I can go on to double these 300 wickets, I have only played 50 Tests. It's not easy bowling spin, it looks like you're just ambling up. But there's a lot behind it. We've bowled a lot of overs, me and Jaddu (Ravindra Jadeja). And the break has helped, I'm a lot more fresher now comparatively," Ashwin said.
"The carom ball was a good ball, I haven't bowled many of those in the last 24 months," he said referring to the ball with which he got his milestone.
"I have worked on different releases for it and now that we are travelling, I think I needed that extra bit. It has been a longer break than I've been used to over the last few years. But I did have a good stint in Worcester and I learnt a lot of things. As you can see, I've worked on different loadings, different actions. It's also helped my patience, wickets haven't come quickly," he added
Earlier, in February 2017, Ashwin broke Lillee's record of fastest to 250 Test wickets as well. Ashwin picked 250 wickets in just 45 Tests while Lillee did so in 48. The 30-year-old became the second quickest bowler to reach 200 Test wickets when he surpassed Pakistan's Waqar Younis and Lillee in September 2016.
CricketNext takes a look at Ashwin's major scalps:
1st Test wicket: Darren Bravo (West Indies)
50th Test wicket: Nick Compton (England)
100th Test wicket: Darren Sammy (West Indies)
150th Test wicket: Imran Tahir (South Africa)
200th Test wicket: Kane Williamson (New Zealand)
250th Test wicket: Mushfiqur Rahim (Bangladesh)
300th Test Wicket: Lahiru Gamage (Sri Lanka)