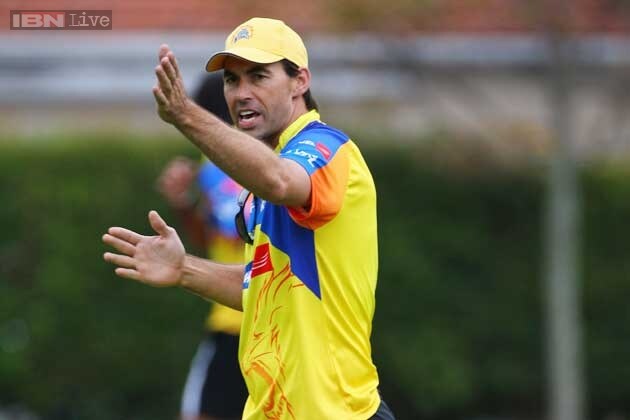 Mumbai: Chennai Super Kings coach Stephen Fleming predicts another cliff-hanger between his team and title holders Mumbai Indians in the Indian Premier League Eliminator at the Brabourne Stadium here on Wednesday.
"Mumbai were excellent against us last year. We had some revenge this year with two wins (In UAE and Wankhede Stadium in the round robin stage). But it's not going to be easy. It's a home game for Mumbai. We have to play extremely well. We had a great tussle with them at Wankhede and this is not going to be any different tomorrow," said Fleming at the pre-game press conference on Tuesday.
"We are in good form and are happy with the way we came into the semi-finals (play offs). It shows good consistency. Obviously you do have a lot to lose in semi-finals. We are also well aware that we need three wins in a row to be
champions. It's a worthy challenge."
Fleming said that Chennai's handsome win over Royal Challengers Bangalore in their last game was important as it broke their three-game losing streak.
"It was good and important against the run of defeats. We had not played that well in those games. The worst defeat was against KKR at the Eden Gardens. The one at Bangalore was just what we had asked for. We know pretty well what the players are going to deliver for us and the opportunity they are going to get."
While praising New Zealand compatriot Corey Anderson for his blistering 95 not out in Mumbai's heart-stopping five-wicket win against Rajasthan Royals to clinch the last playoff spot on marginally better run-rate last Sunday at Wankhede, Fleming hoped it would not be repeated against his side.
However, Brendon McCullum was happy to see Anderson succeed in the last game and hopefully not the next game. By Anderson's own admission he was disappointed with his performances to date. Certainly, he was excellent the other night.
Fleming said with the sort of batsmanship on display in IPL, especially the one by Anderson and earlier by Yusuf Pathan (72 off 22 balls) for Kolkata against Hyderabad, it was imperative some sort of leeway be given to the bowlers.
"It's not good for the health of the bowlers. Pretty narrow channels for the bowlers to bowl into. Maybe we should give them more leeway. Players (batsmen) are moving across and around the crease so much that it makes it difficult to contain.
"You would say the Kolkata game was a bit of an anomaly, the way Yusuf batted. To see it two times in a row was pretty scary, see what players can do when they show no fear. Each team is wondering how far to push the boundary, how many runs you can give," Fleming said.
Asked whether they feel a bit let down not to be playing the Qualifier 1 instead of the Eliminator, Fleming said they had one look at the net run rate earlier on and nearly lost a game.
"You feel a little bit. It is the same number of victories but the nature of the victory that counts. We tried to win the game in Sharjah against Sun Risers. We almost lost it. We learnt a lesson, just win the game when the run rate doesn't work in your favour. Even in the last game, we were conscious, trying to win it early. It is very hard," added Fleming.