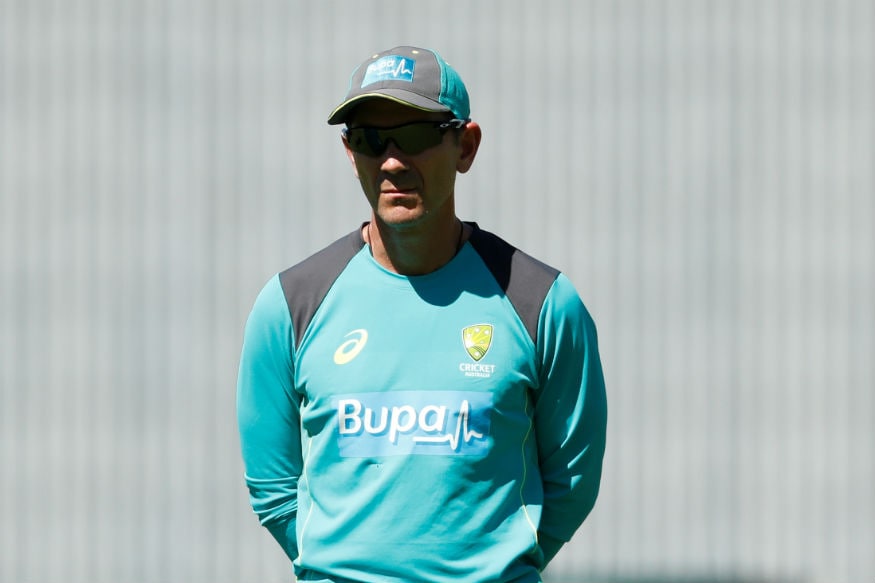 We are Australia's Cricket Team! Make Australians proud! Patience! Pressure! Elite honesty!
The Australia dressing room ahead of their first One-Day International against South Africa at Perth's Optus Stadium has been embellished with these five catchphrases. This will be Australia's first home game since the ball-tampering saga and head coach Justin Langer believes these new mantras will help to transform Australian cricket and win back the trust of the public.
Of the five slogans, it was "elite honesty" that caught everyone's attention on social media and forced Langer to offer an explanation.
"It's the Australian way as I know it," Langer said.
"You look at a bloke or a lady in the face and you tell them the truth and you need to be really honest with yourself because if you're not you're kidding yourself. The man in the mirror is almost a cliche, but if you want to be successful in life you have got to be able to look yourself in the mirror.
Dressing room branding being installed in the Aussie change rooms for Sunday at @OptusStadium. Look forward to seeing the team back in action on home soil. pic.twitter.com/PpYul9WY9N

— Anthony Everard (@AnthonyEverard5) November 2, 2018
"You can lie to everyone else, but you can't lie to yourself. So that's elite honesty to yourself. And also, the Aussie way I know it is to look a bloke in the eye, look your sister or you mum in the eyes, and tell them the truth and be happy to get some truth back, so that's elite honesty."
"We can put as many words as we like out there, but it's the way we play. It's the way we are on and off on the cricket field. And our actions will speak a lot louder than any words we write down."
The ball-tampering fiasco saw Steve Smith, David Warner and Cameron Bancroft banned, while David Lehmann quit as coach. Cricket Australia chief executive James Sutherland has since left and chairman David Peever fell on his sword on Thursday.
Langer, Lehmann's replacement, has pledged to change the win-at-all-costs culture and said he hoped the first game of the summer at home would be a step in winning back fans.
"It's sad isn't it," Langer said. "Everyone seems to be at each other, there's lots of criticism. But we've got such a proud history of Australian cricket.
"We've had a few hiccups along the way, in not just in the last six or 12 months, but over our history. But we should be so proud of Australian cricket.
"What we can do is we can prepare well, we can play good cricket, and be entertaining and put on a good show so Australians can start smiling a bit. One thing sport can do and that Australian cricket can do is put smiles on faces rather than everyone throwing stones and shooting guns at each other."
Australia have lost 16 of their past 18 one-day internationals and are desperate to get off on the right foot in Perth, with two more one-dayers and a Twenty20 against the Proteas to follow.
Du Plessis said he expected less verbal banter on Sunday than in the past.
"An Australia-South Africa series is always going to be competitive but I do suspect this series will be a little bit more toned down, especially from the Australian side," he said on Saturday.
"Not necessarily from a body language point of view, but maybe from a verbal point of view."
Despite Australia being without Smith and Warner and their poor one-day form, Du Plessis said his team won't be taking the home side lightly.
"Whenever you get a chance to play against Australia it feels like you're playing against a very good cricket team," he said.
"When you look at what they've got in their squad at the moment on paper there are some fantastic names there with the ball and with the bat."
Australia skipper Aaron Finch, who has been cleared to play after a scare on Friday when he was struck on the finger by a Mitchell Starc delivery, said he was confident their miserable run of form would end.
"If we can follow our process and do our basics well enough that (winning) will start taking care of itself," he said.
"If you start looking at the end result purely that's when you can make some errors in judgement and fall down that way."