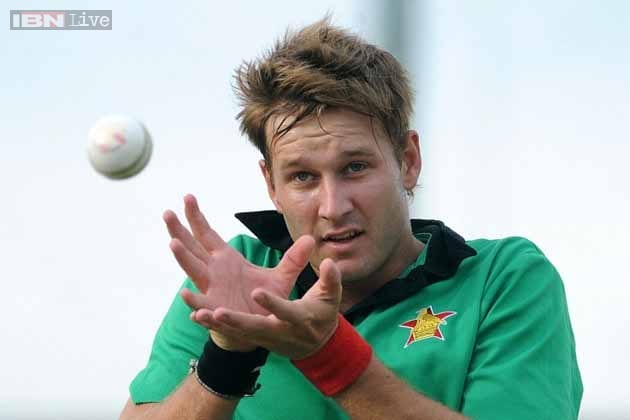 Following the shock retirement of Zimbabwe's Kyle Jarvis on Sunday, Cricketnext takes a look at other instances of international players calling it quits unexpectedly. At the age of 24, Jarvis surprised many by announcing his retirement form international cricket with immediate effect to pursue a career in county cricket and as a Twenty20 freelancer.
Jarvis is not the first Zimbabwean to pull a surprise retirement. In May 2004, the allrounder Sean Ervine quit international cricket at the age of 21 and left the country to go to Australia, amid the deepening crisis in Zimbabwe cricket. Ervine had played five Tests and 42 ODIs, and at the time of his shock retirement his last three international innings had been half-centuries: 53 against Australia, and 86 and 74 against Bangladesh. Ervine went on to carve out a successful career with English county Hampshire after a few years with Western Australia.
Anthony Ireland was another Zimbabwean to bowed out at an early age, surprising his countrymen. At 22, the fast bowler turned his back on the national team and went to play county cricket on a two-year deal with Gloucestershire. Ireland made his international debut after the 2004 player rebellion and featured in 26 ODIs, including at the 2007 World Cup. Ireland cited the political stranglehold of Zimbabwe's cricket administration as the reason for shunning his country.
In July 2012, aged 29, Tatenda Taibu retired hours after being named in Zimbabwe's provisional squad for the ICC World Twenty20. His reason? To become a man of God. After 28 Tests and 150 ODIs in 11 years for Zimbabwe, Taibu called time on his career at an age generally considered a cricketer's prime to work for the church.
Netherlands' Daan van Bunge will be mostly remembered for the six consecutive sixes hit off his bowling by Herschelle Gibbs during the 2007 World Cup, but his retirement at the ripe old age of 24 also left many baffled. The gifted allrounder, who in the 2003 World Cup made headlines when he scored 62 against India and took three wickets against England, made himself unavailable from international cricket, citing a lack of time as the reason. However, he returned in 2008.
In December 2006, only three days after celebrating Australia's dramatic second Test win over England, Damien Martyn declared his retirement from all cricket. The news came as a surprise because despite scoring 45 runs in three innings, the elegant right-hand batsman was strongly believed to be named in Australia's squad for the third Test.
Also in December 2006, shortly before a Test series against India at home, South Africa's coach and selection panel were left shocked when Nicky Boje called time on his international career on the day he was due to join the squad for the first match in Johannesburg. At 33, Boje was South Africa's leading Test spinner and his sudden retirement - done via a fax to CSA boss Gerald Majola - left selection convenor Haroon Lorgat and coach Mickey Arthur stumped.
Just days before the New Year's Test of 2013, veteran Australia batsman Michael Hussey announced that he was retiring from international cricket in the middle of a rich vein of form, at the age of 37. His surprise announcement came after he struck a Test century against Sri Lanka. "Was shocked when Huss told me of his decision; he will retire a champion," tweeted Arthur, at the time coach of Australia.