Trent Bridge hasn't always been a happy hunting ground for England. The venue in Nottingham hosted its first Test in 1899 and since then England have played 62 games here. They have won 22 of those matches, lost 17, while the remaining 23 encounters ended in draws. However, their record at the venue since 2000 has been nothing short of remarkable. They have only lost four out of 16 matches during that period and have emerged victorious on nine occasions.
England's record against India at Trent Bridge isn't as great as they would have wanted it to be. Six Tests, two victories, one defeat and three draws. It was on this very ground where the Rahul Dravid-led side defeated the hosts by seven wickets in 2007 and then went on to win the three-match series 1-0. The last time these two teams met here was in 2014 where the contest ended in a draw. England did eventually that five-Test series 3-1.
The home side will have an opportunity to polish that record when they take on Virat Kohli's men in the third Test starting Saturday. England currently lead the five-match series 2-0 after wins in Birmingham and London (Lord's). The home side have a great chance to wrap up the series at Trent Bridge.
Before the action begins in the 'Queen City of the Midlands', we look at how England have fared in their last five Tests at Trent Bridge:
Vs South Africa 2017 – England lost by 340 runs
(AFP)
England's batting failed embarrassingly against South Africa in the second Test of the four-match series and they had to suffer a 340-run defeat at the hands of the visiting side. What made it worse for England was South Africa did it without AB de Villiers, Dale Steyn and Kagiso Rabada in their ranks. In response to South Africa's 335 and 343 for 9 (declared) respectively in two innings, England were bowled out for just 205 and 133. The 474-run target looked impossible from the word go as only four of the English batsmen could cross the double-digit mark. This was Joe Root's first assignment as Test captain. His team might have failed miserably at Trent Bridge, but they did win the series 3-1.
Vs Australia 2015 - England win by an innings and 78 runs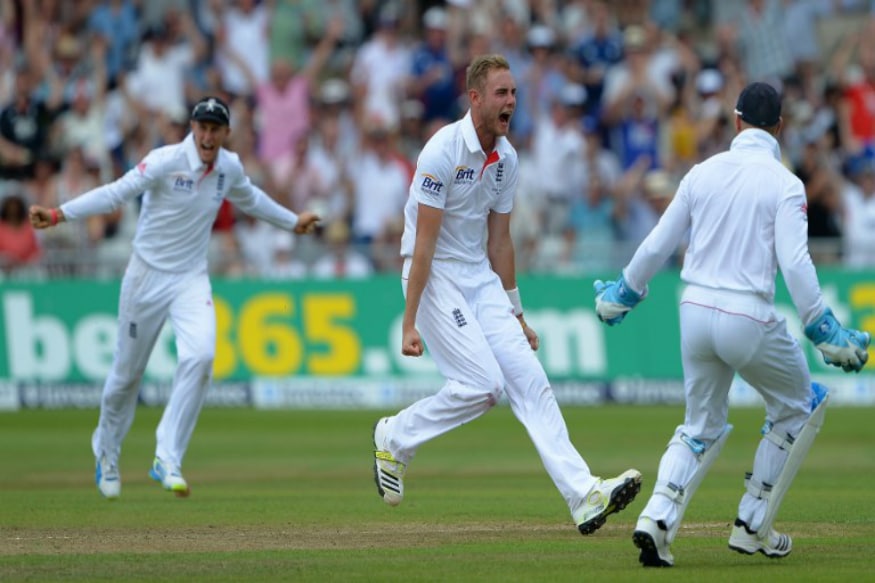 (AFP)
"I never dreamt I'd be able to get eight wickets in a spell. My previous best-ever bowling was seven for 12 against Kimbolton School Under-15s."
Stuart Broad was brutal, ruthless and unplayable! The right-arm pacer tore through Australia on the first morning of the fourth Test to bundle them out for merely 60 in their first innings. The 8 for 15 that he scalped in 9.3 mesmeric overs helped England destroy their arch-rivals by an innings and 78 runs to regain the Ashes. It was a sort of day that terminated careers, just ask Michael Clarke. Root then scored a brilliant 130, giving England a 331-run lead. The tourists were slightly more competitive in their second essay but it was far from enough. Broad's impact was such that hardly anyone remembers about Root and Ben Stokes' (6 for 36 in second innings) vital contributions.
Vs India 2014 - Ends in a draw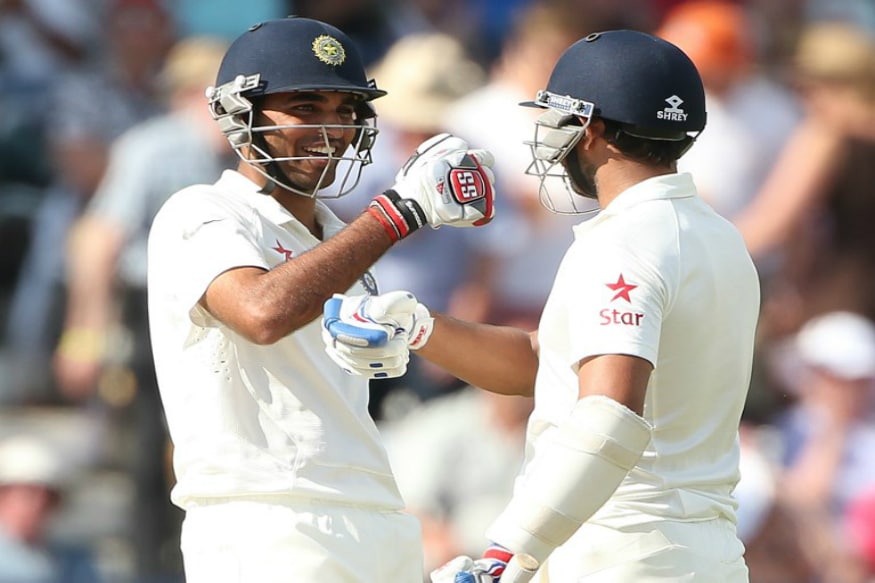 (AFP)
Both England and India had their moments but none of the two could grab their chances as the first Test of the 2014 series ended in a draw. While M Vijay (146) and MS Dhoni (82) helped India breach the 300-run mark, Bhuvneshwar Kumar (58) and Mohammed Shami (51*) added 111 runs for the last wicket to lead their side to a total of 457. In reply, Indian pacers had reduced England to 298 for 9 before Joe Root (154*) and James Anderson (81) joined hands to script a miraculous recovery. The two shared a 198-run association for the last wicket to give England a 39-run lead. The touring side suffered a serious scare as England took three quick wickets in the first hour of the fifth day. But Stuart Binny (78) and Bhuvneshwar (63), once again, steered India back to safety.
Vs Australia 2013 - England win by 14 runs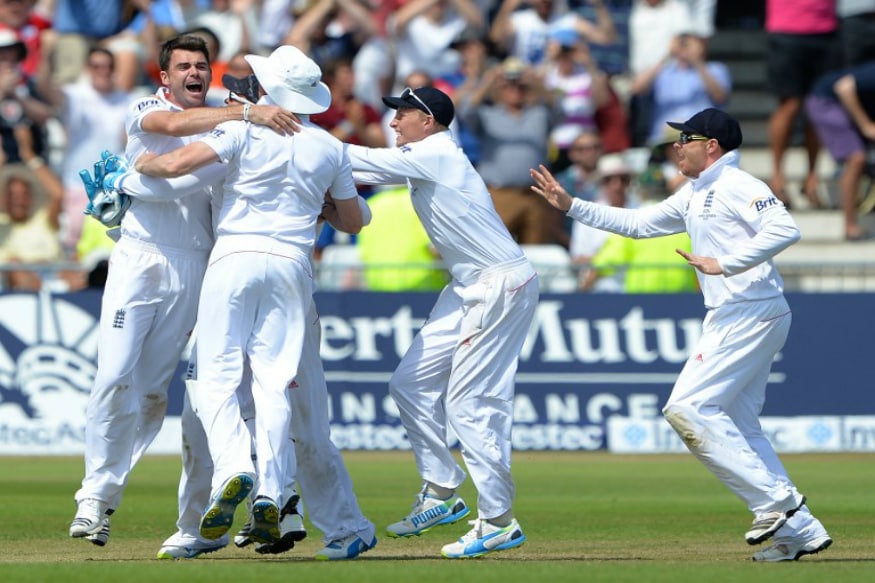 (AFP)
Anderson's 10-wicket haul, Ian Bell's astonishing 109, Phillip Hughes' fighting 81*, Ashton Agar's fiery 98 on debut, Brad Haddin's gritty 71 in the final innings, and a few DRS dramas - the first Test of the 2013 Ashes series had everything that a cricket match could offer. By no means was it as historic as the famous Edgbaston Test but it had its own charm. After dismissing England for 215 in their first dig, Australia were struggling at 117 for 9 before Agar showed up at No. 11. He built a remarkable 163-run partnership with the late Hughes and led Australia to a total of 280. Agar finally got out for a 101-ball 98, studded with 12 fours and two sixes.
However, England didn't bow down and set a 311-run target, courtesy a century from Bell and fifties from Alastair Cook, Kevin Pietersen and Broad. In the final innings, when Haddin and James Pattinson, the No. 11 batsman, came together, Australia needed 80 runs and England seemed home and dry, but there was a twist in the tale. The duo whittled away 65 of those 80 required runs before Anderson returned to get rid of Haddin. The 14-run victory gave England a 1-0 lead in the series, which they went on to win 3-0.
Vs West Indies 2012 - England win by nine wickets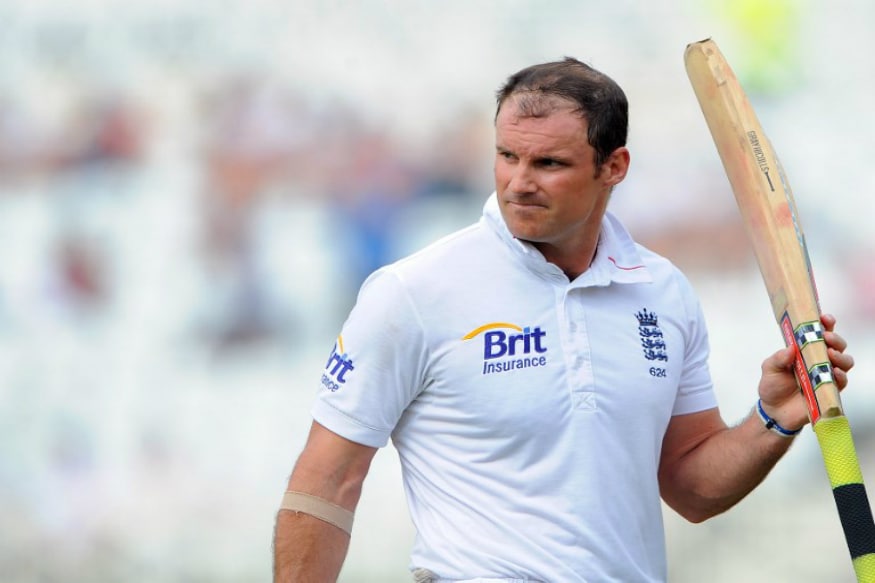 (AFP)
Tim Bresnan played a key role in England's nine-wicket win over West Indies in the second Test of the three-match series. Hundreds from Marlon Samuels (117) and Darren Sammy (106) took their team to 370. But Andrew Strauss then crafted a patient 141, and combined with Pietersen's 80, propelled his team to 428. Bresnan, who had picked up four wickets in the first innings, got the same number of scalps in the second essay too as West Indies were bowled out for just 165. England chased down the 108-run target with nine wickets in hand and clinched their seventh successive home series.