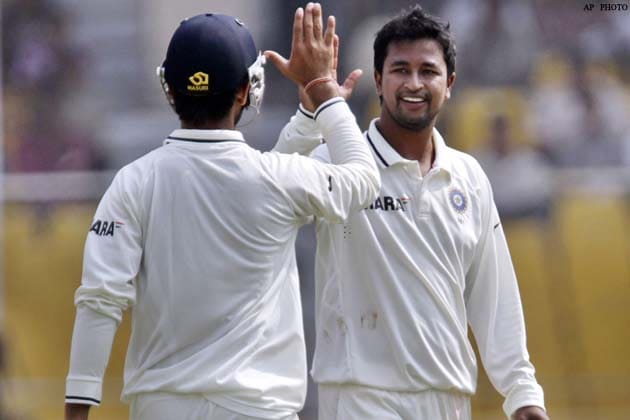 Test matches are often decided in sessions. If England go on to lose this match – it is a distinct possibility, trailing India as they do by 219 runs – they will look back at the first session of day three with a degree of frustration, bitterness and confusion.
Frustration because they lost four wickets, bitterness at the lack of DRS and confusion because despite their best-laid plans and talk of having improved against spin, it was a decades-old frailty against the slow stuff that undid them on Saturday morning. Frustration will be the strongest emotion, though, given how well Alastair Cook and the debutant Nick Compton batted after MS Dhoni enforced the follow-on. Where England had lost seven wickets in 56.2 overs in the first innings, the openers batted 38 without loss in the second. This discipline and attentiveness was sorely missing in the morning, and the Cook-Compton rearguard could yet turn out to be only a delay in India's plans. If that happens, the third morning will indeed remain damning for England.
This wasn't a rank turner. There were no demons in the pitch. Yes, the side batting first had best use of the surface and the one left to bat on day five was expected to struggle. But what proceeded to unfold on the third morning had more to do with England's frailties than unplayable deliveries and cracks in the surface.
England are, all too often, a naïve side. That was evident in a farcical morning session in which the batsmen imploded. A collapse of 4 for 69 – Kevin Pietersen, Ian Bell, Cook and Samit Patel – was not what England needed with a mountain to try and scale. The pitch encouraged spin but wasn't a raging turner. Pietersen never looked convincing against Pragyan Ojha and duly succumbed to left-arm spin for the 24th time in Tests, unsure of what shot to manufacture against a delivery that turned away from middle and leg. If that dismissal had not sowed the seeds of England's downfall, Bell's inexplicable sashay next ball to find mid-off certainly did. It was the doziest of dismissals, and could end Bell's run of 34 consecutive Test matches.
Cook, who began the day as England's pivotal batsman, looked like he was batting in a different game until a loose drive to R Ashwin settled at first slip. Patel, who came into this Test as England's second-highest run-getter on tour, regressed as a batsman and his 49-ball 10 was a streaky affair which finally ended when he was adjudged lbw to Umesh Yadav. It was an incorrect call from Aleem Dar, but he had already been reprieved when stone dead on 4. A score of 97 for 7 was beyond salvation, and Matt Prior made it to 48 before he was last out, bowled to give Ojha his fourth five-wicket haul in Test cricket.
What will hurt England most about this performance was the weary familiarity of it all. Two spin bowlers in tandem, relentlessly plugging away, enticing false strokes and creating doubt in the mind. It was the UAE all over again, except instead of Saeed Ajmal and Abdur Rehman it was Ashwin and Ojha. It was almost a cliché: the spin twins landing the ball in "good areas" with a hint of bounce. It was all too much for England's batsmen, who have become too accustomed to uncertainty against two forms of spin operating at the same time, too used to trying to sweep and drive their way out of trouble against spin.
This collapse was made to look even dopier after Cook and Compton put on 110. It was a massive recovery by all means, but England still have much to do. Cook needed another reprieve from Aleem Dar – having a shocking Test – to move to 74 at stumps, but the way he and Compton thwarted Ashwin and Ojha in the final session was impressive. No more hard hands, no more indecisiveness, no confusion as to when to play back and when forward.
Two watch two batsmen at different phases in their career, both of whom are not naturally gifted players of turn, find the appetite and common sense to blunt Ojha and Ashwin on the same track on which they ran riot a few hours before, was refreshing. England sorely needed a change in mentality and approach, and while this century stand may not prevent defeat, there is reason to believe that it could show the way for England.