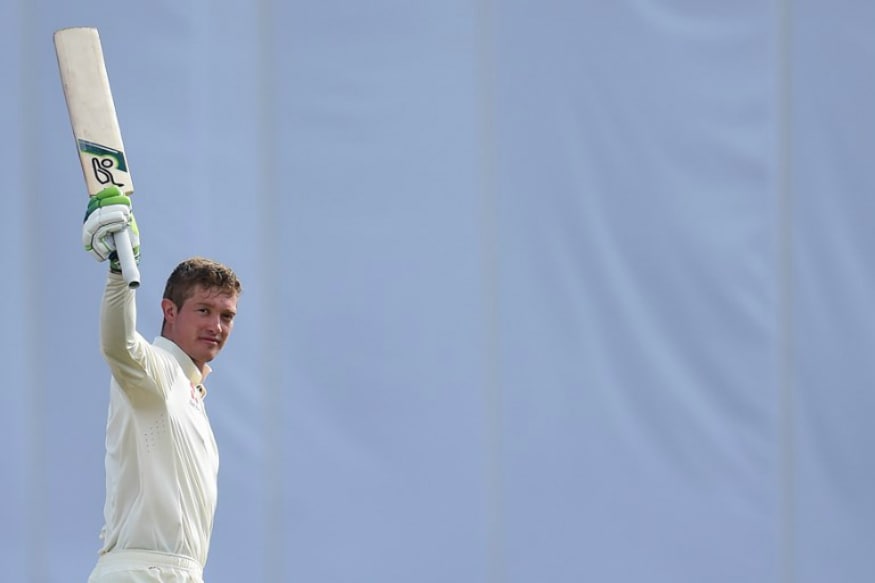 Historically, English batsmen have found the going tough in the sub-continent. Turning pitches and hot temperatures have been hard to overcome for players that have grown up in cold and swing-favouring conditions back home in England. However, there have been notable exceptions over the years.
Keaton Jennings is one such exception. In the first Test against Sri Lanka at Galle last week, the 26-year-old opener contributed 46 and 146* to help England register a thumping 211-run win and take the series lead.
It wasn't the first time Jennings had produced a strong performance in this part of the world. Two years ago, he had scored a century on his Test debut against a very strong Indian team in Mumbai.
However, Jennings has surprisingly struggled in English conditions. He featured in all five Tests on India's recent tour of England and made just 163 runs across nine innings at a lowly batting average of 18.11.
In the one Test he played against Pakistan at Leeds in June, he contributed just 29. The previous year against South Africa, Jennings scored 127 runs in four home Test matches at an average of 15.87.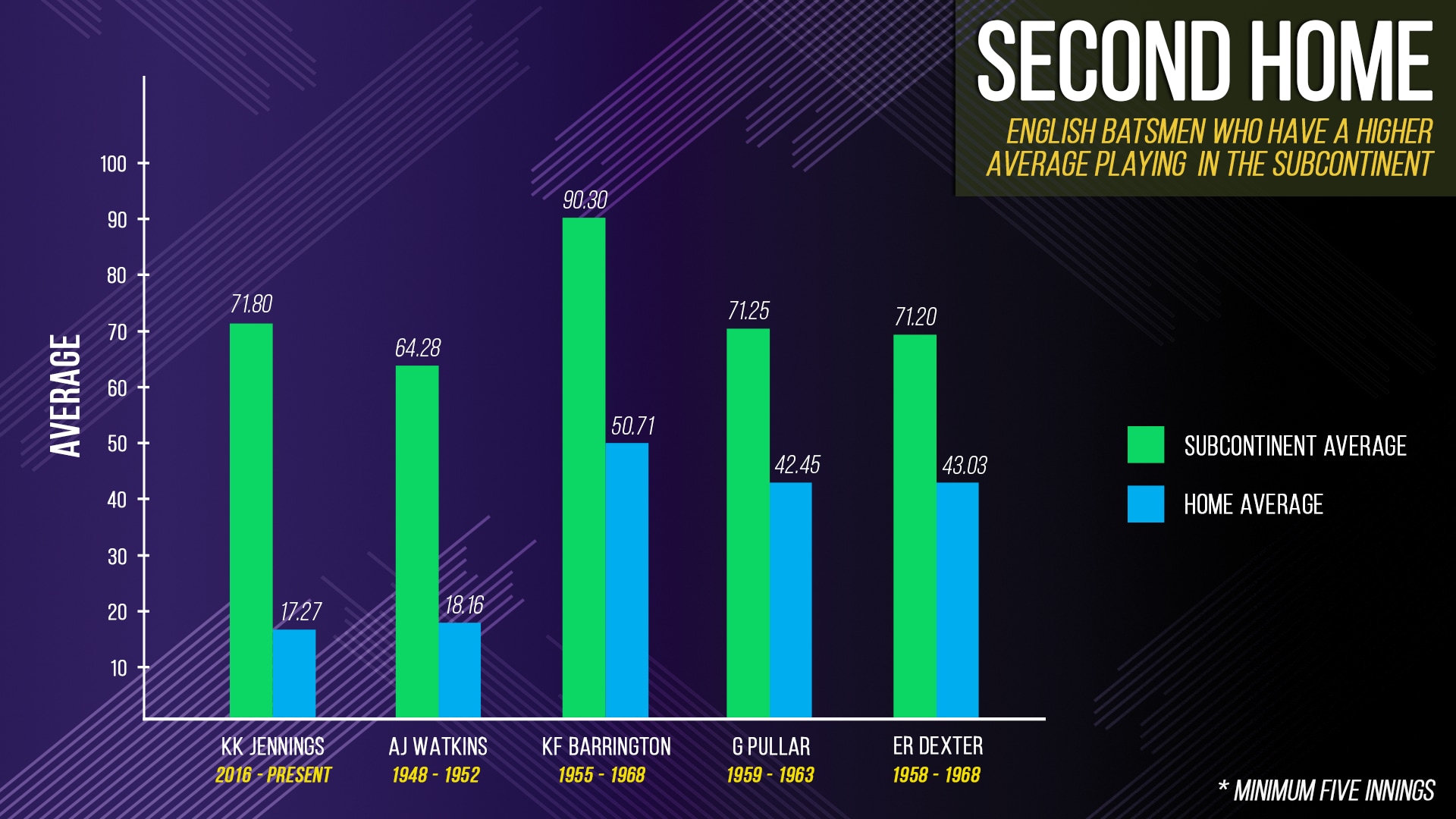 Jennings however isn't an outlier. Quite a few English batsmen, much like Jennings, have score heavily (359 runs at 71.8) on sub-continental wickets but faltered on their home turf. With a minimum of cut-off of five innings - AJ Watkins, KF Barrington, G Pullar, ER Dexter all enjoy impressive averages of 64.28, 90.3, 71.25 and 71.2 respectively in the sub-continent.
However, in England these batsmen have produced vastly different outcomes. Jennings, Watkins, Barrington, Pullar, Dexter all see a dip in their averages at 17.72, 18.16, 50.71, 42.45 and 43.03 respectively. It should be noted the other four men played largely in the 1950s and 60s, when there were very few English tours to Asia.
In the modern era, Alastair Cook (2710 at 53.13), Kevin Pietersen (1573 at 40.33), Ian Bell (1479 at 36.07), ME Trescothick (1306 at 40.81) and Mike Gatting (1206 at 37.68) have been the most successful England run-getters in the sub-continent.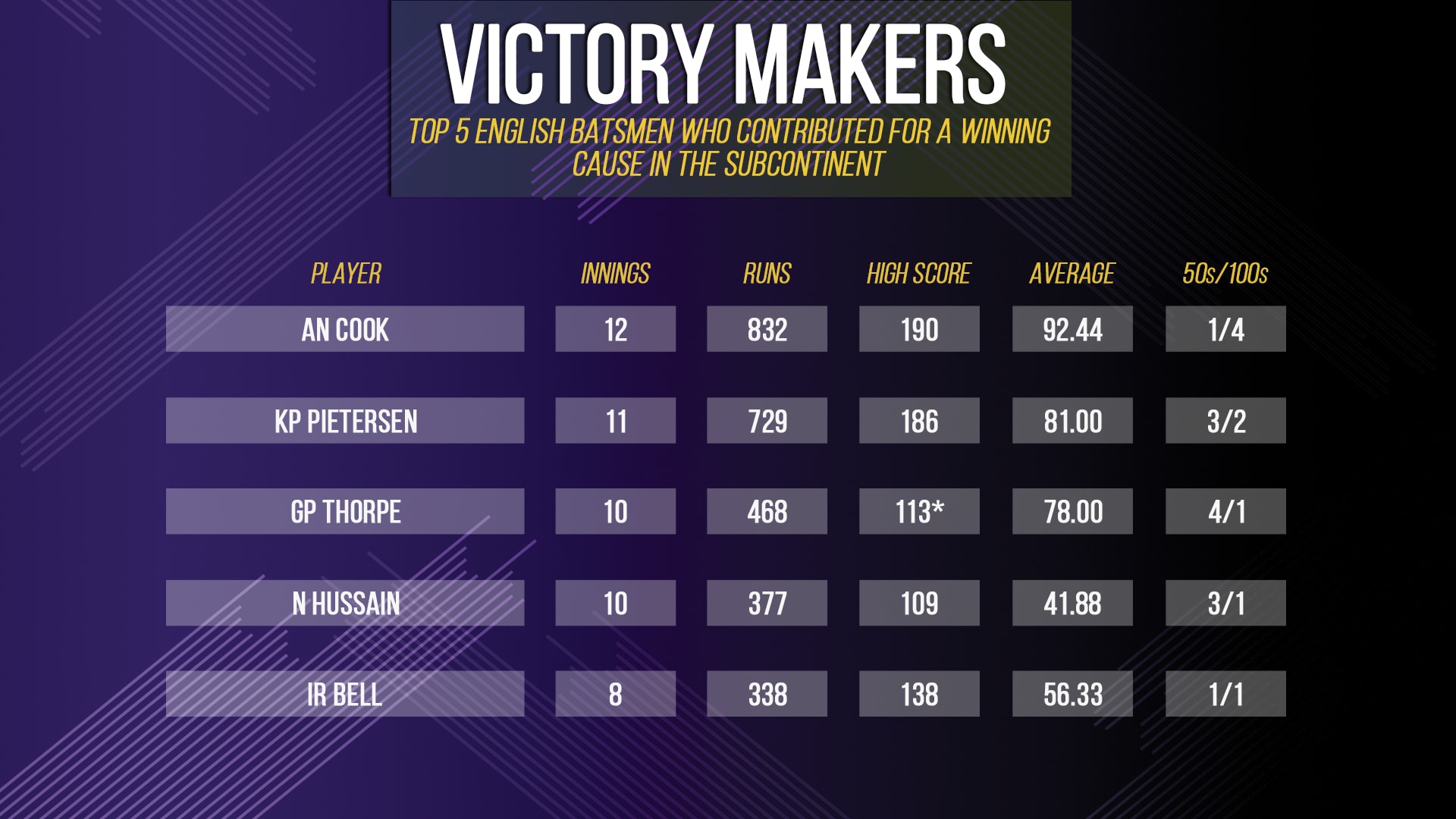 However, when one considers the number of runs scored in a winning cause in a minimum of five innings, Cook (832 in six matches), Pietersen (729 in six matches), Graham Thorpe (468 in five matches), Nasser Hussain (377 in five matches) and Bell (338 in five matches) feature in the top five.
When one looks at the top-five English batsmen in the fourth innings with the same parameter in mind, Cook (447 in 14 matches), Pietersen (244 in 11 matches) and Bell (234 in 13 matches) are joined by Michael Vaughan (216 in six matches) and Mike Smith (212 in six matches).
Of the top-five England run-getters, Cook is the only one with a 50 plus average and that tells you how difficult English batsmen have found sub-continental conditions. Jennings, however, appears to be changing all that and England will be hoping he continues the happy habit in the second Test at Kandy.