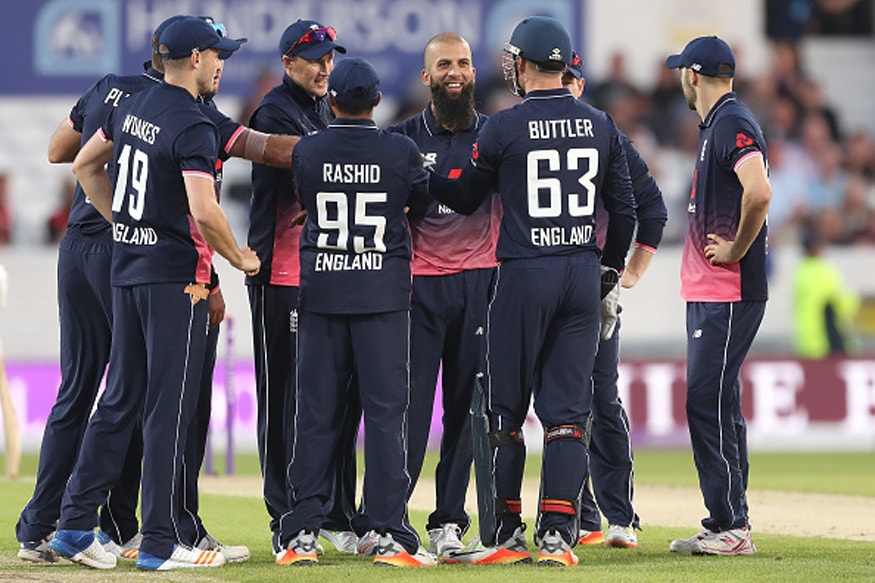 Leeds: Moeen Ali insisted no one in the England camp was getting carried away after they underlined their Champions Trophy credentials with a comprehensive 72-run one-day international win over South Africa at Headingley.

Wednesday's success saw England go 1-0 up in a three-match series against South Africa, top of the International Cricket Council's ODI rankings.

The decisive win was all the more timely given that next week sees the start of the Champions Trophy, a tournament featuring the world's leading eight ODI sides.

Hosts England will kick things off against Bangladesh at The Oval on June 1 as they go in search of their first major 50-over title.

But before then, they still have two ODIs against the Proteas, with Saturday's match at Southampton followed by a series finale at Lord's on Monday.


Ali, whose fluent 77 not out together with captain Eoin Morgan's century laid the platform for England's win in Leeds, said afterwards: "We're only 1-0 up with two games to go, but it's a great start to the summer.


"We were 2-0 up against them in South Africa (in 2015/16) and we lost 3-2. They're a very good side, and we know that."

Not known as a big hitter, left-hander Ali still struck five sixes at Yorkshire's headquarters.

It was major return to form given he had managed just a line fifty in 28 ODI innings since his career-best 128 at the 2015 World Cup.

Ali said his innings owed much to some late advice from England assistant coach Paul Farbrace.

"I actually wasn't batting that well in the nets," he said. "I went inside with Paul Farbrace, and he knows my game quite well now.

"I had a chat with him, and he helped -- and I felt in a good rhythm going into this match."

Ali finished things off in style with a legside pick-up six off Chris Morris's final ball of the innings.

"Even towards the end of my innings there were a couple I tried to slog, and I lost my shape," he explained.

"Then the last ball I tried to keep my shape as much as I could.

"It's more an instinctive way of batting, and Farby helped me a lot."


Ali, who was left out of England's preceding 2-0 series win over Ireland, made his name as a top-order batsman but now comes in much later for England.


"I find batting seven tough," he admitted. "But I'm trying to be good at it and get better at it."

Ali's inclusion was probably aided by the fact that all-rounder Ben Stokes was also back in the side Wednesday after a successful stint in the Indian Premier League.

Stokes, however, suffered a knee injury -- having had surgery last year -- at Headingley and is now set to have a scan.

But Ali believes England, who suffered an embarrassing first-round exit at the 2015 World Cup, are now much more than a one-man band in the 50-over game.

"We've got the team that is capable of (winning our next seven matches)," he said.

First Published: May 26, 2017, 11:37 AM IST