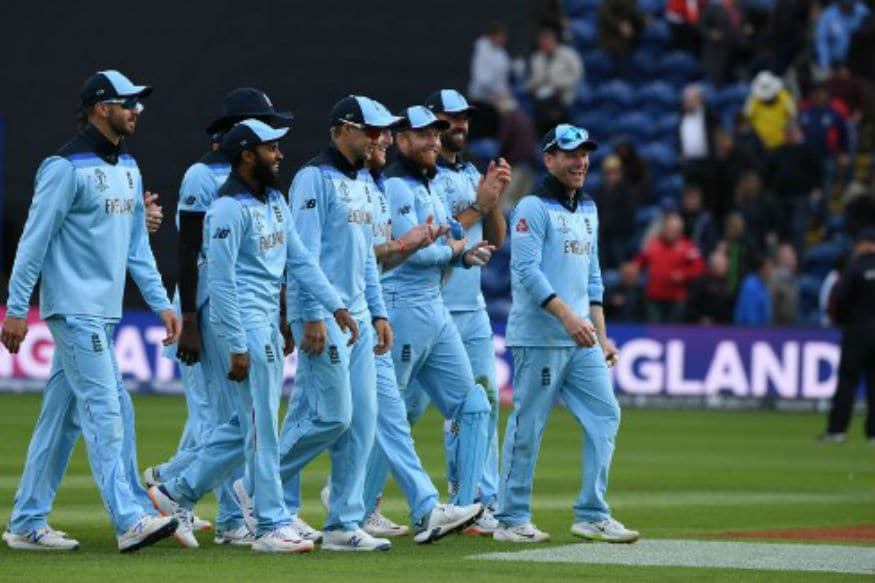 After having put up a massive score of 397 on board, England were always going to boss the game and they did so in clinical fashion to win the encounter by 150 runs.
Mark Wood has been magnificent .. He is equally as important as Jofra .. Outstanding Pace pairing England have now .. #CWC2019

— Michael Vaughan (@MichaelVaughan) June 18, 2019
What an evolution cricket has seen since 1979, one of them is number of sixes per match! God save the bowlers.. #CWC19 pic.twitter.com/ZBKxDBOTm4 — Pragyan Prayas Ojha (@pragyanojha) June 18, 2019
He is the third highest wicket taker so far in this world cup with 12 wickets and he is behind Amir and Starc. Well done @JofraArcher, great start to the tournament.

— Johns (@CricCrazyJohns) June 18, 2019
Earlier, England opted to bat first and Jonny Bairstow's 90 set up the platform for England's tall score.
Looking forward to a really big total today by @ECB_cricket, can be a one-sided afair.#CWC19 #ENGvAFG — R P Singh रुद्र प्रताप सिंह (@rpsingh) June 18, 2019
Most century stands by an English pair for the 2nd wicket in ODIs

6 - Joe Root/Jason Roy

5 - Joe Root/Alex Hales

5 - Joe Root/Jonny Bairstow

Common Link: Joe Root!#MakeStatsGreatAgain #ENGvAFG #CWC19 #WeAreEngland #ENG

— Victor Tarapore (@VictorTarapore) June 18, 2019
It was Eoin Morgan though who hit a 57-ball century to put the game way beyond Afghanistan.
Stunning innings by @Eoin16 there was a time 11 6s in ODI innings used to be a record, Morgan hit 6 more today!! Treat to watch! #CWC19 — Shahid Afridi (@SAfridiOfficial) June 18, 2019
That was truly incredible hitting! Great to watch! #ENGvAFGH #cwc19 #morgan

— James Taylor (@jamestaylor20) June 18, 2019
Most innings batted before scoring 1st World Cup century by a captain 11 - S Fleming 11 - W Porterfield 9 - M Jayawardene 8 - EOIN MORGAN#ENGvAFG #AFGvENG #CWC19 — Abhishek Kumar (@abhik2593) June 18, 2019
Eoin Morgan 17 sixes today. @nassercricket hit 15 sixes in 88 ODIs

— Benedict Bermange (@Benedict_B) June 18, 2019
Most sixes by a team in an ODI innings: 25 - Eng v Afg, Manchester, 2019* 24 - Eng v WI, Grenada, 2019 23 - WI v Eng, Bridgetown, 2019#ENGvsAFG — Umang Pabari (@UPStatsman) June 18, 2019
As much as I am in awe of England, and I really am, I feel sorry for Afghanistan today.

— ian bishop (@irbishi) June 18, 2019
This England team is frightening. But they lost to Pakistan ♂️ #ENGvAFG #CWC19 — Hemant (@hemantbuch) June 18, 2019
Eoin Morgan smashed 17 sixes in this innings - nost by any batsman in an ODI innings. What a sensational innings. Will be remembered for a long time. Well played... #ENGvAFG #CWC19

— Navneet Mundhra (@navneet_mundhra) June 18, 2019
Afghanistan ravaged by Hurricane Morgan — Cricketwallah (@cricketwallah) June 18, 2019
Rashid Khan is first spinner in Men's ODI history to concede 100plus runs in an innings. #EngvAFG

— Mazher Arshad (@MazherArshad) June 18, 2019
In reply, Afghanistan fought well but were always going to struggle against the massive total posted by the hosts, England.
Never mind the result, Afghan batsmen want to hit as many 6s as England did! — Cricketwallah (@cricketwallah) June 18, 2019
Afghanistan playing for a draw here..#ENGvAFG #CWC19

— Hemant (@hemantbuch) June 18, 2019
Afghanistan may have had a near impossible chase but remember, they also needed to convince themselves that they can keep a good bowling side in the field for 50 overs. #WorkInProgress — Harsha Bhogle (@bhogleharsha) June 18, 2019
England win by 150 runs. Afghanistan play all 50 overs though, so will take that as a moral victory. #EngvAfg

— Brashna Kasi (@Brashnaa) June 18, 2019
Stat of the day: No of sixes hit by England in 2015 World Cup = No of sixes hit by England in their last 12 overs v Afghanistan today = 18 Morgan hit 17 sixes — 102 runs only by hitting sixes!#ENGvAFG #AFGvENG #CWC19 — Sarang Bhalerao (@bhaleraosarang) June 18, 2019
More sixes in this match (33) than the entire 1975 World Cup (28). #ENGvsAFG #ENGvAFG #CWC19

— Paul Dennett (@the_summer_game) June 18, 2019
Losses like these will only make Afghanistan a better team. Couple world cups ago Bangladesh were where Afghanistan is now and look at them now. They will only get better — Naveen (@ImNsamy) June 18, 2019