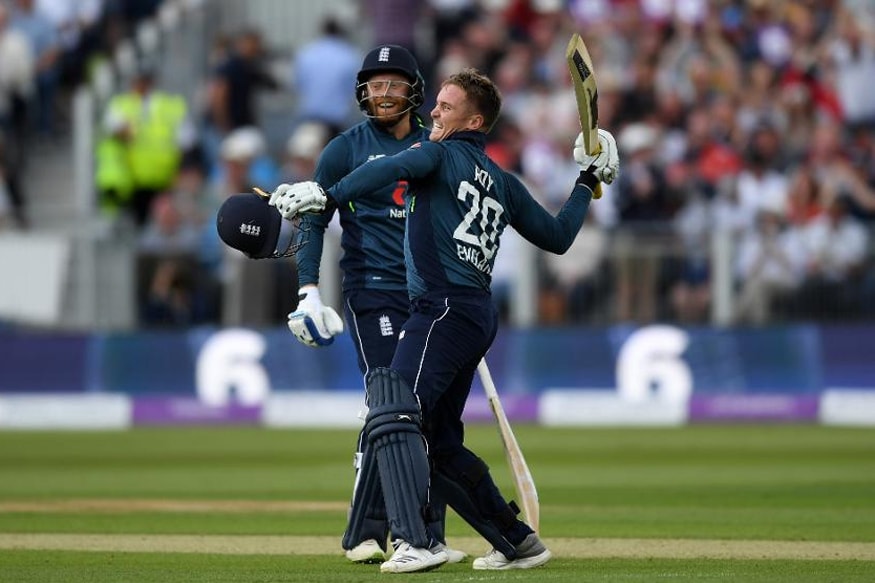 Eoin Morgan, the England captain, was a pleased man with his team finding a "new gear" in a series that has seen them emphatically attack the record books and run the visiting Australians ragged.

"We found a new gear and level of intensity," Morgan told presspersons after the win. "If it does become the norm, that'll be awesome. Because it creates an unbelievable tone at the top of the order."

Jason Roy and Jonny Bairstow, the openers, were again in the thick of action, adding 174 for the first wicket and continuing "phenomenal" form that has them at 303 and 288 runs for the series respectively. But the bowlers did their bit as well, pulling the Australians back from 227/2.

"[There are] just two ways you can control a one-day game, it's either take wickets or control the run rate. We didn't take wickets, which is an area we are looking to improve, but certainly we controlled the run rate. We always kept Australia within our grasp," said Morgan.


England gun down their second-highest ODI chase thanks to another ton from Jason Roy. Can anything stop this England side?#ENGvAUS REPORT ⬇️https://t.co/ViqJTgwQr5 pic.twitter.com/Hs8h8icAVT

— ICC (@ICC) June 21, 2018



Aaron Finch, back in the opener's spot where he's found much success, added 101 for the first wicket with Travis Head and 124 for the second with Shaun Marsh. Finch and Marsh both brought up hundreds, but the opener was left kicking himself for not making it a big one.

"It's obviously frustrating," he said after scoring 100, while Marsh hit 101, his second century of the series. "The total we put was probably around the mark. I could have got us to a lot more.
"For me to get out at just past 100 was disappointing when we could have kicked on and put the foot down that last 10-13 overs. [I] take full responsibility for us not getting 330-340."
At 4-0 down in the series, Finch admitted that it felt "like we're always chasing the game", and rued the inability of a young bowling attack to put the pressure on the English.
"We're being too wide or full at different times, not just hanging in there and making them hit good shots off good balls," he said, urging the bowlers to commit to plans. The trick, he insisted, was in hanging in there.


"The tone they (England) are setting in one-day cricket is the benchmark. They're playing like the No.1 team in the world. They're full of confidence in the depth of their batting, but also in their No.6, 7, 8, 9, that they can get the job done if things don't go well at the top.

"They've got a pretty good blueprint. Do we need to copy that? No. We've got to stick to our strengths, find ways to be in the contest longer, keep hanging in there, and hanging in there.

"Once we find the formula and recipe, things will turn for us very quickly."

First Published: June 22, 2018, 8:15 AM IST