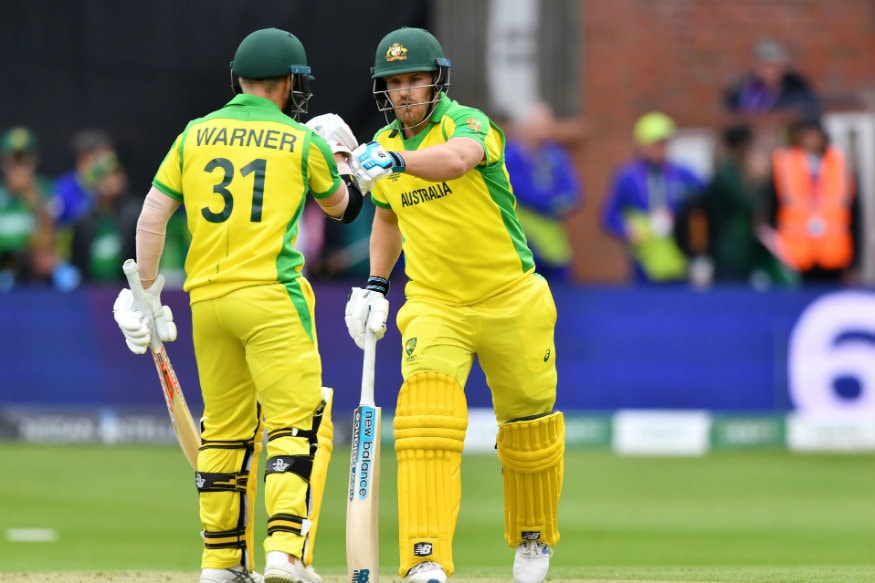 It all went as per script for Australia and Aaron Finch as the five-time champions became the first team to qualify for the 2019 World Cup beating England by 64 runs at Lord's. The win was setup by Aaron Finch, who slammed a 15th ODI century before Jason Behrendorff and Mitchell Starc shared nine wickets between them to close the door on the hosts.
"Anytime you contribute to the team's win is critical. That is the most important thing," said Finch, who was also named player of the match, at the post-match presentation ceremony. "There are been quite a few hundreds which have come in losses, so it is nice to get one in a win.
"You can't win the tournament if you don't qualify for the semis, so that is the first part ticked off which is a really good feeling. We have played some good cricket so far and hopefully it will go the same way."
The 116-ball 100 would have pleased Finch even more as it was achieved on a tough Lord's surface where the ball was doing all sorts of things in the morning. Despite being beaten innumerable times, both Finch and David Warner stuck it out and stitched a crucial 123-run stand for the opening wicket, which in some ways proved to be the difference in the end.
"To be sent on a wicket that was moving around a bit and to get through the initial tough was crucial," said Finch. "Woakesy (Chris Woakes) got a hell of a spell and for him to get seven in a row upfront, we thought he'd quit after five, but he kept coming. To get through that and set a reasonable foundation with Davey (Warner) at the top of the order was nice.
"It was nipping around, it was seaming. I think we played well to sort of rein it in and make sure we are as tight as it could be for that initial period and then tried to cash in on any width.
"People are saying it's not the Warner of old, who comes out bashes and thrashes, but I think there have been some wickets in this tournament where bowling demands a bit more respect. We try to sum up the conditions quickly. Today, he was very close to his best, he was disappointed when he got out. He was starting to get on top but that happens in One Day cricket. We're confident with what we've got."
Finch was also effusive in praise of Behrendorff, who got the ball to move in nicely early on and then picked up regular wickets in the middle overs too. He finished with career-best figures of 5/44 while Starc was equally effective as he returned 4/43 to derail England.
"He (Behrendorff) bowled beautifully. When you have a guy who can bring the ball back into the right-handers it is a great asset to have and he did not disappoint. Everytime he was called upon, he bowled a long spell first up and then to keep coming back and pick up wickets was outstanding," Finch said.
Eoin Morgan, the England captain, was left bitterly disappointed after his side suffered back to back defeats but insisted "our fate is in our own hands" and was confident of bouncing back soon.
"Losing early wickets wasn't ideal and not managing to make a sizeable partnership that would contribute to win a game led to us being outplayed," said Morgan. "I think given the circumstances, it is not hugely disappointing. Our fate is in our own hands, the next two games that we play, if we can control that and produce performances we will be in a healthy position come the latter stages.
"Everything we need to turn around is simple, we are not going to search for something that is not there. We need to do the basics right."
England's decision to bowl first under cloudy skies backfired a bit after Warner and Finch got Australia off to a 100+ stand. Morgan defended his decision to field first while also stating that his bowlers did really well to peg things in the back end.
"The wicket this morning was a bit soft. Choosing to bat would have been a horrific decision," quipped Morgan. "I thought they (England bowlers) bowled pretty well. When you have the guys continuously playing and missing, there are bound to be opportunities but we didn't manage to do that.
"Aaron Finch played pretty well, capitalised on the start. Till about the 25th over they pretty much dominated. I thought we pegged it back really well. For a long time today, it looked like they would get 330-340, to restrict them to 280 was a good effort. "