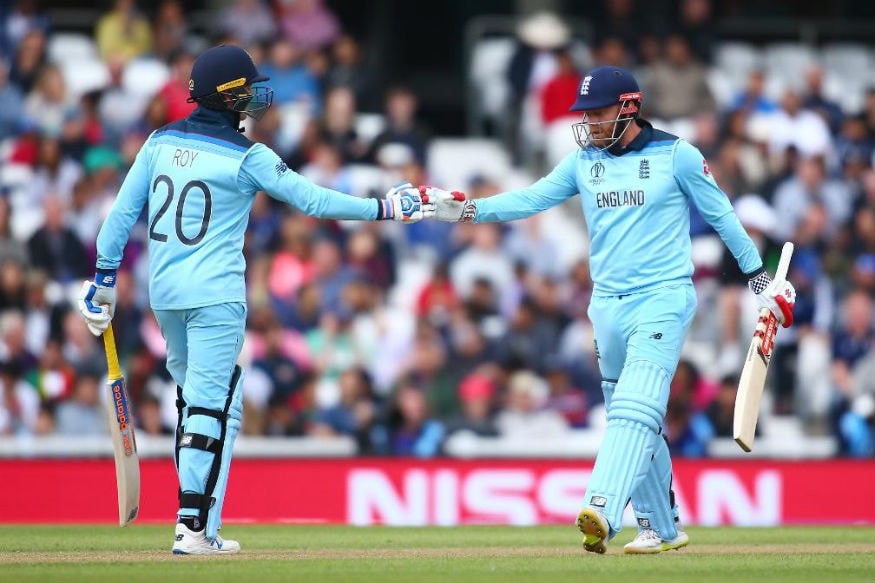 England openers Jonny Bairstow and Jason Roy were in sublime touch and it was the Bangladesh bowling that bore the brunt of it in Cardiff. Such was the impact of that 128-run stand that skipper Eoin Morgan had no hesitation in pointing that out as the major factor in setting up the 106-run win in their third game of the 2019 ICC World Cup.
"We knew we needed to improve in order to win against Bangladesh and we were outstanding with the bat. The two boys at the top (openers) laid a solid platform as Jason (Roy) managed to get a significant score. It's great to see," Morgan said at the post-match presentation.
Roy went onto score 153 runs off just 121 balls with 14 boundaries and five sixes in that knock along with not so good looking clash with umpire Joel Wilson.
"He's (Roy) very intimidating to play against and the impact he has against oppositions is significant."
"Just the way Jonny and myself batted, we built the innings well, weren't quite sure how the pitch will behave. With that batting line-up, no matter what we get off the first 10 overs, batting the whole 50, we're going to get a big score. We've been doing pretty well together over the past couple of years," Roy, who was declared the Man-of-the-Match, said.
Once the batsmen had done their bit and posted an imposing 387-run target, Bangladesh were always going to struggle against England's potent bowling attack. Jofra Archer and Mark Wood bowled at great pace and peppered the Bangladeshi batsmen with short pitch stuff, which they found extremely hard to handle. Archer finished with three wickets, Wood with two and Ben Stokes chipped in with three as Bangladesh were eventually bowled out for 280.
"With Archer, Wood, Woakes, Stokes in the bowling, it's outstanding. They're wonderful to captain and today was no different."
The worry however for England was the injury of Jos Buttler, but Morgan played down talk of any long term injury.
"No serious concern with Jos (Buttler) at the moment. He didn't keep as a precautionary measure and will be monitored in the next 48 hours."
For Bangladesh, who fell to their second consecutive defeat in the tournament after beating South Africa in their opening game, it will be back to the drawing board before their next game.
"386 is too many, credit goes to their batsmen. It's very difficult to get him (Roy) once he gets set. We knew we had to get Roy out, only then we could have come back in the match," Mortaza said after the match.
"We need luck sometimes to get those wickets. 330 could have been a different chase but as I said this score was too much."
Mortaza and Bangladesh, however, can turn to their star player Shakib Al Hasan for inspiration as he dug deep and scored a century but did not have support from the rest of the batsmen.
"Shakib is batting so well for us at number 3. His bowling also has been fantastic. There are still six matches to go and hopefully, others step up in those games."
England take on West Indies next on June 14, while Bangladesh play Sri Lanka on Tuesday (June 11).