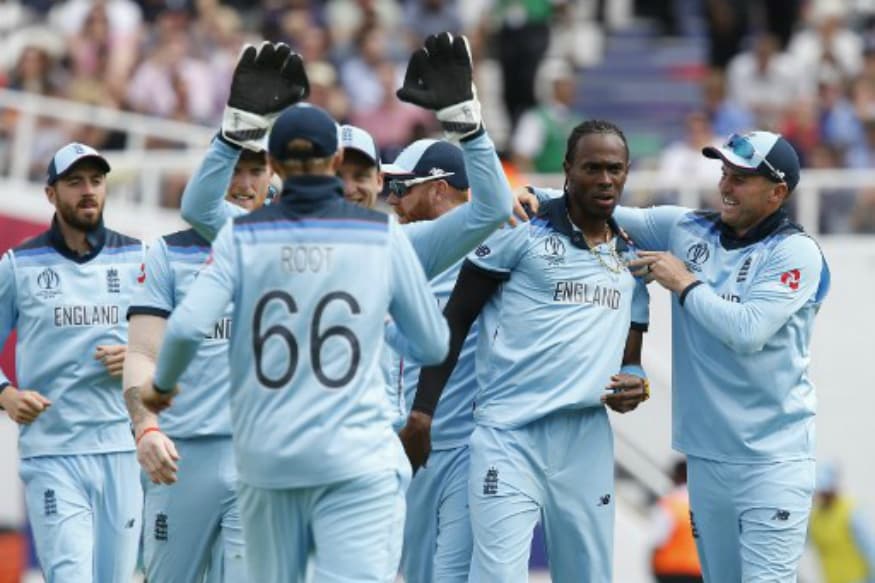 England registered a spectacular victory of 106 runs over Bangladesh in Match 12 of the ICC Cricket World Cup 2019 in Cardiff. It was an important win for the hosts after being defeated by Pakistan in the previous game.
England's two wins in #CWC19:

~ Beat South Africa by 104 runs

~ Beat Bangladesh by 106 runs

Too good today.#ENGvBAN #WorldCup2019

— CricBlog (@cric_blog) June 8, 2019
Very very professional England !!! #BackOnTrack #CWC2019 — Michael Vaughan (@MichaelVaughan) June 8, 2019
Today - 666 runs at Sophia Gardens, Cardiff - the 5th highest match run aggregate in #CWC history!#EngvBan#BanvEng#CWC19#CWC2019

— Mohandas Menon (@mohanstatsman) June 8, 2019
Earlier, Jason Roy and Jonny Bairstow began in splendid fashion as they put up an opening partnership of 128 runs. While Bairstow got out scoring 51, Roy registered a scintillating ton as he smashed 153 runs from just 121 balls, hitting five sixes and fourteen boundaries.
Jonny Bairstow and Jason Roy's opening partnerships average 62.62. No other opening partnership in history (minimum 20 innings) averages as much. #CWC19 — The CricViz Analyst (@cricvizanalyst) June 8, 2019
A lovely hundred by Jason Roy! He is in hot form right now and it is almost difficult to stop him along with Jonny Bairstow. Probably, the best opening pair. #ENGvBAN

— The Blue Musketeers (@bluemusketeers) June 8, 2019
A Roy breaking Bengali hearts. That doesn't happen too often! #EngVBan — Joy Bhattacharjya (@joybhattacharj) June 8, 2019
Roy is clubbing everything in his way today #ENGvBAN #CWC19

— Gaurav Kalra (@gauravkalra75) June 8, 2019
Joe, Jos, Jason - the three centurions of England in #CWC19 — Bharath Seervi (@SeerviBharath) June 8, 2019
Jos Buttler scored a quickfire 64 runs from just 44 balls as he set up the pace for England innings. The wicketkeeper-batsman hit four sixes and two boundaries during his stay at the crease.
This Buttler doesn't have to come to your home to serve your food. He can pack them from his home & hit it for a six to land them on your dinner table. But, once in a while someone may catch it on its way, before it lands in your land.

— Jose Puliampatta (@JosePuliampatta) June 8, 2019
How is Jos Buttler not a violation to ICC's rules? He is a cheat code in white-ball cricket. #CWC19 — Manya (@CSKian716) June 8, 2019
Buttler has muscled the spinner via the back foot and into the downtown territories. Jaw-dropping shot #ENGvPAK

— Bharath Ramaraj (@Fancricket12) June 8, 2019
The duo of Chris Woakes and Liam Plunkett provided a late flourish to the England innings. The hosts scored 45 runs in the last three overs as they ended up posting their seventh consecutive total in excess of 300 in ODIs, with a mammoth 386/6 on board.
Hey folks, no jokes, it's Stokes and Woakes #ENGvBAN — Gaurav Kapur (@gauravkapur) June 8, 2019
England are the first team in the history of ODI cricket to score 300 in seven consecutive ODI innings. Their next match is against the West Indies in Southampton - the third fastest scoring venue in the world since 2017 - where they could well post 300 again. #CWC19

— Freddie Wilde (@fwildecricket) June 8, 2019
England is playing a completely different brand of cricket. Their relentlessness when it comes to hitting is scary...batting first gives them more teeth. #CWC19 #EngvBan — Aakash Chopra (@cricketaakash) June 8, 2019
England is first team in the ODI history to score 300plus in seven consecutive innings. #EngvBan #CWC19

— Mazher Arshad (@MazherArshad) June 8, 2019
The England pacers began remarkably well. Jofra Archer who dismissed Soumya Sarkar had the ball going for a six after it clipped the bails. He also clocked at a speed of 153kph, which is the fastest in this World Cup so far.
How many time you guys have seen ball hitting the stumps and going towards the boundary without bouncing on the ground??? #JofraArcher #quick #worldcup — Irfan Pathan (@IrfanPathan) June 8, 2019
The ball from Jofra Archer which bowled Soumya Sarkar hit the boundary ropes on the full.

Heard plenty of times the legend of Jeff Thomson doing the same at the WACA. #ENGvBAN #CWC19 #WeAreEngland

— Deepu Narayanan (@deeputalks) June 8, 2019
96% of Jofra Archer's deliveries in this spell have been over 140kph. #CWC19 — The CricViz Analyst (@cricvizanalyst) June 8, 2019
Shakib Al Hasan put up a magnificent hundred even though Bangladesh kept faltering. He stood against the odds and delivered with a spectacular innings of 121 runs from 119 balls. He also became only the second Bangladeshi player after Mahmudullah to score a hundred in the World Cup.
Well played @Sah75official quality my friend. #ICCWC2019 #ENGvBAN

— Tom Moody (@TomMoodyCricket) June 8, 2019
Bangladesh cricket is indebted to Shakib.. More than their fans realize — (@TheLyrebird1001) June 8, 2019
Shakib becomes the second Bangladeshi to score a World Cup hundred. Fittingly, he had the first man to achieve the feat batting with him at the other end. #CWC19

— Shubh AggarWall (@shubh_chintak) June 8, 2019
Delighted to see one of my favourite players @Sah75official batting the way he is. Class! — Harsha Bhogle (@bhogleharsha) June 8, 2019
Bangladesh are finally playing Shakib in the position they should have always played him. He has this uncanny knack of finding boundaries when fielding restrictions are on. And being settled also helps him against spin, a bowling type he is more used to.

— Patriot Alagappan (@IndianMourinho) June 8, 2019
Throughout the innings, Bangladesh hardly stood a chance except for the one moment when Shakib and Mushfiqur looked dangerous. The Tigers were eventually bundled for a total of 280 in the penultimate over.
It'll be very hard to defeat England when they bat first....unless the conditions are offering exaggerated lateral movement to pacers. They should bat first every time they win the toss.... #CWC19 #EngvBan — Aakash Chopra (@cricketaakash) June 8, 2019
Huge win for England...beat Bangladesh by 108 runs, they were coming from a defeat and this will boost their confidence as they face Westindies on june 14th. #ENGvBAN #CWC19

— Johns (@CricCrazyJohns) June 8, 2019
Huge win, well done, England!#CWC19 — Adlee Sharon (@adlee_sharon) June 8, 2019