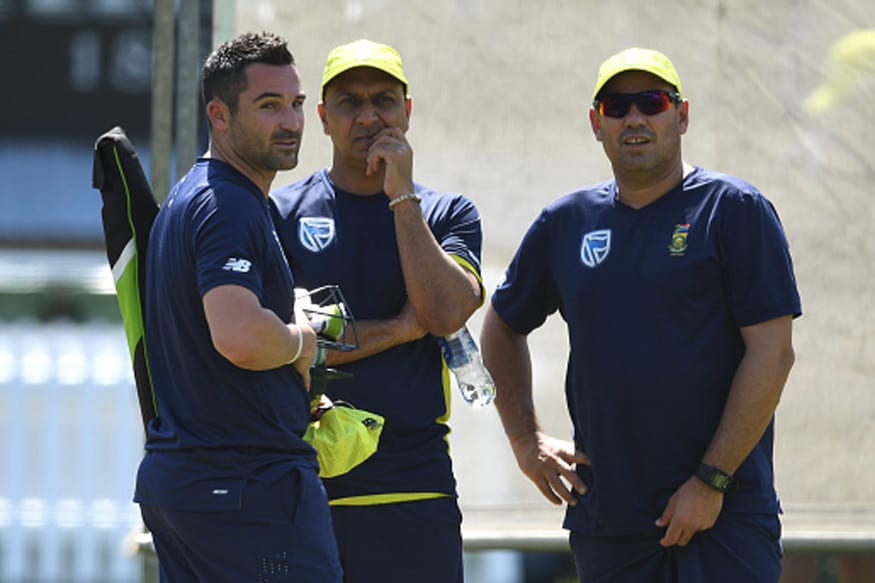 London: South Africa stand-in captain Dean Elgar is confident there will be no "scarring" on show when his side face England paceman Stuart Broad again in the first Test at Lord's on Thursday.
Broad's Test career has been studded with several dramatic match-winning spells, notably his Ashes-clinching eight for 15 against Australia at the Nottinghamshire quick's Trent Bridge home ground two years ago.
But opening batsman Elgar has first-hand experience of what can happen when Broad gets on a roll.
Last year's Johannesburg Test saw the now 31-year-old Broad take six for 17 in the second innings to lay the platform for England's series-winning seven-wicket victory over the Proteas.
Elgar, the first batsman Broad dismissed that day, insisted the spell would provide "motivation" to the Proteas rather than a source of lasting damage ahead of this four-match series.
"It was a freakish spell ... a great reference point to look back at and toughen us up a bit more," said Elgar, leading the side in place of Faf du Plessis, who has stayed at home to attend to his wife following the birth of their first child.
"It was an extraordinary bowling spell and great to watch," he added.
"It was bad being part of it as a batting unit — but as a cricket lover and watcher, it was seriously good.
"I don't think there is any scarring. If anything it will serve as motivation."
South Africa, who haven't lost an away Test series for 10 years, have plenty of fast-bowling firepower of their own, including Kagiso Rababa — one of world cricket's undoubted rising stars.
The 22-year-old has already taken 71 wickets in his 17 career Tests.
Rabada has twice made a significant impression on England, including at Lord's where earlier this tour his four-wicket burst helped give the Proteas a consolation win in an overall one-day international series loss.
And in the Test arena, he took an impressive 13 wickets at Centurion in January 2016 in a 280-run South Africa victory which reduced the series result to 2-1 in England's favour.
"He's been a find and he's taken to international cricket brilliantly," said Elgar of Rabada. "Those were the characteristics we expected he would show at this level."
And the new captain is confident Rabada will rise to the occasion once more at the 'Home of Cricket'.
"I'm sure he'll be up for it," Elgar said.
"He hasn't played a lot of cricket of late, so I'm sure his hunger is through the roof.
"You can see the way he's bowling in the nets. He's fresh and willing to go.
"If he hits his straps he's going to be something exciting to watch."