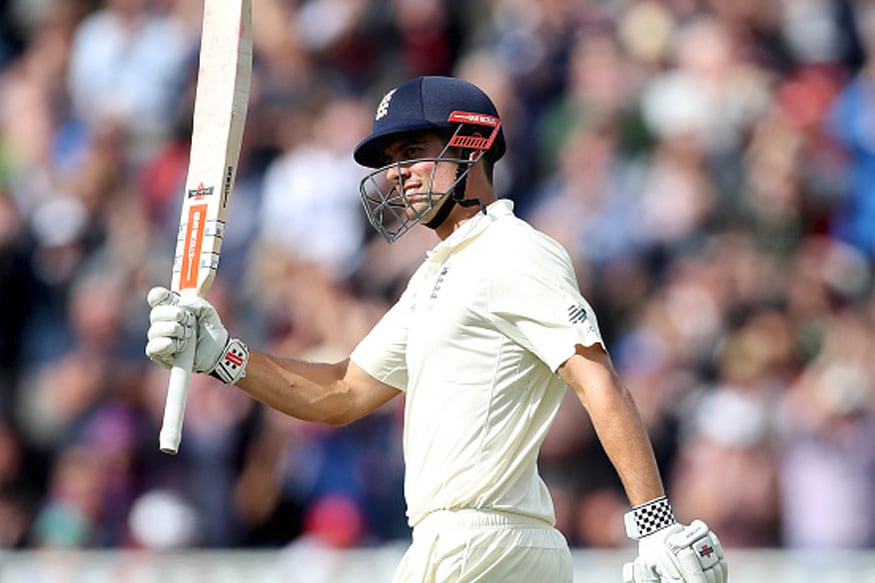 Alastair Cook was already England's top run scorer in Test cricket, but his knock of 243 also added another feather to former England captain's hat as he became the top scorer in Test matches in England.
Cook now has 6063 runs at an amazing average of 45.93 in England. He took the number.1 spot from Graeme Gooch, the same player he had pipped to become England's highest run-scorer.
This was also his 4th double hundred, which is the second highest for English batsmen. Wally Hammond still remains no.1 with 7 double hundreds to his name. (Cook is tied on second spot with Len Hutton, who also has 4 double hundreds)
Cook gave a batting masterclass against the West Indies, scoring a masterly 243 at Edgbaston.
Cook was 153 not out, an innings that had already seen him extend his record tally of England Test centuries to 31.
Significantly it was also Cook's first Test hundred in 17 innings and the 32-year-old left-handed opener's tenth score of 150 or more at this level.
Together with Root, who made 136 after winning the toss, he'd put on 248 for the third wicket.
Cook was then joined by Dawid Malan, who extended his overnight 28 not out to 65 -- a maiden Test fifty -- in a fourth-wicket partnership of 162 that strengthened England's grip on the game.
"He gave me a batting masterclass," Malan told reporters of his stand with Cook. "It was the best seat in the house."
He added: "To watch how a master goes at his work, to watch him be as disciplined as he can be shows you what you need to do to be successful at this level."
Both Malan and Cook were dismissed by off-spinner Roston Chase, whose return of four wickets for 113 runs in 26.2 overs made him the most succesful member of an otherwise seam-dominated West Indies attack.
"It's always good getting wickets," said Chase. "I was lucky enough to get four today but I thought I was a little bit too expensive. My length was a little bit too short to Cooky."
Malan's pull off Miguel Cummins saw the Middlesex left-hander to a 112 ball-fifty in his fifth Test innings.
Cook then went to his 200 when a misfield by Kyle Hope on the third man rope allowed the ball to trickle through for the opener's 30th four in 339 balls.
But West Indies did have a success on the stroke of lunch when Chase had Malan caught at slip.
Cook was 213 not out at lunch. But his chances of surpassing his highest Test score of 294, made against India at Edgbaston six years ago, were not helped by a rush of wickets at the other end, with Chase the main beneficiary.
Cook, with tailender Toby Roland-Jones for company, was lbw on review to Chase when he missed an onside flick as a marathon effort of more than nine hours finally came to an end.