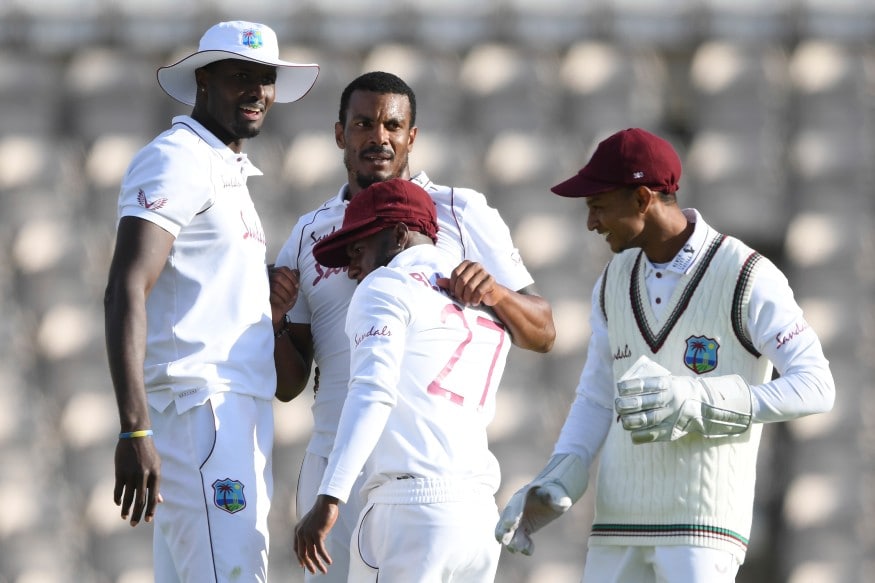 The first international cricket match after a 117-day hiatus due to the Covid-19 pandemic lived up to its billing. 345.1 overs of old-fashioned hard-fought Test cricket with the result decided in a thrilling end in the final session on Day 5 – it was the kind of advertisement cricket and sport needed to get going again.
West Indies' victory was the icing on the cake. Two things stood out. One – unlike the West Indian teams of the recent past who participated rather than competed, it wasn't a surprise that the current unit won at Southampton. It was a well earned and deserving victory which suggests that this team has the potential to win.
Secondly, it was a complete team effort. 9 of the 11 West Indian players (all except Hope and Roach) had an IMPACT OF GREATER THAN 1 in this match – suggesting that they did their bit and played a significant role in the victory.
Such a cohesive performance has seldom been seen in the West Indies' teams of the last two decades.
FULL COVERAGE ENGLAND VS WEST INDIES 2020
We look at some interesting insights from the match and some observations on the recent resurgence of the West Indies.
A RARE WIN
West Indies' victory at Southampton was only their 5th TEST WIN in 84 Tests at an Away/Neutral venue against a major team (excluding Bangladesh, Zimbabwe, Afghanistan) since 1st January 2000. They have lost 62 and drawn 17 such matches in the last 20 years.
Interestingly, three of these wins have come in the opening Test of the series – against England in Birmingham in 2000, against South Africa at Port Elizabeth in 2007 and again against England in Southampton in 2020.
ALSO READ: Jason Holder Surprised England Didn't Pick up Stuart Broad in Playing XI
BRATHWAITE 3/3, CHASE UNDER PRESSURE AND THE SIMILARITY WITH LEEDS
Kraigg Brathwaite has scored at least one fifty in the match in the last three of these 5 rare away wins for the West Indies. He wasn't dismissed in either innings against Pakistan at Sharjah scoring 142 and 60, recorded 134 and 95 at Leeds and top-scored for the West Indies with 65 in the first innings at Southampton.
Roston Chase averages just 31.76 but has the ability to produce his best when the chips are down and the team needs him the most. He has a knack of scoring tough runs under pressure often coming out to bat after a top-order collapse. His unbeaten 137 (from 48 for 4) in the second innings helped West Indies save the Kingston Test against India in 2016.
He came out to bat at 27 for 3 in the chase at the Rosebowl and added a match-changing 73-run stand with Jermaine Blackwood. His 37 off 88 deliveries were crucial and came at a critical time for the West Indies.
ALSO READ: Don't Regret Leaving Out Stuart Broad, Says Ben Stokes
Not surprisingly, he played a vital supporting role in the win at Leeds too – his 30 coming at an important juncture in the chase.
Incidentally, Blackwood, who scored a magnificent match-winning 95 at Southampton, also contributed with a quickfire 41 off 45 deliveries in the chase at Leeds. In both the innings, his strike rate, and ability to hit the boundaries stood out.
THE 200 CHASE MASTERS
West Indies is the only major team in the world to have NEVER LOST a Test when the 4th innings target was 200 or less. NEVER IN THEIR HISTORY!
This is quite a startling statistic for a team that has largely struggled in the last one and a half decades.
Australia, England, India, New Zealand, Pakistan, Sri Lanka, and South Africa have all lost at least one such match.
The lowest 4th innings target when the West Indies ended up on the losing side was 204 against Bangladesh at Chattogram in 2018.
WEST INDIES – 7 OF 12 & AN UNFANCIED RECORD
There have been only 12 instances of a 150-plus successful chase by a visiting team in England in Test history. West Indies have achieved the feat, a remarkable 7 times. They are followed by Australia – 3, India – 1, and South Africa – 1.
In the last 4 years (since 1st July 2016), there have only been 7 successful "Away From Home" 150-plus chases by a visiting team in Test cricket.
What is surprising is that 6 of these have been achieved by the three low ranked teams - 3 by West Indies, 2 by Sri Lanka, and 1 Bangladesh! Pakistan chased down 160 against Ireland in Dublin in 2018.
ALSO READ: If We Scored Above 400 in the First Innings We Would Have Taken the Game Away: Ben Stokes
GABRIEL - STRIKING AMONGST THE BEST, HOLDER'S AVERAGE & WEST INDIES' PACE UNIT
Shannon Gabriel picked 9 wickets in Southampton and returned with the third-best match figures of his 46-match Test career. His bowling strike rate of 52.5 is better than some of the great West Indian legends like Ambrose, Roberts, and Walsh.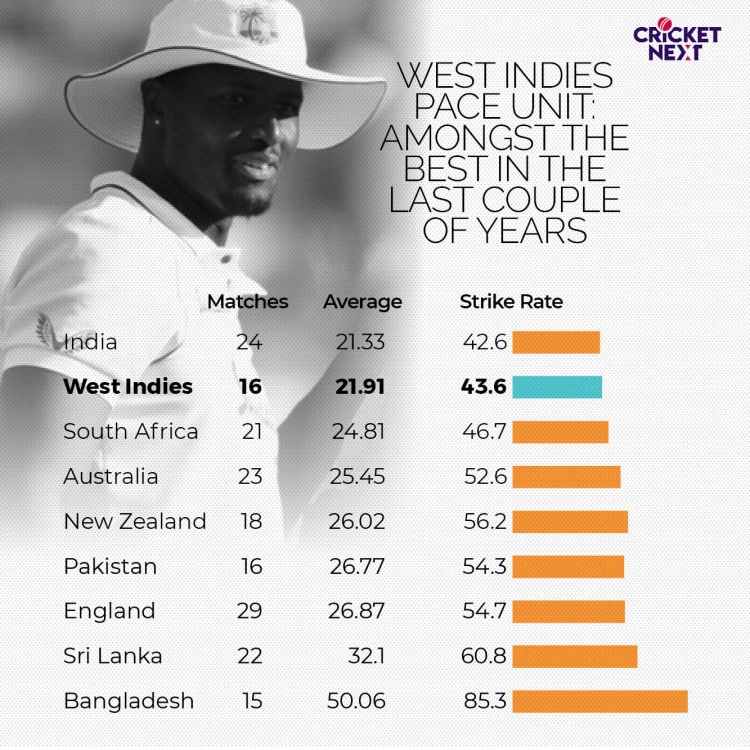 Jason Holder ran through the middle and lower order of the English batting line-up picking 6 wickets in the first innings. He led from the front and skittled the hosts for 204 with the West Indies gaining ascendancy in the match thereafter. Holder has led the charge picking 60 wickets in just 12 Tests post-2018. His average of 14.08 is the best in the world (amongst fast bowlers) in these two and a half years.
West Indies' fast-bowling average and strike rate are both, second only to India during this period. Gabriel also has a strike rate of under 40 while he and Roach average between 20 to 25 runs per wicket in this time-frame.