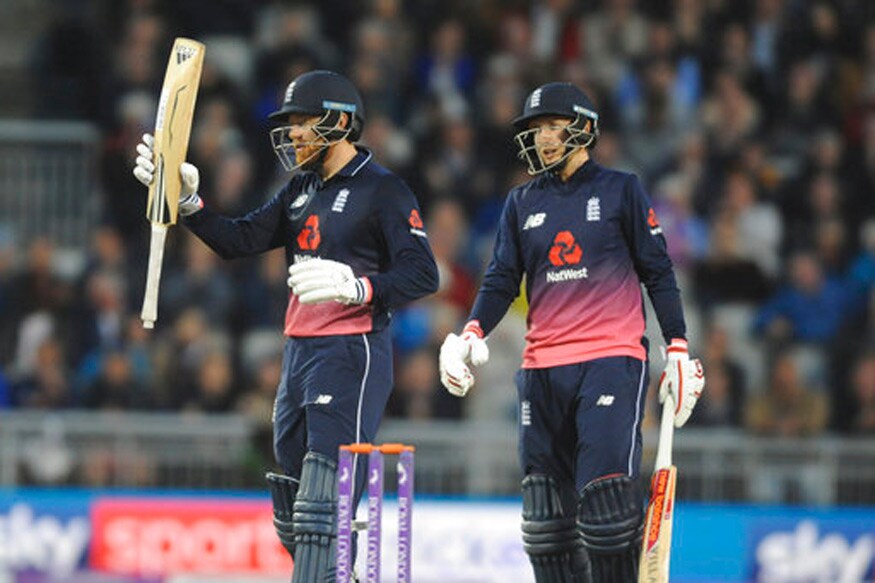 Catch all the live action of the second ODI between England and West India through our live commentary.

Toss:

West Indies have won the toss and they have opted to field first.

Squads:

England: Jonny Bairstow, Alex Hales, Joe Root, Eoin Morgan(c), Ben Stokes, Jos Buttler(w), Moeen Ali, Chris Woakes, Adil Rashid, Liam Plunkett, David Willey

West Indies: Evin Lewis, Kyle Hope, Shai Hope(w), Marlon Samuels, Jason Mohammed, Rovman Powell, Jason Holder(c), Ashley Nurse, Jerome Taylor, Miguel Cummins, Kesrick Williams
Commentary (England innings)
Join us for the third ODI between the two sides on Sunday, 24th September 2017 at the County Ground, Bristol. Action begins 1100 local (1000 GMT), it is the only day game in this series. Join us for it. Until then, goodbye and take care.
Bad weather has eaten up another game of cricket. Not sure either of the teams will mind it, the series is very much open. Let's see if West Indies can turn things around, England appear too confident at the moment.
Well, the rain has had the final say. The much dreaded thing has finally happened. Seemed just a matter of time before the officials called it off. MATCH ABANDONED DUE TO RAIN!
1524 local time update - Nothing much to update. Just when we were hearing that the rain is easing off, the heavens took offense and it is raining steadily now.
News coming in is that we must resume the game by 5.56 pm local time for a 20-over game. We still have a lot of time left. Fingers crossed.
1312 local time update - Bad news folks! Just as we were about to start the rain is back. The covers are also being brought on. Seems like we are in for a lengthy delay. The wait prolongs.
Good news, the rains have relented and we will be starting in less than 10 minutes. No overs lost.
Well the rain was expected, this looks like a passing shower so let's hope it clears up soon.
The umpires have decided to call for the covers. The players are making their way out and let's hope we are just off for a short delay.
2.2 J Holder to J Bairstow, Back of a length delivery outside off, dabbed towards third man for a single. 21/0
2.1 J Holder to J Bairstow, Fuller delivery around off, driven towards the fielder at covers. 20/0
1.6 J Taylor to A Hales, Fuller delivery in line of the stumps, Alex stays in his crease and defends it. 20/0
1.5 J Taylor to A Hales, FOUR! No need to run for those! Bowls it on a good length around off, Hales camps back a touch and punches it through the cover-point region for a boundary. 20/0
1.4 J Taylor to A Hales, FOUR! Woah, that went like a rocket! Fuller delivery around off, Hales just leans forward and sends that through the extra cover region like a bullet for a boundary. 16/0
1.3 J Taylor to J Bairstow, Angling in from a length around off, nudged towards mid-wicket for a single. 12/0
1.2 J Taylor to A Hales, Hurls this on a length around leg, Hales clips it through the square leg region for a single. 11/0
1.1 J Taylor to A Hales, Good length delivery around middle and off, Hales fails to clip it on the leg side. Gets hit high on his pads. 10/0
Jerome Taylor to bowl from the other end with the second new ball.
0.6 J Holder to J Bairstow, Good length delivery around middle and leg, Bairstow tries to defend it. Gets an inside edge onto his pads. 10/0
0.5 J Holder to A Hales, That's surely silly running! Fuller length delivery around off, Hales defends it towards point and is off the blocks for a single. There was no run there yet both the batsmen go for it. Kyle Hope, the fielder has a shy at the striker's end but he fails to score a direct hit. Had he hit, Bairstow was a goner. A single taken. 10/0
There is some rain in the air already...
0.4 J Holder to A Hales, Back of a length delivery outside off, Hales gets behind the line of the ball to defend it. 9/0
0.3 J Holder to J Bairstow, Again fuller into the pads, Bairstow can play that flick all night. Plays it beautifully through the mid-wicket region for a triple. 9/0
0.2 J Holder to J Bairstow, FOUR! That was bowled to be dispatched! Fuller and angling into the pads, Bairstow stays in his crease and just clips it elegantly through the mid-wicket region for a boundary. First runs for him. 6/0
0.1 J Holder to J Bairstow, Angling into the hips, Jonny fails to defend it. Gets hit on his thigh pad. 2/0
0.1 J Holder to J Bairstow, Wide! Seems like Holder cannot get his line right here as he hurls this again way down the leg side. Bairstow fails to clip it through. 2/0
0.1 J Holder to J Bairstow, Wide! First runs on the board! Sprayed way down the leg side, not the start the skipper would have wanted. Bairstow lets it through. The umpire signals it as a wide. 1/0
First Published: September 21, 2017, 4:54 PM IST