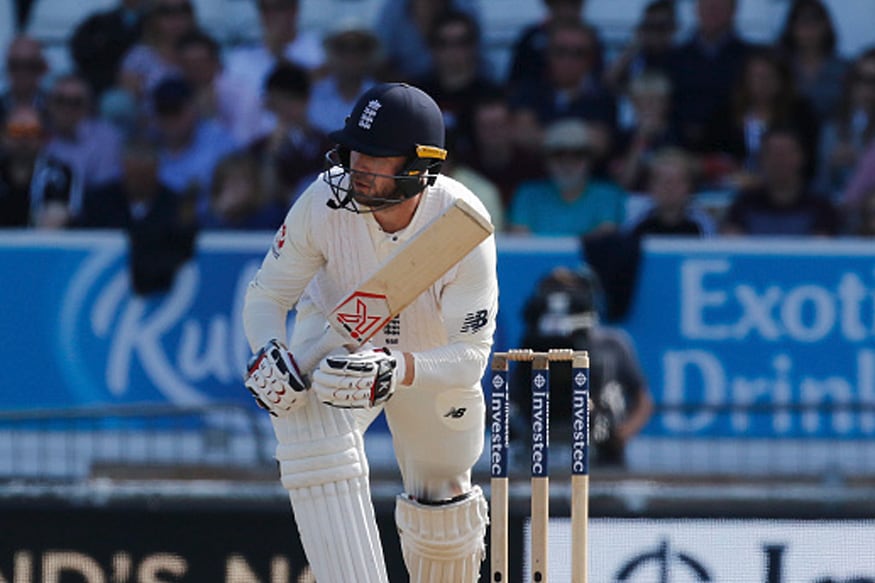 Leeds: England's Mark Stoneman said the pressure of a tense clash against the West Indies meant there was no room in his head for Ashes thoughts after compiling a maiden Test fifty at Headingley on Sunday.
The Surrey opener, who had to overcome a finger dislocation, fell soon afterwards for 52 on an absorbing third day of the second Test.
Come the close, the match was finely balanced with England 171 for three in their second innings -- a lead of just two runs.
Much appeared to depend yet again on Joe Root, with the England captain 45 not out on his Yorkshire home ground after being dropped on 10.
Left-hander Stoneman is the 12th man to partner Alastair Cook at the top of the England order since former captain Andrew Strauss retired in 2012.
The pressure on Stoneman, Tom Westley and Dawid Malan -- who occupy England's problem batting positions of two, three and five -- has intensified ahead of an Ashes series in Australia that starts in November.
But faced with a first-innings deficit of 169, the 30-year-old Stoneman responded well in what was just his third Test innings.
He also needed the team physio to help straighten out a dislocated little left finger after he was struck by West Indies captain Jason Holder.
But Stoneman said the pressure of the match situation had worked to his advantage.
"It helps remove any thoughts that might be in the back of your mind, the scrutiny you are under when you're playing Test cricket, especially early in your career," Stoneman told reporters.
'Long road'
He added that worrying about whether he would be in the Ashes squad was a pointless exercise.
"Just getting here (to play for England) was a long enough road so to start trying to forecast anything beyond my next innings would be daft," explained the former Durham batsman.
Holder, as well as making a mark on Stoneman, led from the front with both bat and ball on Sunday.
His brisk 43 helped take the West Indies to 427 in their first innings.
The pace-bowling all-rounder then dismissed both Cook and Westley as his side continued an impressive recovery after an innings and 209-run drubbing in the first Test at Edgbaston.
"We've got three wickets so far, they've only got a lead of two runs, so I think it's important we hit our straps," said Holder, looking to lead the West Indies to their first Test-match win in England in 17 years.
"I'd say (chasing) anywhere around 150 should be pretty decent."
But the West Indies may yet rue missing Root for the second time in the match, having seen him make 59 in England's first-innings 258 after he was dropped on eight.
"It's frustrating obviously, but it's gone," said Holder.
"He's been a little susceptible outside the off stump on the back foot and we've just got to hang in there and be a lot more patient because we can create some opportunities."