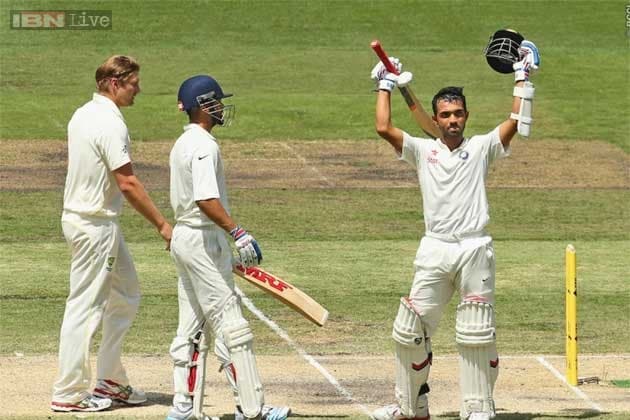 The third day of the Test match and the morning session pretty much tells you which way the Test match is going but a Australia-India Test series has its own share of twists and turns as most of us in India woke up to a chilly morning, only to find out Cheteshwar Pujara making way for Virat Kohli in the second ball of the day.
Anybody in India would need something more miraculously useful than that of a microscope to find out anything positive about the second day's play from an Indian perspective as the visitors conceded more than 500 runs after having the opposition on the mat but that is again India's old malaise and comes as no surprise.
Murali Vijay had shown great amount of maturity to hold one end up and see off the new ball in this series but a sudden break in concentration had cost him his wicket as India, once again after getting off to a start found themselves in a spot of bother after losing Pujara and Vijay in quick succession.
Pujara has been an enigma for most part of his career as the young man from Gujarat did little justice to his talent after getting out first up in the morning. While many would like to assume that he is the next Rahul Dravid of India but little do they understand that those are big boots to fill. Dravid out of all the things in the world, even at the worst of times, would show better application than what Pujara has been doing over the past couple of years abroad.
And the problem lies with most of us labeling him as the next 'Wall' of Indian cricket which might add on to the already mountain like pressure that one has to cope with at the highest level. The water-tight defense is not so tight as the ball keeps sneaking through his defense, making it evident that he has a weakness to the ball coming in to the right-hander.
To add to that his foot movement is not precise as more often than not he gets stuck on the crease with a front foot movement that hardly crosses the popping crease taking him nowhere and it only adds to his woes. Being brought up in spin friendly wickets, it is almost taken for granted that Indian players would be good against spin but Pujara's fragility when it comes to off-spin is no secret and it only goes to emphasize the importance of using the crease to either go forward or right back to smother the spin.
Virat Kohli's ability to change the match on its head is not unknown to anybody and yet again when the visitors were looking down the barrel, the Delhi boy turned his bat into a magic wand as the Aussies were left clueless in the field.
While Kohli was showering his enchantment, Ajinkya Rahane took matters in his own hands, just to make things even with Kohli as the hosts for the first time were feeling the heat. Rahane's counter-attacking punch not only kept the score-board moving but also made sure that runs come in thick and fast. While Pujara is fading away like the stars in the morning, Rahane is slowly but surely becoming a dependable player in the middle-order.
He is more convinced in his footwork and seems to know where his off-stump is, which is a hallmark of a good player. There is no question about Pujara's ability and temperament but he needs to sort out his little technical glitches which at the highest level might cost him his place. At end of the day, it is your overseas record that will earn you respect all over the world and Pujara sure would like his own share of it.