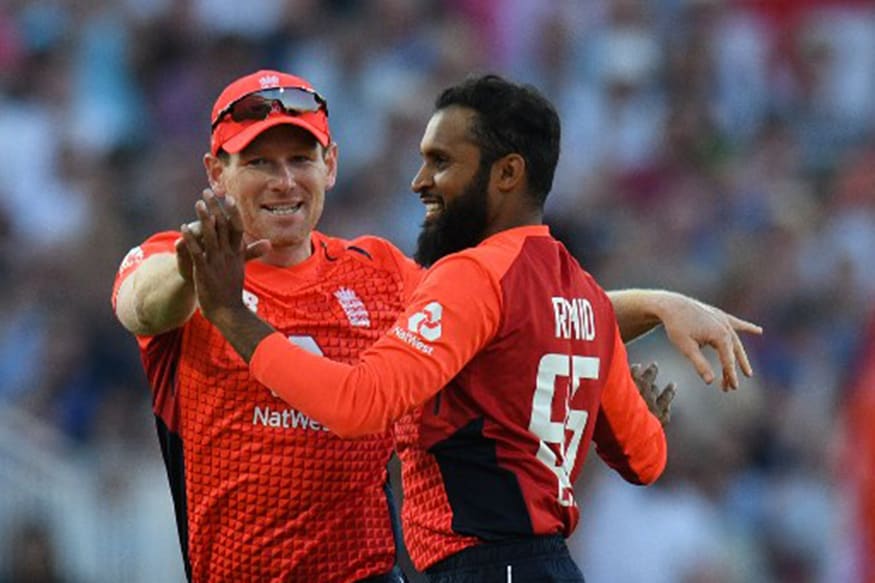 England leg-spinner Adil Rashid believes his captain Eoin Morgan has been one of the main reasons England and he stand where they do.
The 20-year-old heaped praise on his captain and said that he is one of the best captains he has played under and "a massive help" in his development.
"A huge amount of credit goes to him for how far we've come from the series against New Zealand in 2015 to where we are now, which is No. 1," Rashid said. "As a captain, a leader and a person, he really gives confidence to players.
"He is a great leader for this bunch of lads and he has made this environment a nice one to be in, you want to play for him and you want to enjoy it on and off the pitch."
Morgan is known for his calm approach during pressure-cooker situations as he shows little to no emotion irrespective of how the situation on hand pans out. Rashid for one enjoys that and believes it has a positive effect on the players around him.
"He knows you are going to have good days and bad days," Rashid said. "One big positive I've found is there are no big emotions from him if you're not bowling so well or things are not going great for the team. He doesn't really show it in his face which is a big positive for the players.
"For me, he has been a massive help. He has given me the confidence to go out there and try to get wickets and if you get smashed, no problem because we've got five other bowlers to keep it tight. It is my job to create chances and he has been a big positive for me."
Rashid isn't alone when he talks and praises the way Morgan responds to situations. Fellow spinner in the squad Moeen Ali too believes that the skipper's calm and collected ways help the spinners more than anyone on the field.
"The biggest thing as a spinner is, you get hit for a four and his body language doesn't go, he doesn't make you think you're not bowling well," Moeen said. "That's massive for a spinner. I know Rash says the same thing. When you get hit for a couple of fours he's still the same. He's fine with everything and that's a big characteristic.
"Throughout my cricket career, I've had that [captains who react emotionally and negatively]. From county cricket to international cricket, sometimes you do lose that and it knocks your confidence a bit as a spinner.
"When times are tough Eoin is always calm and slows thing down just to make things clearer. If you feel like you're struggling he never makes you feel like you are.
"I don't think he even knows he does it. It's great for us that we have a captain like that and it's one of the reasons we are number one in the world. He's right up there with the best captains I've played under."
It isn't unheard of for players to praise their captain, but that there is more to it than just the superficial sentiment becomes clearer when Ali's comments are compared to those about his relationship with current Yorkshire coach Andrew Gale, his captain in county cricket previously.
"We're okay," Rashid said "You have your ups and downs as a player and a coach, but we sat down and had a chat. You're always going to have times with a coach where you don't get along. We're normal in that sense. Hopefully, we can kick on and get a good friendship. For now, everything is okay."
Ali, who had signed a white-ball cricket only contract with Yorkshire earlier this year before changing to all-format first-class cricket (next season), said that it was a conscious decision so as to be able to spend more time with family, apart from improving his abilities with the white-ball.
Rashid though, like the West Indian Chris Gayle is of the opinion that more players picking T20 cricket is inevitable.
"Coaches and teams need to accept that will be the reality," Rashid told Talksport. "That will happen. It's happening already in different parts of the world. It's about accepting it."