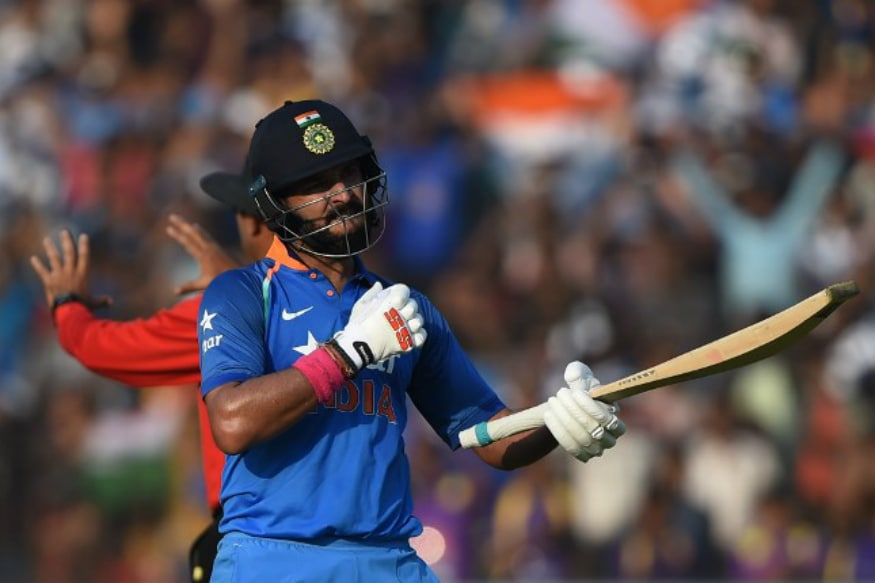 "Punjab ka sher, Yuvraj Singh!" a young fan exclaimed as he unexpectedly found himself within a foot of the lean, charismatic figure at the M Chinnaswamy Stadium.

"Thank you, buddy, I appreciate it," the protagonist replied, happy to oblige him and a handful of other youngsters who happened to be in the right place at the right time, and were desperate to store the moment for posterity with the ubiquitous selfie.

Yuvraj might have been away from the international stage for 16 months now, but he can hardly be away from the limelight. A smattering of supporters had turned up on Monday (October 8) for Punjab's Vijay Hazare Trophy showdown against Karnataka in a battle between already eliminated teams. When Yuvraj walked out to bat, they welcomed him with warmth, egging him on even if it meant further dents to their beloved team's stuttering campaign. After a cautious start, the left-hander exploded with customary flair – a punch off the back foot against the turn that soared deep into the stands beyond extra-cover, an effortless drive over wide long-on that mocked the distance of the boundary ropes.

It was vintage Yuvraj as he drove the sparse gathering into raptures. He might have allowed himself a smile or two, too, after those monster hits. He says he knows he is batting well 'when I am hitting sixes'. "When I am hitting the ball out of the park at will, and not having that fear that I am going to get out, that is when I am feeling good," he adds, as he sits down to discuss his immediate future at the start of a season on which so much hinges for him.

"All my cricket has been fearless. Obviously, you have to see the situation and play accordingly. But when I start hitting the ball out of the park and doing that consistently, then I feel that I am in a good space."

Yuvraj, clearly, is in a good space these days. In seven digs in the Hazare Trophy, he smashed nine sixes, stacking up 264 runs at an average of 37.71. He struck at 81.48 per 100 deliveries faced – only the three above him in the Punjab run-scorers' chart had higher strike-rates among specialist batsmen – and looked like he was enjoying himself, embracing the role of a mentor whole-heartedly while ensuring that he more than pulled his weight with the bat.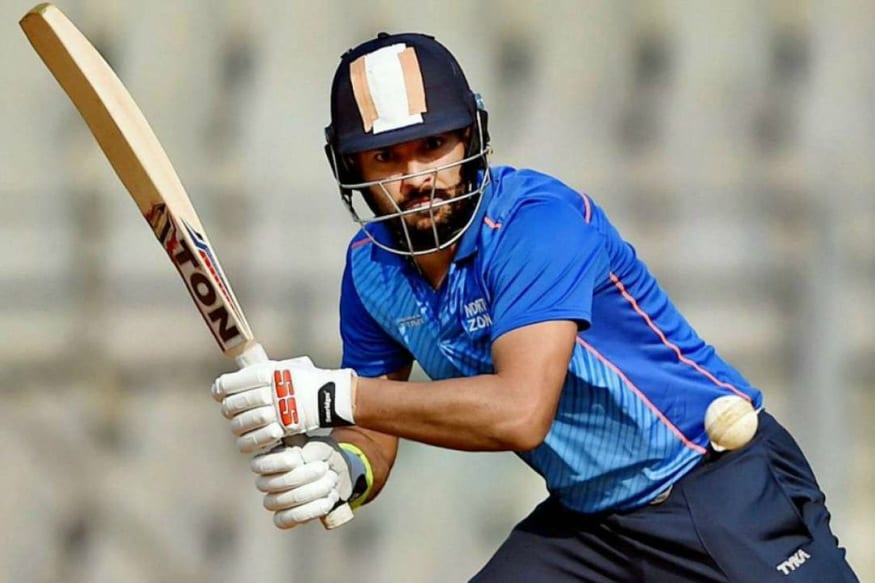 (Image: Twitter)

Two months shy of his 37th birthday, Yuvraj looks in top shape. And that is no accident, as he reveals. He is ambitious enough to play for India again, at the 2019 World Cup, but he realises that whether he gets to be part of that journey or not is not only his call.

"My decision to make is that I want to go happily playing the game. I didn't have a good domestic season last year, I had a bad IPL," he says. "I took a break and I thought that if I am looking to play another year or two years, I want to go playing this game happily because this game has given me everything.

"So I went to England for five weeks to a training camp this summer, I worked hard on my fitness. I was in Cirencester, at a habitat centre. I worked with a trainer called James, a former Marine, for five weeks. And when I got back home, I had another three weeks on my own; I had eight weeks of fitness before I started the season. I didn't have too much good (batting) practice before coming here, I just played one practice game against Madhya Pradesh. But I just felt mentally very good.

"I felt that I was fitter, I was stronger compared to last year, when I was not in a good mental space. The key for me has always been to be in a good mental space, that's when I have played good cricket. I have just focussed on being in a good space and obviously, the results showed. I have been hitting the ball really well and scored a few consistent scores. Let's see what happens now."

This 'good space' that he is talking about, can it be consciously created, I seek to know.

"Absolutely. That's the only thing that is in your control," he shoots back even before the question has been completed. "To be in a happy and a confident space because you have worked hard, you have switched off from the world – you just focus on your training, you just focus on your fitness, on your diet. Then you come back feeling refreshed and you feel that you are in a good space now to approach the game. Basically, it's like an exam, you tick all the right things – you have studied hard, you have done the right preparations and you go into the exam knowing that since you have done the right things, performance will eventually follow."


(Image: AFP)

Yuvraj's last One-Day International appearance was in June 2017, in the Caribbean immediately after the Champions Trophy in England. He had earned a recall to the ODI side at the start of the year, after a little over three years, and celebrated his return with a career-best 150 in his second game back, against England in Cuttack. It triggered a run during which he made 372 runs from 10 ODI innings at 41.33; his strike rate was a spectacular 98.67, and he won two Man of the Match awards, including in the Champions Trophy league tie against Pakistan when he hammered 53 off just 32 deliveries in Birmingham. Despite that, he was overlooked for the ODI series in Sri Lanka in August-September last year, and has been out in the wild even as India's desperate quest for dependable middle-order batsmen continues with the World Cup less than eight months away.

The Player of the Tournament at the 2011 World Cup wants to give himself every opportunity for one final shot at the quadrennial showpiece event.

"Obviously, I am looking to play cricket till 2019, whatever cricket I get to play," he points out, a little surprised when you ask him why he is putting in the hard yards even today. After all, it has been 17 years since his international debut in Nairobi, celebrated with a spectacular 84 against Australia in his second game in the ICC KnockOut Trophy. "Obviously, selection is not in my hands. What is in my hands is to work hard and get better at whatever I am doing – whether it's batting, bowling, fielding or my fitness. From when I was dropped last year, I have been thinking that all I can do is focus on myself and my cricket.

"I was speaking to Sachin (Tendulkar), who has always been my mentor, and he asked me, 'Why do we play the game? Just for the love of the game. Yes, we do want to play for India, but also, the game has given us everything'. I just want to enjoy the game, to appreciate that it has given me everything; I respect the game. I have cleared my fitness (yo-yo) test, I have bowled, I have got runs. I have done almost everything that is in my control. As I said, selection is not in my control. I am sure everyone is looking at the youngsters for building the team for this World Cup and the next World Cup. It's up to the selectors and the coach/captain to decide, it is entirely their call. I just want to play whatever cricket I get to play till 2019, and then take a call."

The 150 in Cuttack, his first ODI century in nearly six years, looked set to be the stepping stone for the final phase of his international career, but that wasn't to be. "Yeah, well…" he smiles, resignedly. "Things with me, they look different from the outside but they are different from the inside. I have always felt that how I saw my career, it never went that way. But if you look at it, it's actually not that bad (1900 runs and 9 wickets in 40 Tests, 8701 runs and 111 wickets in 304 ODIs, and 1177 runs and 28 wickets in 58 T20Is). I mean, obviously being diagnosed with cancer at the peak of my career, it was very unfortunate. Then I came back and I thought I could hold my place till the World Cup. Unfortunately, things didn't work out that way.

"But what I learnt from that and subsequently is never to give up. You control the things that you can control. People thought that my career was over after cancer, and I came back and registered my highest one-day score. That was only self-belief, nothing else. As long as the self-belief is there and I am playing the game for the love of the game… I don't know what the future holds but I just want to go out feeling good about myself, feeling good about the game which has given me everything, and with respect for the game."


Shubman Gill. (Image: BCCI/Twitter)

However, in his keenness to put his hat in the selection ring, Yuvraj is clear that he will not jeopardise fledgling Punjab careers. He is clear that unless he is required, he won't commandeer a place in the Ranji Trophy playing XI just to stake his claim. "It would have been ideal for me to play 50-over and T20 cricket," he explains. "If I play four-day cricket, guys like Anmolpreet (Singh), who got two double-hundreds last season, may have to sit out and that's very unfair on the guy because he is a very young aspiring player scoring lots of runs in domestic cricket. And Shubman Gill. It will be unfair to take their place.

"If they are selected for India A or if there is nobody (available), I can go and play a few games but I just feel that I don't want to spoil a youngster's place because I want to play the World Cup," he states emphatically. "I don't want to spoil anybody's chances in four-day cricket. Obviously, I will get back to training, I am looking forward to playing the T20 domestic tournament and see how it goes."

We rib a little on the flecks of grey in his well-kept beard, and he admits that being in a young Punjab side has challenged him to get better in all ways imaginable. "Definitely in terms of fitness, yes," he points out, with pride. "The younger guys are really fit and I have to work twice as hard at this age to be at par or maybe just around it. I wouldn't say 100%, but even if I am there 85-90%, I know that I am putting in my everything. And just to see these young guys doing well -- talking to them, sharing my experiences of ups and downs, it's been working really well with the guys. I see a lot of young talent like Anmol and Shubman. Barinder (Sran) bowled very well last game. Arshdeep (Singh), a new left-arm quick -- I see a lot of guys coming up. Mandeep's (Singh) coming back from a big injury, so I see a set of guys who can actually win the Ranji Trophy championship.

"I have really enjoyed playing with the Punjab team," he goes on, comfortable in his skin as a mentor and senior statesman. "We have a great atmosphere, really young talented boys coming up. I feel we would have qualified (for the quarters of the Hazare Trophy) with a little bit of help from the weather. But overall, it was a great team effort and I feel we are on the right track this season."


(Image: Hazel Keech Instagram)

There is a touch of the philosophical to the Yuvraj of today, influenced by two massive non-cricketing factors in a largely cricket-driven existence – cancer, and marriage to Hazel Keech, in December 2016. "I have been married almost two years now, coming to my second anniversary in December," he says wistfully, almost disbelieving that time has raced along at such breakneck speed. "Marriage has made me much more calm. That's what I am looking forward to now, a future with my wife. Whatever happens, just happens. I want to be happy, I want to be in a good space – whether I get selected or not.

"Before cancer, everything was about cricket and performing and worrying about the sport," he continues with the tiniest of mental winces. "I felt when I came back from cancer that living life in the moment was very important. Having a good meal with friends, being with my family, those became paramount. Cricket has given me great friends, it's basically given me everything. I appreciate that. And with my YouWeCan Foundation, I am trying to do what I can to help with treatments for people who have been diagnosed with cancer. I think my life has taken the right shape. When I stop playing, I will work even harder on something that is very close to my heart, something that's very close to my journey."

It's hard to associate all these sentiments, I tell him, with, say, the Yuvi of ten years back. Is this an awakening of sorts? "Definitely it is. I just felt the pain and I knew how hard it was for the normal, common man to have access to treatment. We do a lot of camps for people who get diagnosed, they say we don't have the money to do it. I said this is something I can really work on, giving subsidised treatment or free treatment for people who cannot afford it. That will be the way of my life; getting through that journey, I feel, that is my purpose in life.

"Lying in my hospital bed, I started to think. I started to see what impact cancer has on a normal human person. At the end of the day, that's all I am – a normal human person. I realised that so many people back home get diagnosed and don't have money for treatment. So I said if I survive, I can go back and work on something, work that adds fruitful meaning to my life.

"The diagnosis of cancer shortly after the high of the World Cup victory, it took the joy out of everything, it was a very dark moment in my life," that little mental wince again.

"When you win the World Cup, when you are Man of the Tournament, you are on top of the mountain. Suddenly, you fall in the ditch. It's just life, you don't expect that -- you are left with no choice. And I was left with no choice. I had to bounce back and I did it in what I thought was the best way I could."


(Image: Twitter)

Yuvraj is convinced that being a sportsperson helped him overcome his battle with a rare form of stem cell cancer, and the successful conquest of the dreaded C, in turn, added new layers to his personality as an individual and a cricketer.

"Cancer has made me very strong as a person," he says. "I feel that never-giving-up spirit is very important. It is something that I have because it is a very tough journey. Unless you go through it, you don't realise it, and I hope people don't go through it. The journey has made me stronger. We can talk about it lots but I just feel that one positive that came out of it was because of cricket, I was able to bounce back. Because of sport. Because I always had that never-giving-up attitude. When I was struck down by cancer, I had that same attitude to come back. Everybody said that it was going to take me 2-3 years to come back and start playing normally, if at all. I came back and played in six months."

But why?

"Because I wanted to prove a point, that I could come back and play for India. That was my biggest motivation. I wanted to prove that point to myself, as much as to anyone else. Everybody said you can't, and I said I can. It was mind over matter. I had some good games, some bad games, I was in and out of the team. But I still managed to play a lot of cricket after that – I played a couple of T20 World Cups and a bit of one-day cricket when everybody said that it won't be possible. That's the biggest joy in life, when people say it is not possible and you can make it possible."

As a cricketer, Yuvraj has been an inspiration to many. But as a high-profile celebrity who has looked cancer in the eye and come out a winner in every sense, he is in the unique position of being a role model in life. "A lot of people have been inspired by my story," he admits, matter-of-factly. "Every time I go to the hospital to meet young kids, they tell me how about they have been lifted by what I have done. They tell their families that if Yuvi can do it, so can you. I think it is a great message, a strong message sent across to people – that if this guy can do it, why can't we?"

First Published: October 12, 2018, 8:15 AM IST