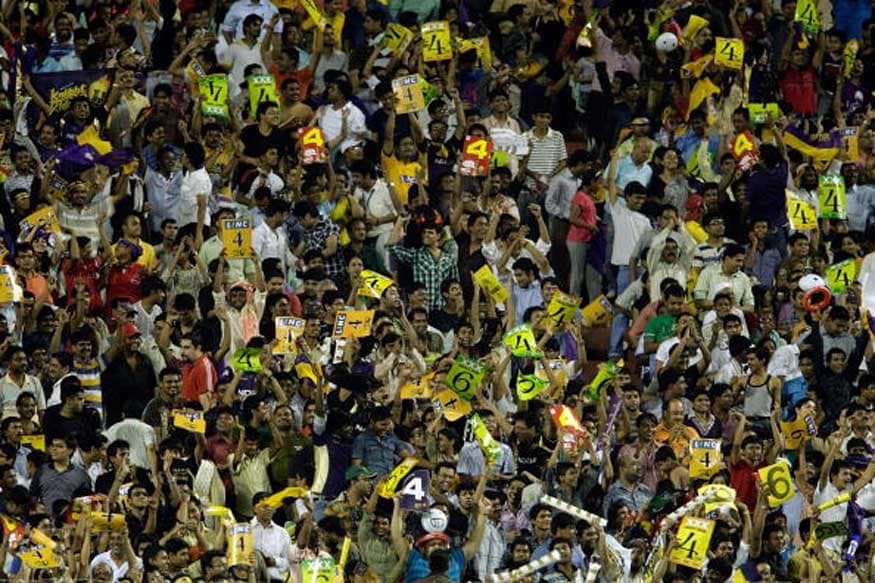 New Delhi: Over the past year, cricket's administration in the country has gone through a tumultuous period. But that has not led to any drop in the brand value of India cricket's biggest product, the Indian Premier League. After the end of the first decade of the IPL, it was time for the BCCI to sell the broadcast rights of the cash rich league again. While a slew of big name companies bid for the rights, it was eventually Star Sports (Star India Pvt Ltd), who won the IPL media rights (TV and digital) for 2018-2022 with a staggering bid of Rs 16,347.5 crore.
It yet again showed that there was no dent in the brand value of cricket, despite the sport being run by the Supreme Court-appointed Committee of Administrators. One man who has been at the forefront of cricket administration over the past one year has been BCCI CEO Rahul Johri.
So, with the IPL auctions coming up, CNN-News18's Meha Bhardwaj Alter caught up with Johri and Star India's Managing Director Sanjay Gupta. Here is an excerpt. Watch the full interview on CNN-News18 on January 24, Thursday at 8 pm in the special programme IPL Bumper Sale.
Q: IPL is almost upon us and Star has talked about IPL viewing being innovative and re-imagining the way the it will be viewed, please tell us more about it?
Sanjay Gupta: As you said, this is the most exciting sporting event of this country. What we are really excited about is can we reimagine and make it bigger. And the single minded focus of re-imagining is can we focus on the fans who make the IPL the way it is. So how do you re-imagine the experience that they get in IPL. It is starting in simple things like in this country how a tournament like IPL gets consumed. When you go to a market like Tamil Nadu, you will see the number of fans have been far lower than their potential is. So we realised that localisation is an important thing and we need to try much harder and that's why you will see IPL this year in six languages and on six channels. And to top it all there will be super fan's feed which will cater to the fans who want to see every ball and every moment but in a distinct and distinguished way. For example it may have more camera viewing angle, a better commentary to explain what is happening. So that the fans in this country can experience IPL in their own way. Hopefully that will grow the number of fans that it can now reach out to.
Q: Mr Johri, as the CEO of BCCI, this must have been a big moment for you. This IPL, because of the kind of the company that came for that bid, but ultimately Star bagging it with a whopping 16,000 crore-plus bid, so how much important was that for the BCCI?
Rahul Johri: Oh, it was extremely important, because of the confidence those companies had on the value of the IPL. Obviously, Star India being the winner, but there were 17 other companies and you can ask them it was not that easy for them to win that bid. That is a testimony of the depth of Indian cricket.
Q: IPL is already very big. I am bad at maths and correct me if I am wrong, if you break that sum, it's per match 55 crore, do you believe Star India can recover that?
Sanjay Gupta: Yes, I think. This is, as you said and I talked earlier...the biggest property and 500 million fans came and watched it last year. We believe this will reach out to 700 million fans this year. There is nothing bigger than this in India. And this is a property and as we move forward, we believe there is business opportunity here and the core to unlock that value is to create a fan base bigger than what it has been so far. And that's fair and Star India is focused on re-imagining that experience and rebuild that consumer franchise which has been larger than what it has very successfully seen over the last ten years.
Q: How deeply involved is the BCCI with this?
Rahul Johri: We are very very involved. With Star India we have a great working relationship. We meet at regular intervals. And the size and scale they are talking, you know you would look at various television programmes and say this guy has got a rating of 1 or 2, but maximum ratings come from India cricket. But today we are thinking something which half the country watches. So that is the scale at which we are working and we are very happy the way the things are progressing.
Q: At the moment who is running the BCCI?
Rahul Johri: Well the BCCI as you know is currently under the Committee of Administrators (COA). They are the supervisors and the supreme ody of the BCCI, and we all work with them.
Q: And what have you brought to the team?
Rahul Johri: Well, I am a team man, my job is to motivate the team and act as a bridge between the BCCI office bearers and the COA. These are complex times and to be able to navigate through and deliver results is what I am focused on.
Q: Now coming back to the IPL, you made a spectacle of the retention itself and about 8.1 million viewers watched that particular event. There is an IPL auction coming up, what have you planned?
Sanjay Gupta: I think the thing that we are focused on is to make IPL from a two month tournament, to a six month experience for our fans. As you said the retention was seen by 8 million viewers, and the auction days will be even bigger. But the thing we are doing is besides the event, we must engage with our fans more. So now the fans can participate and recommend to the franchises who they want in their teams. And that opened on Sunday and we broke that campaign early morning. In the last 12 hours, we have received one lakh votes telling the teams which players do they want. So the big theme for us is, take it to the fans, make it engaging and make it conversational. Take it wider and deeper in a very very significant way.
Q: Mr Johri, have you had a chance to speak to each of these owners. What's the buzz about and I am sure the think tanks are working over time right now to find out what kind of players they want in their teams? Any inside informmation you can give us?
Rahul Johri: Well, I am sure each franchise has been busy, putting together their strategy like you witnessed in the previous auctions of course. This is a mega auction and is a much bigger event. So you will see some surprising strategies being unveiled and I am sure they will be working on it.
Q: So the BCCI has been involved in a legal battle for the last two years with Lodha panel recommendations. There is no solution in sight, you are the CEO and you have seen it from the inside. What seems to be the problem and what is the solution?
Rahul Johri: See, we are focused on cricket, And what you have to appreciate is the fact that BCCI, in addition to the international events, also hosts thousands of domestic games. Because the BCCI machinery is well oiled. Every game starts at 9 am, and there are almost 4,000 people who move around the country like players, match officials and support staff. And delivering the IPL and the Indian Cricket Team is also doing well. So, we are not concerned about the noise outside, we are focused on running BCCI's operations.
Q: Keeping administrative differences aside though, 2017 was also a year when BCCI was left red faced. You know the ICC going ahead with the financial reforms 13 to 1 where the BCCI opposed that. Don't you think because of the internal differences between the BCCI, the clout of the BCCI in ICC has reduced?
Rahul Johri: I don't agree with that, if you see we have recently worked on the Future Tours Programme which we have negotiated with each individual board and the new FTP will come into play between June of 2019 to June of 2023. Every board has worked with us and the whole document has been appreciated by each and every one of us. And I personally believe it is the best FTP that the BCCI could have put together. It has a balance between the home and away games. It takes care of the players, takes care of the Boards, takes care of the BCCI and has been done seamlessly. If the BCCI didn't have the position it enjoys this wouldn't have been possible.
Q: Star has done some fantastic coverage on other sports as well like Kabaddi, Women's World Cup and I was reading this Economic Times report that you were not able to monetise these properties and these are like big properties, what is the philosophy going ahead now, you have spent a lot of money in getting the IPL rights but there obviously seems to be the vision and a belief that sport is the way forward?
Sanjay Gupta: Yes, we really believe that sports is the way forward not only for great fan experience but also in monetisation terms. It is a sensible business opportunity. The important thing is to grow the number of brands who participate and the value that they get out of it . What we are trying to do even with IPL, and other sports to make that opportunity come alive for the brands in a meaningful way. And some of the things we are doing even when we are talking about the fan experience, if we deliver six language feeds, so if a brand is in Tamil Nadu or Andhra Pradesh and wants to advertise on IPL and only in its state, it can take that feed and put it there. So it is not restricted by the national advertising we put on a sport and one of the challenges in this country has been to grow brands and advertisement as a percent of GDP, which has been pretty low in India compared to any other country. But if that leap has to happen then fundamentally we need to build much larger number of brands and we need to go more local and regional for building those brands, so I think in some way with IPL we are taking that leap by taking sports deeper, opening up to brands to take the leap to be more local and regional and still leverage the best sporting property to reach out to its fan base.
Q: You talk about increasing its brand value it is already very big and you want to take it to 700 million people. Personally, are you a fan of IPL, do you have a favourite team and do you watch it?
Sanjay Gupta: I am a big fan of IPL, I have watched almost every season of IPL starting from the first season. And I believe it is the most competitive game of cricket which you can see. In this game you can see the best of the world. So when CSK take on any other team, it's taking on the best of the world. So there is no cricketing tournament which matches in terms of competitiveness. That's why I am a big fan of IPL personally. I don't have a favourite team, I believe in best performances, that's one area IPL has delivered year after year.
Q: The thing with IPL is that fans have loyalties. Mr Johri are a you fan of IPL? Do you watch it and what do you think of the retentions, were there any surprises because I know you are following it closely!
Rahul Johri: I am a fan of cricket in every form. Retention was really good and somebody retained three, somebody retained four and that really shows you how deeply retained each franchise is. The depth of work that has gone through to put up their individual strategies and the IPL, I believe is cricket inside the rope and carnival outside the rope and we are the BCCI we will deliver the best of both.