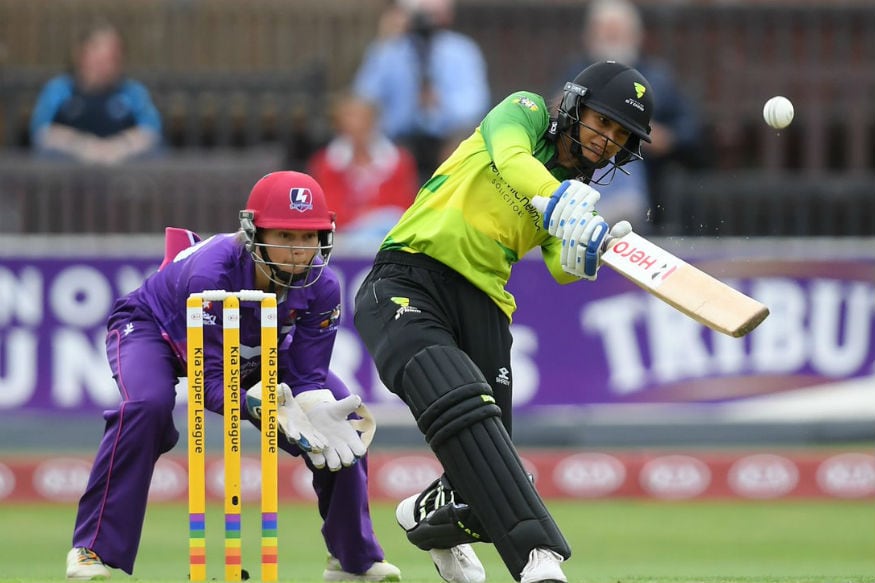 Smriti Mandhana is possibly the most important Indian Women cricketer presently. She has shown that Indian women can hit sixes effortlessly and frequently; a symbolic message when the game's pace is changing rapidly.
After nine sixes in the first five years of her international career, Mandhana took the tally to 30 in five months this year. Her count for four teams in 2018 stands at 48 in 41 matches. Of them, 21 came in ten Kia Women's Super League games in a space of three weeks. Western Storm missed Mandhana, who returned to India after the first round for a national camp, in their nine-run loss to Surrey Stars in the semifinal, but the season will be remembered for her table-topping 421 runs that earned her the player of the tournament award. The strike-rate of 174.68 is better than anyone else's across all KSL and Women's Big Bash League editions.
It's a result of a slightly open stance, changed grip, and old-fashioned practice. Even as the country celebrated the 2017 World Cup runners-up finish, Mandhana absorbed the lessons of a dramatic dip in form – she made 36 runs in seven innings after opening the tournament with knocks of 90 and 106 not out – and worked towards plugging the gaps ahead of the 2018 World T20, which begins in the Caribbean on November 9.
Identifying the need to add an edge to her game, Mandhana followed a specific routine with Anant Tambvekar, her personal coach.
"Earlier I didn't have that power to clear the rope. I used to deal a lot in boundaries than in sixes. Playing the lofted shots straight over the bowler's head was not really my strength," Mandhana tells Cricketnext. "I am lucky that my coach is an allrounder. He can bowl offspin, legspin and pace. We had two to three buckets, and in each there were 25 to 30 balls. Each bucket was for a certain delivery. So, I used to play at least 60 balls of lofted shots every day in Sangli (her hometown). Doing something regularly for a period of eight months helps. I got the confidence to execute those shots in matches."
Biju George, India's fielding coach who was formerly with Kolkata Knight Riders, also improved the bat swing of the players earlier this year by making them bat against TAP conditioning balls from Australia.
"It's a very heavy ball," tells Biju. "When you hit that ball, it stays on the bat for a longer duration. So, you have to hold the shape of your shot and you have to go through your body motion fully or else the ball won't clear. It will drop next to you, no matter how hard you hit it. After that when you hit the cricket ball, it goes the distance."
Learning to clear the fence wasn't the only secret behind Mandhana's KSL success. Her forgettable stint with Brisbane Heat in 2016-17 WBBL had ended with a major knee injury that required a surgery and nearly ruled her out of the World Cup. She was made to bat in the middle-order, and being an introvert did not help matters. This time she had fun, going on long walks - something, she says, she had not done before. She also picked up lessons from Sourav Ganguly and Kumar Sangakkara, learned tricks of reverse sweep from Fran Wilson and Heather Knight, and made new friends.
"I didn't speak much to my teammates in WBBL. I learnt that you cannot always wait for people to come to talk to you. Also, in Australia we stayed separately in apartments and many of them used to go back to their homes. That used to depress me," Mandhana adds. "This time I was relaxed and made the first move to speak to people. We were all staying together for a month, which helped us bond well."
Mandhana recorded the joint-fastest fifty in Women's T20s, and her 61-ball 102 in a successful chase against Lancashire Thunder was the highlight of her tournament. Storm were two runs away from their target of 154 when she got out. Becoming the second Indian after Mithali Raj to score a T20 century was great, but Mandhana enjoyed holding the chase together more.
"I have been throwing my wicket away when we need 40-50 runs, or when we are in 120s while batting first. So, to be able to almost bat through in that match made me really happy," she assesses. "If as a settled batter I get out midway then it is hard for new batters to score straightaway when the required run-rate is eight or nine. I was really pleased that I was able to do something that I had been thinking of doing for a long time."
Many observers have remarked that Mandhana made an impact in KSL because of a strong batting line-up, allowing her to bat with freedom. She, however, quashes the theory. "In the T20I tri-series in Mumbai this year I had a strike-rate of 165. It's not about the batting line-up. Maybe it was the pitches and sometimes when you bat well in the nets, it makes you feel good. That really helps you go after the bowlers."
She is equally irritated with the analysis that her KSL form is huge going into the World T20. "Every tournament is new and has its own challenges. In fact even when you score a hundred in one match, you are not carrying anything into the next match because it's going to be different conditions and you will be facing different bowlers," she explains. "Obviously KSL will give the confidence that I can bat with a certain strike-rate when we are chasing 180-plus scores. I can now back myself to help the team get to the target, but beyond that KSL and World T20 are two different challenges. Sometimes confidence can turn into overconfidence, so it's better to start every tournament new."
Mandhana's success in World T20 is dependent on many factors, but the way she has improvised her game over the last few months is one of Indian cricket's biggest gains.
(Sidhanta Patnaik has reported on six ICC men's and women's tournaments. He is the co-author of The Fire Burns Blue - A history of women's cricket in India. @sidhpat)