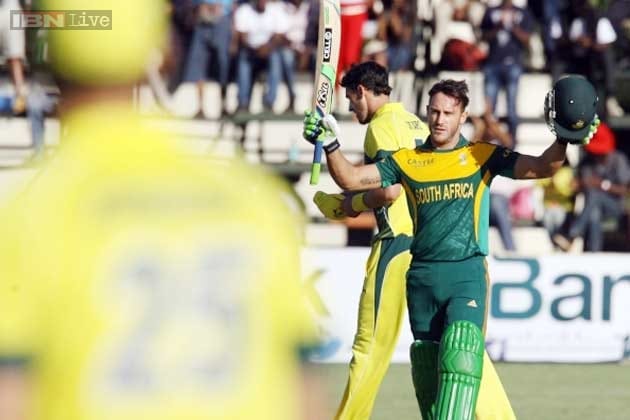 Faf du Plessis has cemented his number three position in South Africa's one-day international (ODI) lineup with successive centuries against Australia but the batsmen believes he can get even better before next year's World Cup.
"I'm hitting the ball nicely, but I feel I can still improve quite a bit," he said as one day international captain AB de Villiers confirmed Du Plessis was now the official successor to the recently retired Jacques Kallis in the key position.
"I'm enjoying the number three role, I think it suits me a lot better than it did at number six.
"What is really important for me is to get big runs when you are in some sort of form. It (form) can change really quickly, I need to make sure I keep putting in big runs for the team," Du Plessis told reporters ahead of Thursday's ODI against Zimbabwe which will decide a place in the final of the triangular tournament at the Harare Sports Club.
Du Plessis single-handily kept South Africa in contention on Tuesday with a 126-run knock off 109 balls before the team finally succumbed to a 62-run loss to Australia.
"I've said before that my job is to score hundreds. I ticked that box but getting a hundred and crossing your team over the line is much sweeter."
He scored 106 in a record-breaking partnership with De Villiers against Australia in their first meeting in the triangular series last Wednesday.
Du Plessis has scored 401 runs at an average of 66 in six ODI's on South Africa's tour of Zimbabwe, which also included three ODI wins in a separate series with the hosts in Bulawayo last month, and has been the standout performer in testing conditions.
"It's definitely the toughest time of the innings to bat. In saying that, you need to make sure that when you get a partnership going you extend it as long as possible."
South Africa would meet Australia again in Harare on Saturday in the tournament final as long as they don't lose heavily to Zimbabwe in the final pool match on Thursday.
South Africa have more warm-up ODIs scheduled in New Zealand in October, Australia in November and at home to the West Indies in January before the World Cup starts on Feb. 14.