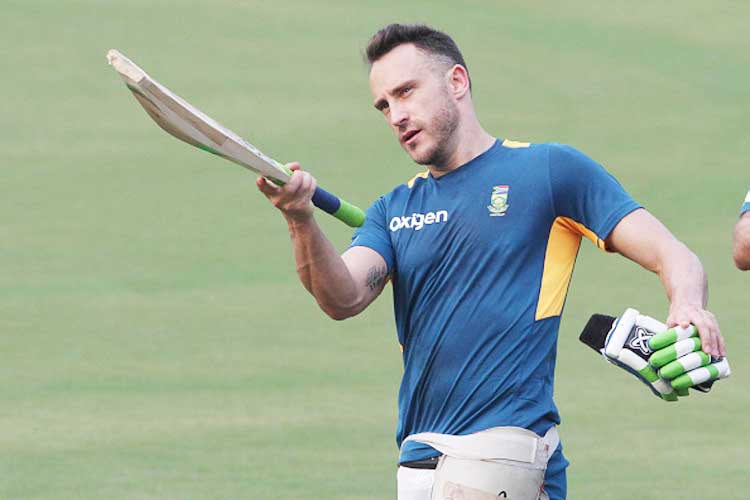 A black beast, parked opposite the South African team bus welcomes you the moment you enter the Newlands Stadium in Cape Town from the main entrance. There is something about the car that it immediately creates an impact on the mind. On asking around, one is told that the car belongs to none other than South Africa skipper Faf du Plessis. The immediate thought as I walk to the practice area is why would the captain want to drive his own car when he has the luxury of sitting back and enjoying a ride to the stadium in the team bus.

While the thought takes over my mind momentarily, du Plessis is busy working on his back with the physio. The back has been a cause of concern for the captain and he even missed the one-off Test against Zimbabwe on Boxing Day. Done with the drills, du Plessis is running towards the dressing room when a couple of kids stop him for an autograph. Seizing the moment, I jumped in and stopped the skipper, asking him how come he has been driving to the stadium for the last few days.

Speaking to CricketNext, on the sidelines of the training session at the picturesque Newlands Stadium, du Plessis says: "Oh! I love driving around the city. This place has some beautiful roads and I look for an opportunity to take to the roads. That is my way of de-stressing ahead of a game. You have seen my car, but I also have a beautiful bike that I love riding around the landscape here. You should see that."

So driving the car to keep the back safe? "The back is fine," he asserts.


Faf du Plessis's car outside Newlands in Cape Town. (Image: Cricketnext)

Even as I wonder if India skipper Virat Kohli can afford to drive around Delhi or Mumbai or any other city in the country to de-stress and switch off ahead of a big game or between games, another couple of books are lined up for the South African skipper to sign. There is something about modern day captains that they love to engage with fans, clicking selfies with the fans and signing autographs. It almost comes across like a social responsibility that comes with being a successful sportsperson.

Be it Kohli, Steve Smith, Joe Root or du Plessis – the few that I have personally come across – they always have time for the fans, especially the kids looking for a photograph or an autograph. Only luckily for me, du Plessis is more than happy to even have a short 'outside cricket' chat.

While I thank my lucky stars, du Plessis looks at the tattoos on my hand and says: "Nice tattoos." Quite taken aback by his comment, I just manage to come up with: "Same goes for the one on your arm."

Du Plessis in fact has an explanation for all his tattoos. They are stories of his life. He has one on the side of his ribs which reads 'Grace' as he feels that his life has changed by the grace of God. He has a quarter sleeve on his arm which deciphers all the important events in his life. The one on the inside of his arm was the day he made his debut for South Africa and above that 'A day from the Lord' is written in Latin. On the side he has a compass directed towards the Adelaide Oval where he made his Test debut. It also has the dates of his marriage and the day he was baptised. Above that there is 'Agape' which means unconditional love.

Clearly tattoos are a thing for the South African skipper just as it is for India skipper Virat Kohli. But then, the multifaceted man also has another skill – cooking. In fact, in an interview he had revealed that while he loves food and fashion just as much as cricket, he would possibly have become a chef if not a cricketer.

Picture this, one of the most aggressive batsmen in world cricket maneuvering the saucepan in the kitchen. Luckily for South African team, cricket won the battle.
Even as I keep thinking of the numerous traits possessed by this multi-talented batsman, it is time for another round of selfies before he enters the nets adjacent to the ground to have a knock on the eve of the first Test against India in Cape Town. The show must go on!


First Published: January 5, 2018, 10:55 AM IST