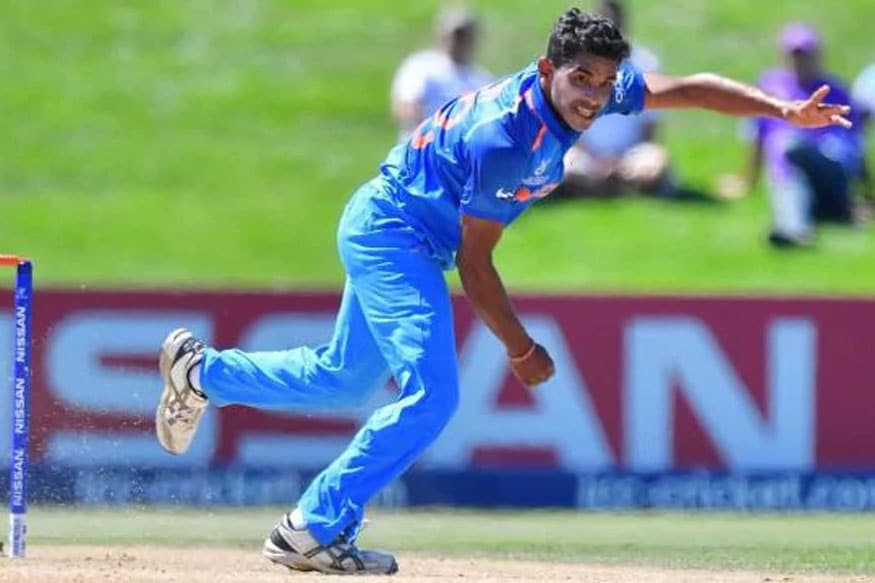 Running in full speed. Hurling the ball at 145 kilometres an hour. Pitching the ball up. And seeing it move just enough to send the off-stump for a cartwheel.
This is the stuff dreams are made of for any fast bowler. And it was no different for 19-year-old Shivam Mavi.
Nine wickets in six games at an incredible average of 18.88 at the U-19 World Cup at the start of the year - which India won – propelled the teenager to a 3.2 crore IPL contract with the Kolkata Knight Riders. Among those left mighty impressed were the likes of Sourav Ganguly and Ian Bishop, who observed him operate at the U-19 World Cup from the commentary box.
Mavi was thrown straight into the deep end as the death bowler for the Knight Riders but he soon discovered, cricket at the top level was a completely different ball game.
The same 145 kmph deliveries, which were resulting in stumps going for cartwheels, were now going faster off the bat and into the stands.
In nine matches, Mavi picked five wickets at an average of 54 and an economy rate of 9.64.
"The thinking (at senior level) is very different," Mavi tells CricketNext. "At age group level, if you bowl at 145 kmph, half your job is already done as batsman struggle to play the pace. But at the senior level, it's important to mix things up, you need to vary your pace against experienced players otherwise you will leak runs. The line and length is also very important."
Mavi also learnt quickly that being a fast bowler in India isn't really a dream job, as it is spinners who call the shots more often than not.
"You get slow and flat wickets in India, nothing really happens from the pitch," he says. "In New Zealand for example, if you don't get swing then there is at least bounce in the pitch. But these are the things you have to adjust to as a bowler."
A big plus for Mavi during the IPL was the opportunity to work with some of the sharpest minds in the game such as South African great Jacques Kallis, who is the head coach at KKR and his assistant, Australian Simon Katich. He also recalled a session with Dinesh Karthik and Abhishek Nayar before the IPL, where he did specialised training on bowling at the death.
"I bowled with the wet ball," he said. "They asked me what I am comfortable with and accordingly made me bowl in the right areas so that it gets ingrained in my muscle memory."
The results have started to show. At the recent Vijay Hazare trophy, Mavi picked up a hat-trick as well as a five-for his state team Uttar Pradesh.
Grinding it out in domestic cricket after you have experienced the high of winning a World Cup and played in front of capacity crowds in the IPL is a completely different experience and Mavi admits that the challenge is unlike any he has faced so far.
"Honestly, domestic cricket is tougher than playing for India A or in the IPL," he says. "Batsmen play shots unexpectedly; the preparation is also less as you don't get videos for all the players. In IPL and India A, you know everyone's strength and weaknesses. In domestic cricket, you have to analyse as you play."
His initial steps in the game have been encouraging but Mavi isn't taking anything for granted. He relishes every opportunity to interact with Rahul Dravid, who has been closely working with him since age-group level.
"He (Dravid) told me that the key difference at this level is the ability to handle pressure and execute plans, we have to bowl as much as possible on a batsman's weakness," Mavi says.
For now, Mavi is focused on the immediate challenge – his impending Ranji Trophy debut. He knows he will have to grind it out on dustbowls at empty stadiums while playing for Uttar Pradesh. However, one thing is for certain - the men who matter in Indian cricket will be watching very closely.