Shakib-Al-Hasan became the fastest all-rounder in history to achieve a rare double – scoring 3000 runs and 200 wickets in Test cricket (also became the first Bangladesh bowler to tally 200 Test wickets; next highest is Mohammad Rafique with 100 wickets) – during the first Test against West Indies in Chittagong that his team won on the third day.
Shakib became a member of an exclusive club – only 14 players in the history of Test cricket have achieved this feat – Sobers, Kallis, Imran, Pollock, Botham, Hadlee, Cairns, Kapil, Flintoff, Vettori, Broad, Warne, Vaas and now Shakib.
He reached the landmark in just his 54th Test overhauling the great England All-Rounder Ian Botham who achieved the feat in his 55th.
Fastest to 3000 runs and 200 wickets: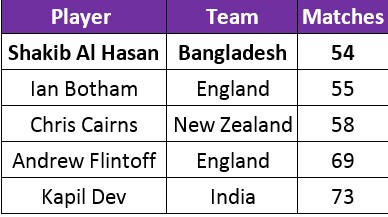 It is interesting to note that Shakib is the only spin all-rounder in this list of the fastest-five to achieve the feat.
Shakib has the fifth-best Batting Average – Bowling Average difference in Test cricket history – of 7.77. Only Sobers (23.74), Kallis (22.71), Imran (14.88) and Pollock (9.19) have a higher difference. Once again – all, fast bowling all-rounders. Shakib is higher than the likes of Botham, Hadlee and Kapil – this puts his performance into perspective.
There are only two other spin all-rounders on this list – Warne and Vettori – and both of them have a negative difference – which means that they conceded more runs per wicket than they scored per dismissal.
Batting Average – Bowling Average for All-rounders with 3000 Runs & 200 Wickets: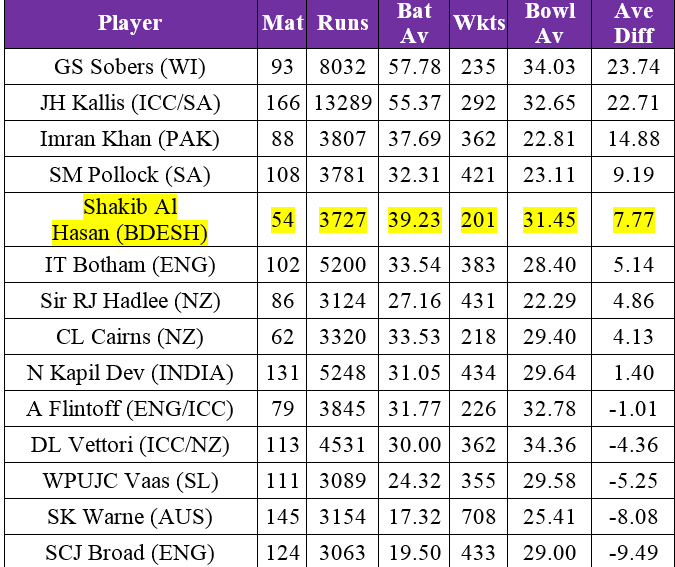 If we relax the criteria to a minimum of 2000 runs and 150 Test wickets – a feat achieved by just 24 players in Test history – Shakib still stands out – and is at number six in Batting Average – Bowling Average – only after Sobers, Kallis, Imran, Keith Miller and Pollock.
Only Sobers (57.78) and Kallis (55.37) have a higher batting average than Shakib (39.23) in this list. His bowling average (31.45) is higher than the likes of Kallis, Sobers, Flintoff and Vettori amongst other great all-rounders.
Shakib's bowling strike rate of 62.6 is the highest for a spin all-rounder after Ashwin and Warne. It is higher than the likes of Kapil, Vaas, Flintoff, Vettori, Kallis and even spin legends like Kumble and Harbhajan – quite a remarkable achievement.
After 54 Tests:
It is interesting to compare Shakib to other great all-rounders after their respective 54 Tests. He has scored more runs (3727) than every all-rounder except Sobers (4820) in the above list. He has also taken more wickets (201) than the likes of Flintoff, Cairns and Kallis amongst others.
During his career, (May 18, 2007 – November 24, 2018), amongst the 18 players who have taken 100 wickets and also scored 1000 runs, only Jadeja (8.93) has a higher batting average – bowling average difference than Shakib (7.77).
Shakib's batting average of 39.23 is the highest on this list. Only Stokes has more hundreds (6) than Shakib (5) during this period. His 18 fifers are also the fifth-highest on this list after Herath, Ashwin, Anderson and Steyn (the latter two cannot be considered as all-rounders).
Shakib has been a world-class performer for Bangladesh. Only Taijul Islam has a better bowling average for Bangladesh (31.10) than Shakib (31.45) during the latter's career. Only Mominul Haque has a better batting average (44.35) than Shakib (39.23) during this period. Tamim Iqbal (4049) and Mushfiqur Rahim (3968) are the only two Bangladeshi batsmen who have aggregated more than Shakib (3727) in this time-frame. Only Tamim (33) has more 50-plus scores than Shakib (28) in this time-frame. No one even comes close to his 18 fifers in this period.
Bangladesh has won just two (out of 35) series they have contested since Shakib's debut. He has been instrumental in both. He was the joint-highest wicket-taker with 13 wickets and scored 159 runs in 4 innings in his country's historic win in the Caribbean in 2009. He was again the leading wicket-taker with 18 wickets and aggregated 251 runs in 6 innings in the 3-0 sweep against Zimbabwe at home in 2014.
Bangladesh has just won 11 Tests since Shakib's debut in 2007. He has been a part of 10 of these victories. He has scored 856 runs at an average of 45.05 and taken 61 wickets at a bowling average of just 19.03 in these wins. His difference in batting and bowling average of 26.01 in such matches is second only to Kallis (37.96) during his career (min. of 500 runs and 50 wickets).
But this is the startling statistic. For all all-rounders in the history of Test cricket (min. 500 runs and 50 wickets), Shakib's average difference in victorious matches of 26.01 is the fourth-highest after Sobers (53.37), Kallis (38.02) and Tony Greig (32.35). It is higher than greats like Cairns (24.37), Jayasuriya (23.90), Miller (23.78), Botham (23.25), Imran (21.49) and Hadlee (17.31). This suggests that Shakib has been more crucial in the limited successes of Bangladesh than all these all-rounders have been for their respective countries – that is how much Bangladesh has depended on Shakib and that is how phenomenal he has been for them.
Shakib's achievements on the field for Bangladesh are already the stuff of legend. He continues to serve as an inspiration for millions in that cricket crazy country.