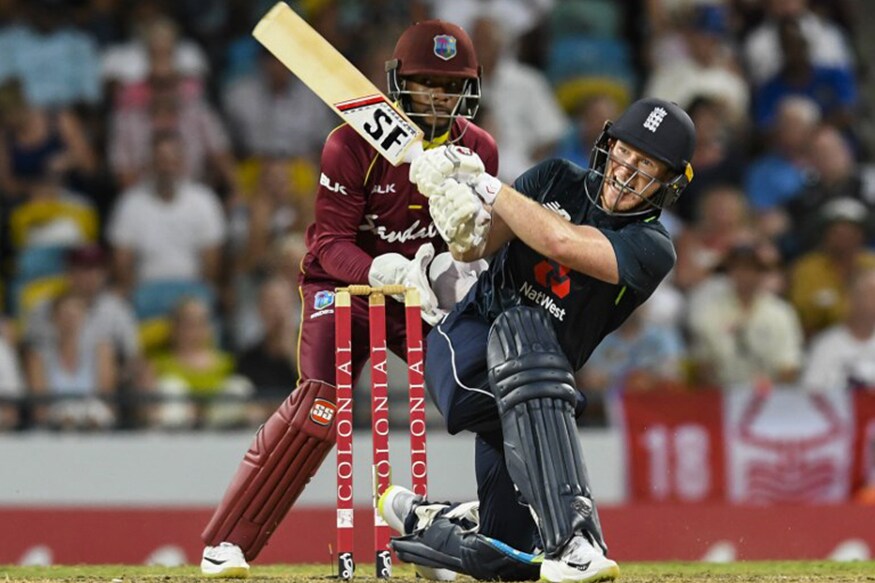 England skipper Eoin Morgan commended the way his bowlers fought back in the last few overs to stop Windies from getting close to the 400-mark in the first ODI in Barbados on Wednesday (February 21).
The hosts ended up with 360 at the end of their innings, and the 361-run target was made a mockery of by Jason Roy (123) and Joe Root (102*) as England reached the target with six wickets to spare.
"The calm nature in which we came back with the ball was great. We did well in the last 10-15 overs - they were headed for 380-400," said Morgan, who himself slammed 65 runs in 51 deliveries.
"It felt like a 330 chase, and not 360, that's how well we started the chase with Roy and Jonny Bairstow. And Root, obviously, was fantastic in the middle. Joe and Roy, when they bat together, complement each other. The way they batted today proves that.
Despite staggering some big numbers with their batting in the last few years, England had never chased down such a big total. Morgan, however, was confident and said he always believed that his team could chase huge totals on any given day.
"We spoke at the halfway stage about the fact we have been in this situation before and we do believe we can chase big totals. We bat very deep. The manner we started in set the tone of the innings. Jason and Jonny were outstanding. At no stage did we feel we were under pressure to up the rate," he said.
"We were going at a steady clip and to have guys like that continuously putting pressure on your opening bowlers is not only difficult to play against but difficult to captain against as well. The ability to put your best ball away for four or six is heart-breaking as a bowler.
"For Jason to go on and play such a commanding innings really sets up a big run chase. It's amazing the way he plays. It's brilliant. People will forget Joe Root scored a hundred there, he made it look very easy, but we're so fortunate to have a guy like that who can be our rock. And he's no slouch.
"We just didn't have a great day in the field, and we need to hold our catches on this kind of a ground and wicket. Adil (Rashid) bowled well when he was asked. We are happy with where we are and that's good with the World Cup in perspective."
Roy, who smoked 15 fours and three maximums, was named as the Player of the Match for his effort. The right-handed opener had earlier dropped Chris Gayle on 9 and said the onus was on him to make up for the missed opportunity as the Windies left-hander went on to score a stroke-filled 135.
"It was a nice surface. A pretty big total, daunting to start with, but Jonny and I started well and continued. I'm still in a deficit for dropping Chris Gayle, so I need to make up for it throughout the series. We (Joe and I) rotated the strike well, and to see us right through to the end was impressive. We'll keep our feet on the floor and work hard for Friday," said Roy.
Meanwhile, Holder rued his team's missed opportunities on the field and said their body language too wasn't up to the mark.
"Our energy and body language wasn't up to the mark, perhaps due to missed chances, and the bowlers need to create more opportunities. The bowlers did create chances, but we didn't hold them - almost 6-7 chances. If we hold onto those, we will definitely be better in the next game," said Holder.
Windies, however, will be pleased with the way Gayle performed in his comeback match. The left-hander took his time at the start and then went on to smash 12 sixes en route 129-ball 135.
"Credit to our batters, we did a remarkable job. Didn't bowl as well as we'd like, and we simply didn't do well in the field. Gayle took his time, and batted deep. He's always been a star for us, and it's great to see him play the way he's playing," said Holder.
The self-proclaimed Universe Boss, Gayle rated this innings as one of his best.
"It's one of my best innings. If you check my international career in ODI cricket, I haven't started like that. It took me some time to score my first boundary. In life it's not about how you start, it's how you finish. I used a bit of my experience; which bowler to attack. Since this is my last home series, wanted to keep the Windies flag high, hopefully, I can continue for the rest of the series."